Three-point stance: Prediction review, UT's finish, Thomas Tyner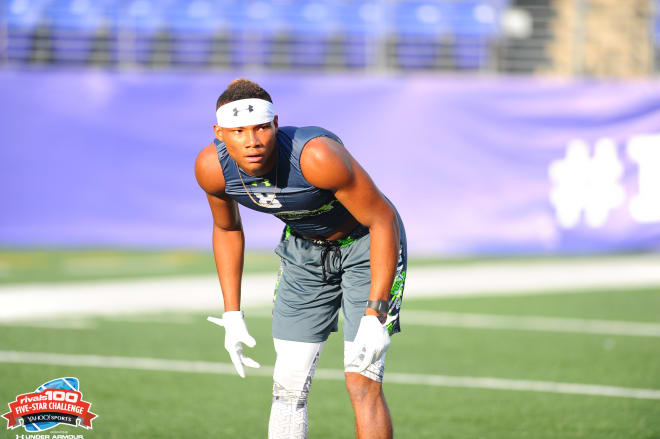 PREDICTION REVIEW
Let's briefly review my 10 predictions heading into National Signing Day from a week ago.
* Texas won't finish in the Top 15 like last year. Oops, wrong on this one. Texas pushed up to No. 13 with an impressive haul that is much more important than last year's No. 12 finish (see below).
* Florida State could finish No. 1 but I picked 'Bama. Right on board here as FSU surged to No. 1 and 'Bama surged past them in the end.
* Someone other than Demetris Robertson will delay their decision. DE Maxs Tupai decided to hold off for a bit and not sign so this one was predictable and true, although I was thinking it might be a bigger fish.
* Everyone will be chasing a letter again this year. Nope. No Byron Cowart situation here. The Rashan Gary drama wasn't really drama as he signed and faxed once he returned back to school in Jersey.
* Florida could struggle to the finish. It did. The Gators stole Tyrie Cleveland from Houston but lost out on Brian Burns, lost Shavar Manuel to rival FSU and Aaron Robinson to 'Bama. As expected, they fell out of the Top 10, landing at No. 14.
* The Buckeyes will hold off Michigan in the Big Ten but it will be close. Yep, this one was close and Urban Meyer held off Jim Harbaugh by 101 points, but both finished in the Top 5.
* A major flip on Signing Day? I really went out on a limb there, huh? But I did mention it could be Erick Fowler (happened), Tyrie Cleveland (happened), Tyler Byrd (flipped day before) or Patrick Hudson (stuck with Baylor).
* UCLA will kill it down the stretch. It didn't. Yes, it got Mique Juarez, Brandon Burton and Boss Tagaloa but whiffed on Aaron Hansford and Devin Asiasi, two guys I thought the Bruins would land. UCLA finished No. 11 in the country, which is great, but USC passed them because of the whiffs.
* Finally I picked where the remaining five stars would land and hit on all but Jeffrey Simmons, who surprised many by picking Mississippi State. Robertson is still out there and I picked UGA for him.
LONGHORNS' STRONG FINISH
I've been a big critic of the job Charlie Strong has done at Texas so far. My feeling is that he's not a good fit mainly because he has struggled so badly recruiting the state and relied upon some Florida guys last year to push up in the rankings. Have I changed my mind after UT's big finish to the 2016 cycle? Not yet, but his Signing Day haul certainly has me less convinced he's out of his element.
Strong landed eight prospects on the last two days, including a five-star in Fowler and five four-stars. He added instant depth on defense and much-needed speed on offense in Kyle Porter. And the best news is that almost all hailed from Texas.
But here comes Debbie Downer, so get ready: The Longhorns still only signed one player from the Lone Star State ranked in the Texas Postseason Top 10, as many as Houston, Texas A&M, Stanford and Florida, one less than Ole Miss and two less than Baylor. There are 43 players in the state of Texas ranked four-stars or higher in the 2016 class and Texas signed nine of them, one more than Baylor and three more than Texas A&M. Houston and TCU signed two and, get this, Oklahoma signed only one.
So now the next hurdle for the Longhorns is to stop the poaching of some of the top-ranked guys, while the Sooners really need to work their way back into Texas.
A strong 1-2 punch of Texas and Oklahoma is crucial to the success of the Big 12 in recruiting, always has been and always will be. This could be the first step, at least for the Longhorns, to get back some lost power.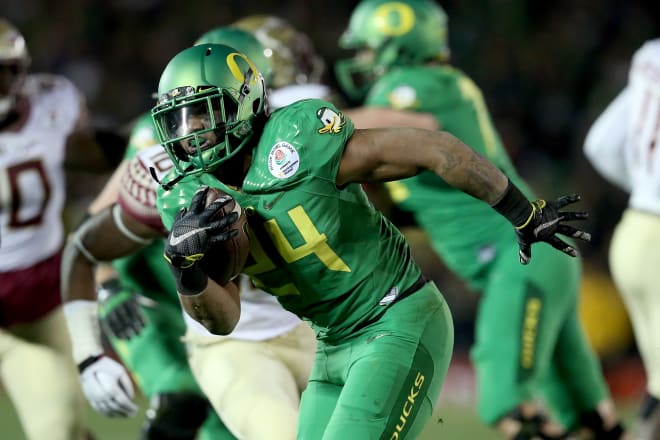 END OF THE ROAD FOR TYNER
Thomas Tyner's career in football is over. The former five-star prospect showed promise at times with the Oregon Ducks, but the one question mark that followed him to college was that old injury bug.
There was little doubt that Tyner had talent and, after some injuries his junior year of high school and the offseason that followed, he dominated as a senior with 3,415 yards and 47 total touchdowns including a 643 yard, 10-touchdown performance in an 84-63 win over Lakeridge High School. With that bounce-back year, along with his good size (6-foot and 200 pounds) and his speed (10.35 100 meters), he was ranked as the No. 17 player overall in the 2013 class and many of the worries we had faded. But now, after 1,284 yards and 14 scores in college while flashing some of that amazing ability, it's sad to see his career end.
Tyner missed all of this past season after having shoulder surgery, the injury that led to his retirement, and now "Dash" won't be playing football again. While Oregon has Royce Freeman, who was No. 52 in the country in 2014, as its star back and Heisman candidate, it's still tough to see such promise fade so fast.