Three-Point Stance: Portal fix, Group of Five, All-Disrespected team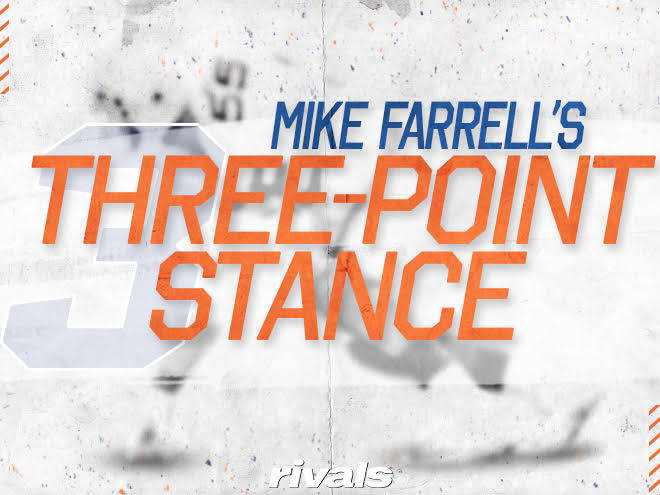 Rivals National Columnist Mike Farrell is here with a potential fix for the transfer portal, a breakdown of defensive players that didn't get the respect they deserved this season and the top Group of Five players in college football.
1. HERE'S HOW YOU FIX THE TRANSFER PORTAL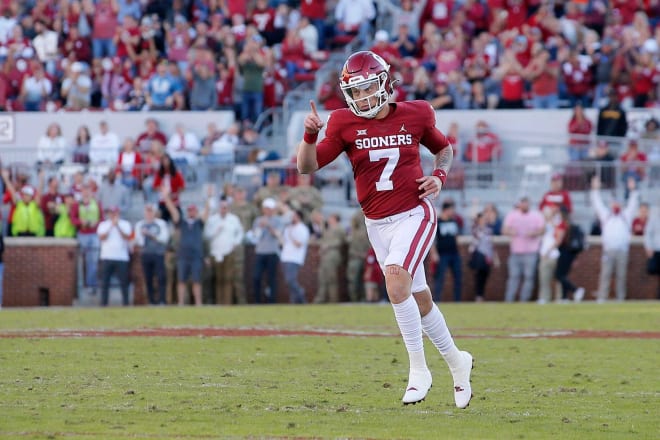 The transfer portal is a tad out of control. The data keeps changing but more than 800 FBS football players have entered the portal since Aug. 1 with a little over 25-percent of them finding a new home so far. My best guess is that, by the end of this offseason cycle in August 2022, the portal will have seen more than 2,000 FBS players enter and less than half of them will find new FBS homes. That means a whole lot of players are getting very poor advice.
What can be done? Here's an idea. The NFL has an NFL Draft Advisory Board that will give potential draft prospects an idea of where they would likely land in the NFL Draft. This allows players to make an educated decision about their future. While this isn't a foolproof system, it's certainly welcome advice. College football needs something similar for the transfer portal.
The NCAA needs a small team of evaluators who can help assess the chances of a player landing another FBS scholarship before they enter the portal. The same holds true on the FCS level as well. If a player wants an assessment of his potential landing spot — FBS, FCS or lower — he can submit a request to this NCAA panel. And it should be an anonymous process.
Right now players can simply take the advice of family, friends or some morons on social media and jump into the portal. At that point, the university is no longer on the hook for that player's scholarship and the player could potentially find themselves in a situation where they don't have a landing spot. If there was a portal equivalent of the NFL Draft Advisory Board, an assessment would at least give the player the ability to make a more informed decision.
It's not easy to assess some players who haven't seen a lot of playing time or are coming off of injury, but it can still be done. I assess a player's potential landing spot based on the Power Five, Group of Five, FCS and lower talent pool constantly and it's not my full-time job. A group of two or three scouts could really curtail the number of poor decisions being made on a weekly basis. Is this feasible? Will it happen? Likely not, but some sort of checks and balances are needed at a somewhat neutral level as more and more players decide to transfer.
*****
2. THE RODNEY DANGERFIELD TEAM - DEFENSE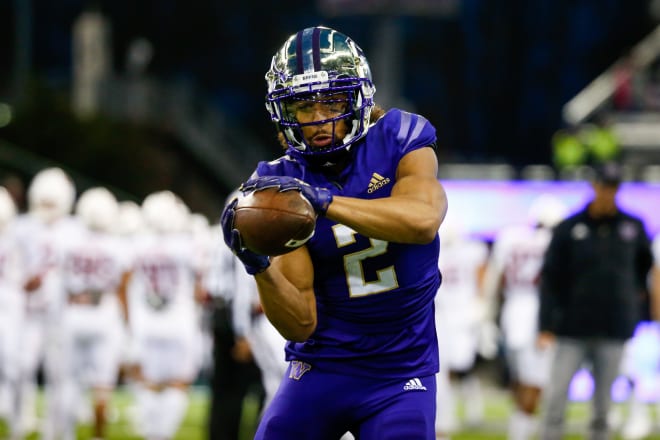 Last week I shared the offensive side of my All-Disrespected team, the best Power Five players who haven't gotten the attention that they deserve. Here's the defensive side.
DL: Calijah Kancey, Pitt - Kancey has been outstanding all season. He's the latest in a long line of Pitt defensive tackles who are supreme disruptors. Kancey was the only defensive lineman in the country to receive a PFF grade above 80 as both a pass rusher and against the run.
DL: Jacob Slade, Michigan State - Even though he only had one sack this year, Slade was still one of the most devastating defensive linemen in the country. He had 32 quarterback hurries on the season, good for ninth in the country among all players, and was stout against the run as well.
Edge: Mika Tafua, Utah - Despite being overshadowed on his own defense by Devin Lloyd, Tafua had a phenomenal season. He led the country in quarterback hurries with 55, adding nine sacks and three passes defended while leading the nation in snaps played among all edge players.
Edge: Arnold Ebiketie, Penn State - The Temple transfer made an instant impact for the Nittany Lions, leading the team in sacks (9.5) and tackles for loss (18). While Penn State tailed off at the end of the season, Ebiketie kept up his strong play, boosting his draft stock.
LB: Jack Sanborn, Wisconsin - Leo Chenal has gotten all the publicity this year, but Sanborn has yet again been a stud for the Badgers. One of the surest tacklers in the country, Sanborn received the fourth-highest PFF grade among all Power Five linebackers.
LB: Drake Thomas, NC State - Thomas was the linchpin that held one of the top defenses in the ACC together. He was asked to do everything by defensive coordinator Tony Gibson, and he did, proving to be especially strong against the run.
Flex: JoJo Domann, Nebraska - Doman only allowed 5.4 yards per reception, a number that topped the nation. The leader of the Huskers' DB room didn't allow a single pass completed against him over 20 yards, nor did he allow a touchdown, while coming down with two interceptions.
Flex: Russ Yeast, Kansas State - Arguably the most versatile defensive player in the nation. Yeast lined up at outside corner, slot corner, free safety, strong safety and even linebacker for the Wildcats, excelling no matter where he was. You can't ask for a more flexible defender on the back end.
CB: Kyler Gordon, Washington - Trent McDuffie gets a lot of press as the top DB on the Huskies' roster, but it was actually Gordon who received the highest PFF grade in coverage on the team, at 89.6, which was good for second-best in the nation among Power Five cornerbacks. Gordon allowed zero touchdowns on 41 targets, finishing with two interceptions and six pass breakups.
S: Kerby Joseph, Illinois - It was an up-and-down year for the Illini, but Joseph was one of the top players in the Big Ten through all of it. His 90.4 grade was the highest among all Power Five safeties, and his five interceptions were good for second-most among all Power Five players.
S: Brad Hawkins, Michigan - It's the front seven for the Wolverines that get all the love, but one of the biggest reasons that they're able to run free after the quarterback is because Hawkins is as good as there is in the country at safety. He's great in coverage - only allowing a completion rate of 25 percent when targeted, but perhaps even better against the run, where he received the second-highest PFF grade among all Power Five safeties.
*****
3. GROUP OF FIVE ALL-AMERICA TEAM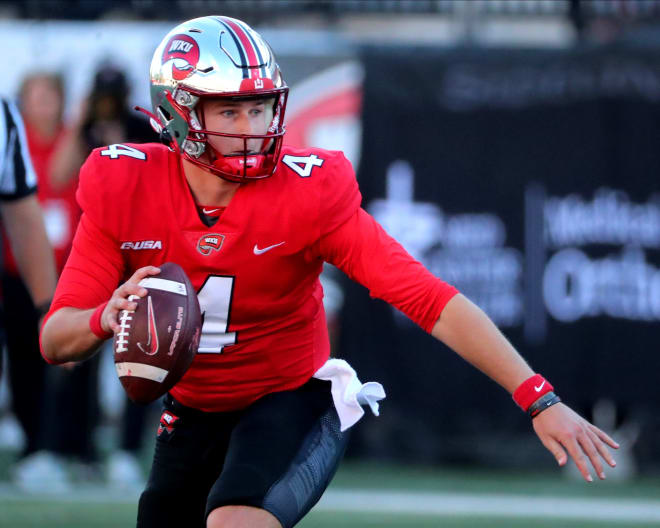 The Power Five standouts get a ton of attention nationally but there are plenty of Group of Five stars in college football. Here's my first-team Group of Five offense.
QB: Bailey Zappe, Western Kentucky - This wasn't even close. The Houston Baptist transfer put up a season for the ages - 5,967 yards and 62 touchdowns, both single-season FBS records. He should have finished in the top five of the Heisman vote. I'm just disappointed the coaches pulled him before he could get to 6,000 yards in the bowl game.
RB: Lew Nichols, Central Michigan - The nation's leading rusher, Nichols ran for over 1,700 yards and also led the nation in yards from scrimmage with 2,008. Even though everyone and their brother knew he was getting the ball (311 carries), he still couldn't be stopped.
RB: Sincere McCormick, UTSA - He was well known coming into the season but no one could stop him anyhow as he amassed 1,479 yards and scored 15 touchdowns.
WR: Jerreth Sterns, Western Kentucky - Zappe's top target led the country in receiving yards with 1,902, the fifth-best single-season mark in history, and his 150 catches not only led the nation but was the third-best mark in history. He tied Biletnikoff winner Jordan Addison for the most touchdowns as well with 17.
WR: Nathan Dell, Houston - Dell was the catalyst for Houston's top-15 offense, leading the team in touchdowns and yards. He had 81 catches for 1,178 yards and 12 scores on the season, finishing sixth among all Group of Five receivers in PFF's grading system.
TE: Isaiah Likely, Coastal Carolina - You could have easily picked Trey McBride from Colorado State here and I'd have no qualms, but I'll take the big man from Coastal Carolina. Likely led all tight ends in the country with 12 touchdowns, and his 912 yards were second to McBride, who only scored one touchdown.
OT: Max Mitchell, Louisiana - The highest-graded offensive tackle in the country according to PFF, Mitchell was a bulldozer for the Ragin' Cajuns. He paved the way for one of the most balanced offenses in the country.
OT: Bernhard Raimann, Central Michigan - Raimann was one of three players in the country to receive a PFF grade over 85 in both pass blocking and run blocking. He was one of the biggest reasons that Lew Nichols was able to rack up so many yards.
OG: William Dunkle, San Diego State - Arguably the best guard in the country, Dunkle simply mauled everyone who got in his way. He was PFF's top-graded run blocker at 98.8 and did not allow a sack on over 400 pass-blocking snaps.
OG: O'Cyrus Torrence, Louisiana - Frankly, you could probably put the entire Ragin' Cajuns offensive line on this list, but I'll limit it to Mitchell and Torrence, who were both fantastic all season. Torrence didn't allow a single sack, and his PFF run blocking grade of 89.4 was second among all Group of Five guards.
C: Keegan Cryder, Wyoming - Another guy who didn't allow a single sack all season, Cryder was one of the few Cowboys who excelled this year. PFF's top-rated center in the Group of Five, Cryder's 88.2 run blocking grade was fourth in the country among all centers.