Three-Point Stance: Ohio State Twitter, significant commitments, RBs
Rivals.com National Recruiting Director Mike Farrell's thought-provoking Three-Point Stance is here with some thoughts on the Ohio State recruiting situation, some of the bigger commitments of the past few weeks and thoughts on how key the running backs will be to the title chase.
MORE: Week 3 betting picks | Measuring Lamar Jackson's NFL stock
1. BUCKEYE TWITTER BEEF
Can one loss affect recruiting?
I've been asked that question probably 1,000 times in my career, and my answer is always the same: Yes it can.
But is the fallout from the Ohio State loss to Oklahoma much ado about nothing? I think it is. Let me explain what's going on if you aren't aware. We all know the Buckeyes got drubbed by Oklahoma Saturday night 31-16 with some big-time recruits on hand and others watching on TV. And we all saw how ineffective J.T. Barrett was at quarterback.
So a few recruits, mainly five-star targets Jackson Carman and Micah Parsons, decided to tweet their support of backup quarterback Dwayne Haskins for the world to see.
No big deal, right? After all, in the world we live in with social media, everyone has a voice. Urban Meyer even acknowledged that he was made aware of comments made by recruits in a press conference. Carman, a five-star offensive lineman out of Ohio, is considered by many to be a strong Buckeyes lean. He was on hand for an unofficial visit for the game.
Here's his tweet….
Parsons, a five-star defensive end out of Pennsylvania, is also considered by many to be a strong Buckeyes lean. He was on an official visit for the game. Here's his tweet in response to someone tweeting that Meyer would consider a change at quarterback…
None of this means anything to me. But it did get interesting when Carman and Buckeyes alum Kirk Herbstreit, who called the game for ABC Saturday night, got into a bit of a tiff on Twitter over the situation. Herbstreit first tweeted this…
And Carman responded in kind…
So now the drama has reached national levels with pretty much everyone, myself now included, writing about this dust up. And the questions on social media and message boards began.
"Is Herbstreit pushing Buckeyes recruits away with his comments?"
"Will Meyer drop Parsons and Carman, or will Ohio State stop recruiting them as hard?"
"Is Carman tipping his hand that he prefers Clemson or USC to Ohio State with his tweet?"
I'm here to tell you a few things - and listen closely. This is nothing. Both Parsons and Carman have since explained their tweets and seem to be over it all. There is no way I see Ohio State backing off Carman or Parsons for something like this unless there have been many other red flags throughout the process. Meyer and his staff will hash it out with the prospects and recruiting will continue as usual. And Herbstreit's comments about recruits are simply an adult's frustration with what I'm sure he considers an entitled younger generation and his distress at everyone having a voice in this day and age.
I get it. I am a grumpy old man as well. But I know better than to call out recruits -- it's never a good look.
I still think Carman and Parsons end up at Ohio State, but in this day and age nothing is a lock. And yes, I find this Twitter controversy entertaining in some ways, but I don't think it's a huge deal, nor will it push either player away from the Buckeyes.


2. SIGNIFICANT RECENT COMMITMENTS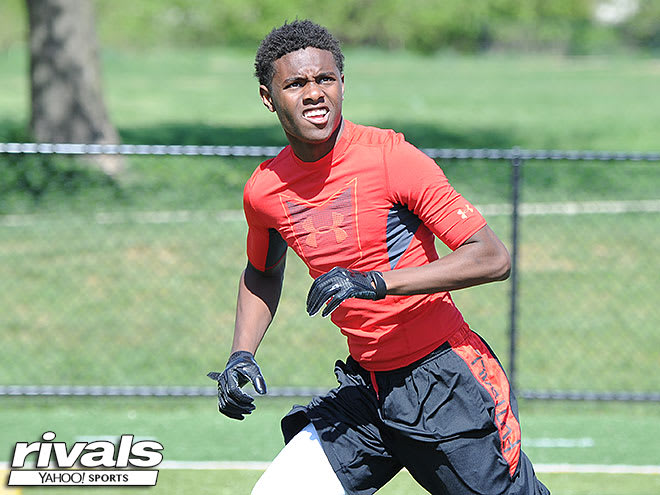 Many of the four-and five-star commitments have slowed to a crawl or something even less than a crawl now that high school football season is upon us. This is what happens every cycle, so it's not surprising. However, that doesn't mean that there haven't been a few key commitments over the last few weeks. Here are the ones that stand out to me…
1. DT Antwuan Jackson, Ohio State: A JUCO prospect rarely leads the way here, but Jackson plays a key position that is hard to recruit and has a ton of athletic talent.
2. WR Jahan Dotson, UCLA: A speedy slot receiver and a get from across the country, Dotson fits well into what the Bruins like to do on offense and could be a star.
3. CB Julius Brents, Iowa: Corners are hard to find, especially those with height and length. This was an important get in the Midwest for the Hawkeyes, who are doing great finding defensive backs.
4. WR Trejan Bridges, Oklahoma (2019): A Rivals100 grab for the 2019 class, Bridges is tall and skinny and will continue to grow and fill out. He's a big addition out of Texas and a guy who is just starting to reach his potential.
5. CB Keaton Ellis, Penn State (2019): Ellis is a local commitment with a good frame to build on, he's a willing tackler and will likely be a good recruiter for the program in the 2019 class.
6. DE Rodricus Fitten, South Carolina (2019): Fitten hasn't blown up with offers yet, but his versatility is important to the Gamecocks moving forward. He could stand up or grow into an aggressive weakside defensive end as he progresses.
7. LB Brian Asamoah, Oklahoma: The Sooners head into Ohio ahead of their win over the Buckeyes for a talented linebacker with great feet, quickness and a guy who never stops hustling. He can play outside or inside down the road.
8. LB Jacquez Jones, Ole Miss: Every commitment to Ole Miss is an important one, and Jones is thick and powerful, does his best work moving forward and will be a huge linebacker for the Rebels down the line.
9. WR Stephen Guidry, Mississippi State: Remember him? Guidry committed to LSU twice but is now an immediate impact receiver with good size as a red zone threat for the Bulldogs. He will hit the ground running when he arrives.
3. RUNNING BACKS COULD KEY TITLE RUN
Will running backs be the key to the national championship? All of the focus is on the quarterbacks for the contenders – Jalen Hurts at Alabama, Baker Mayfield at Oklahoma, Sam Darnold at USC, Trace McSorley at Penn State, how Kelly Bryant will emerge at Clemson and so on.
But what about the running backs?
We know Penn State has a great one with Saquon Barkley, and his talent could put the Nittany Lions, a team I felt was overrated coming into the season, in a great position for a playoff run.
But what about the rest?
Georgia has a three-pronged attack with Sony Michel, Nick Chubb and freshman D'Andre Swift. Oklahoma State has a running back you may have never heard of in Justice Hill who is the real deal. USC has Ronald Jones II and freshman Stephen Carr. We all know about how many talented running backs Alabama has. There are numerous other examples as well.
On Saturday, we got to see the talents of freshman Trey Sermon for Oklahoma, so the Sooners appear to be fine at the position along with Abdul Adams even after losing Joe Mixon and Samaje Perine. LSU is undefeated and has the second-best running back in the country in Derrius Guice. I could go on and on.
The teams I worry about a bit? Clemson needs an identity at running back; Tavien Feaster hasn't emerged yet, and while Travis Etienne and C.J. Fuller have shown flashes, Bryant is still the team's leading rusher by far.
Washington hasn't gotten the running game on track yet against two poor opponents, although Myles Gaskin is very talented.
And, oddly enough, I worry about Michigan, as Ty Isaac looks the part and has been effective but Chris Evans, who is much more evasive and explosive, hasn't gotten on track yet.
I have a feeling that when we get to the playoff in what seems like a year from now, the team with the best rushing attack and perhaps not the best quarterback could be one to watch. But no, that doesn't mean Ohio State still has what it takes to win it all despite a solid rushing attack.