Three-Point Stance: Mid-Atlantic predictions, NIL, teams on a tear
Rivals national recruiting analyst Adam Friedman has thoughts on some important commitments coming up in the Mid-Atlantic, which teams are hot on the recruiting trail in the last month and the evolving NIL landscape at the high school level.
1. Three big commitments coming in the East
Paul Billups: Today
The big, tough receiver out of the Tidewater region of Virginia is set to commit Wednesday afternoon. Virginia Tech, North Carolina and Michigan State will have hats on the table, but it's hard to see a scenario where the Tar Heels don't end up getting his commitment.
Billups has a ton of connections to the North Carolina program and has been on campus at least four times in the last year, more than any other school.
Kaveion Keys: Aug. 27
Keys has been a priority for multiple teams since his recruitment really began at the end of January. Virginia Tech is battling Penn State and North Carolina for this in-state prospect but it looks like he'll end up with James Franklin and the Nittany Lions or Mack Brown and the Tar Heels.
Odds are good that North Carolina will come out with this commitment, continuing to bring in talent from its northern neighbor. Last year the Tar Heels signed seven players from Virginia and they'd have a total of five this year if Billups and Keys add their names to the list.
Desmond Umeozulu: Aug. 29
Umeozulu's recruitment is winding down and where he'll end up has become less clear. Ohio State had all the momentum until a few weeks ago. Since then, there has been more talk about the Gamecocks than the Buckeyes.
This race isn't over and Umeozulu will be one to watch all the way to the Early Signing Period. Umeozulu took visits to both schools along with Pittsburgh and North Carolina back in June. Ohio State got my FutureCast prediction in July but it's on very shaky ground right now.
2. High school NIL
Another Name, Image, and Likeness milestone came and went on Monday when KONGiQ Sports Performance and Bellflower (Calif.) St. John Bosco, one of the top high school football programs in the nation, announced they had entered into a NIL agreement. Every player in the St. John Bosco program will earn money in exchange for posting content on social media and on the KONGiQ app.
While the deal isn't expected to be nearly as lucrative as the reported NIL deals for top 2023 prospects, this is a huge deal for high school players around the country. Bosco's NIL deal is believed to be the first of its kind and more are coming. Remember when everybody was flipping out about the alleged $1 million deal Travis Hunter got from Jackson State? Now five-star quarterback Nico Iamaleava allegedly has a $7 or $8 million NIL deal. Expect the value of these team-wide NIL deals to go up too.
Right now there are fewer than 20 states that allow high school athletes to sign NIL deals. Of the four big recruiting hotbeds (California, Florida, Texas, and Georgia), California is the only one that will let prospects capitalize on their Name, Image, and Likeness. As these team-wide NIL deals get more and more valuable, expect players from around the country to start transferring to these schools. Dozens of top prospects already transfer to another state during each offseason but it will be interesting to see how quickly other states fall in line if dozens of top prospects from one state start transferring to another.
3. Hot teams from the last month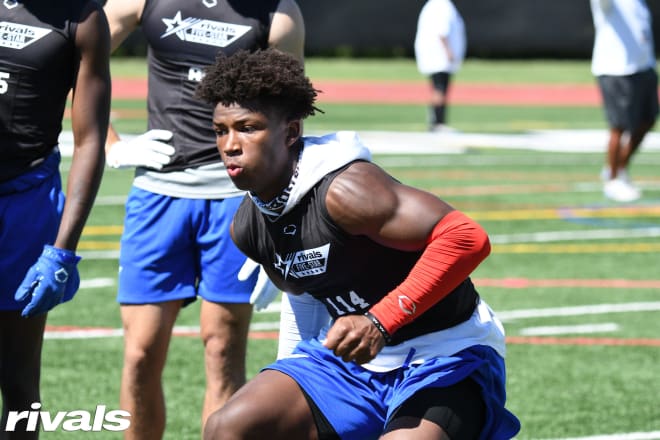 There is always a wave of commitments in the weeks leading up to the beginning of the season and this year was no different. Here are a few teams that added major pieces to their recruiting class in the last few weeks.
Alabama: The Crimson Tide grabbed a hold of the top spot in the team rankings thanks to the incredible run of commitments they've picked up in the last month. Eight players have committed to Alabama since July 22 and all eight of them are in the Rivals250. Caleb Downs is the top-ranked safety in the class and Richard Young is No. 2 at running back. What's even more impressive is that the Crimson Tide flipped Ty Lockwood away from Ohio State. The rest of the recent Alabama commits include Edric Hill, Raymond Pulido, Miles McVay, Hunter Osborne and Olaus Alinen.
Florida: So much for the slow start under Billy Napier. The Gators have added eight commitments since July 28 and currently seven of them are four-star prospects. Florida really beefed up its defensive line by landing commitments from Rivals250 No. 39 Kelby Collins, Rivals250 No. 74 Will Norman and highly regarded three-star Kamran James. Defensive backs Jakeem Jackson and Jordan Castell added their names to Florida's list of commitments. The Gators also flipped linebacker Jaden Robinson from South Carolina, where he had been committed to since July 4. The Florida offense added two big-time playmakers in Rivals250 No. 99 Aidan Mizell and Andy Jean, both in-state receivers.
South Carolina: The Gamecocks have been on a tear lately. Shane Beamer and his staff have added eight players to their recruiting class since July 30. Defensive linemen Zavion Hardy, Xzavier McLeod and Monteque Rhames along with offensive lineman Markee Anderson are all new commits for South Carolina and all of them are in the Rivals250. The Gamecocks also picked up a commitment from four-star offensive lineman Tosin Babalade in addition to three-stars Vicari Swain, Cameron Upshaw Jr., and Jatavius Shivers.
LSU- The Brian Kelly era is off to a pretty good start on the recruiting trail. The Tigers picked up five Rivals250 commitments since July 29 and now have a top five recruiting class. What's even more important for LSU, all five of these commitments are from in-state prospects and now the Tigers have commitments from seven of the top 15 players in the state of Louisiana. Quarterback Rickie Collins broke off his long-standing commitment to Purdue on Aug. 1 and jumped onboard with LSU on the just over a week later. Rivals250 No. 50 Shelton Sampson has a chance to be a special receiver in Baton Rouge. Offensive tackle Tyree Adams, Rivals250 No. 109, defensive back Kylin Jackson, Rivals250 No. 110, and receiver Khai Prean, Rivals250 No. 141, were the other three recent commits for LSU.
Texas: Steve Sarkisian and the Longhorns followed their outstanding June and early July with an impressive group of new commitments heading into the season. Since July 20, Texas has landed commitments from two Rivals100 players and two Rivals250 players. Malik Muhammad, No. 34 in the Rivals250, is joining an already stacked group of defensive back commitments that include Rivals250 No. 40 Derek Williams and Rivals250 No. 217 Jamel Johnson. Holding off Texas A&M and Ohio State for Derion Gullette, No. 88 in the Rivals250, was a big win for Texas. The Longhorns went into Florida for running back Cedric Baxter, No. 122 in the Rivals250, and offensive tackle Payton Kirkland, No. 248 in the Rivals250.