Three-Point Stance: Micah Hudson, five-star freshmen, next up in Texas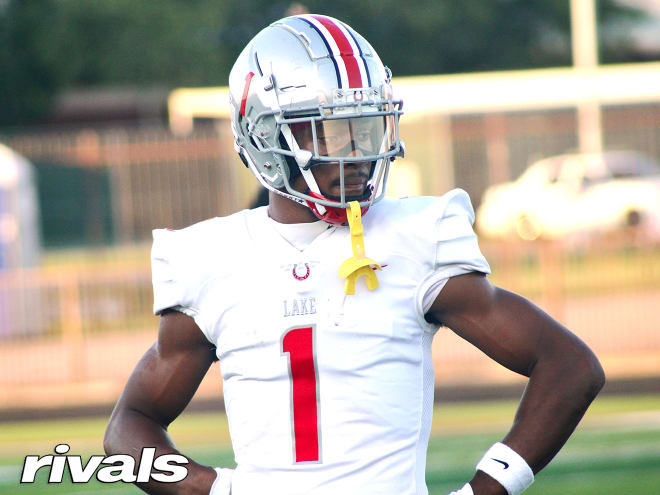 Rivals national recruiting analyst Cole Patterson takes a look at three Mid-South recruiting topics, including five-star Micah Hudson blazing his own path with his recent commitment, two former five-star recruits already turning heads in college and where the focus shifts with many of the top prospects already off the board.
1. MICAH HUDSON BLAZES HIS OWN PATH
RELATED: Hudson, Smith commitments show value of relationships
There was lots of speculation and reporting that Micah Hudson was going to commit to Texas Tech, even as early as June. However, the summer went without the five-star wideout announcing any kind of pledge. Naturally, that raised eyebrows as Texas and Texas A&M worked in his recruitment.
At last, Hudson finally revealed his intentions to play for the Red Raiders at the beginning of this week. Without even giving the coaching staff a heads up about when he would announce, Hudson simply tweeted out a graphic to let everybody know where he was going to college. As expected, that sent social media into a frenzy.
Hudson is the No. 6 overall prospect in the Rivals100 and was the top uncommitted recruit in the nation prior to pledging to Texas Tech. He would have been a big get for Texas Tech regardless, but his commitment is even more notable considering that he's the highest-rated player to commit to the Red Raiders in the Rivals.com era.
"But I feel like I could come in and maybe be a better player than even Michael Crabtree if I just put the work in and everything," Hudson explained about the possibilities in West Texas.
Rather than going to a traditional power, Hudson has opted to blaze his own path and make his mark in Lubbock. That bodes well for the future of college football during a forever evolving sport that is highlighted by conference realignment, NIL deals and much more.
*****
2. ANTHONY HILL, PEYTON BOWEN MAKING INSTANT IMPACTS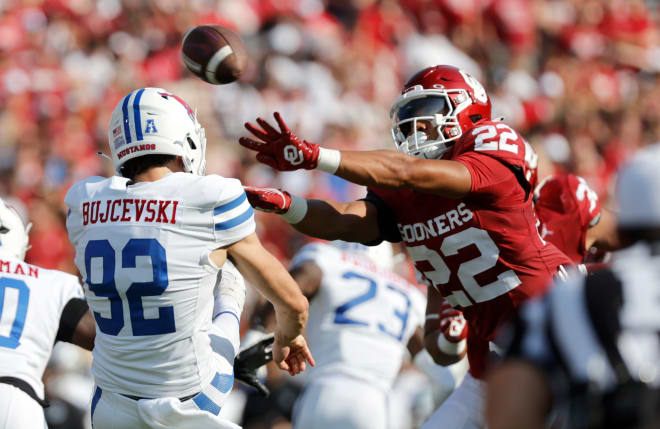 It hasn't taken very long for two of the best prospects out of the Mid-South Region a cycle ago to make an impact on the college level. For both Texas and Oklahoma, the two rivals have seemingly hit big on a pair of five-star prospects -- from the same city in the Dallas-Fort Worth Metroplex.
Anthony Hill has burst onto the scene in a major way. The 2023 five-star linebacker out of Denton Ryan announced his game to the college football world when the Longhorns knocked off Alabama in Week 2. In that game, Hill was creating havoc all night long off the edge, even getting to Crimson Tide quarterback Jalen Milroe twice.
To no surprise, Hill looks like a superstar in the making. He is already backing up his status at the nation's No. 22 overall recruit a year ago. And the same can be said for former Denton Guyer standout Peyton Bowen.
Bowen, also a five-star recruit in the 2023 class, created headlines when he decommitted from Notre Dame and announced that he would be signing with Oregon only to catch everybody off guard and actually sign with Oklahoma on the second day of the Early Signing Period. He's proving that it was worth the wait for the Sooners.
The No. 12 overall recruit in the class of 2023 is playing meaningful snaps at safety and is emerging as a key special teams contributor -- similar to his high school playing days. He has a blocked punt and a forced fumble to his name through only two games, demonstrating the playmaker that he's always been.
Early in their freshmen season, it's clear that there was no overthinking the two DFW defenders. Both Hill and Bowen are set to be foundational pieces for prestigious programs set to play in the SEC.
*****  
3. FOCUS SHIFTS TO KOBE BLACK, TERRY BUSSEY
Now that Hudson is committed, all but two of the top-10 recruits in the state of Texas for the 2024 cycle have announced where they will be going to college. That only leaves cornerback Kobe Black and athlete Terry Bussey available.
The attention shifts to the two elite and potential five-star recruits as football season is in full gear. Bussey has a commitment date set for later this month, while Black recently told Rivals that he tentatively plans to hold out until after his senior campaign.
Bussey's recruitment is primarily headlined by Texas A&M, Oklahoma and LSU. The Aggies have been the perceived favorite to land the East Texas star since the early stages of his recruitment. But LSU has always been towards the top of the contenders and Oklahoma has especially made a serious push over the last few months.
As for Black, Texas is viewed as the leader in the clubhouse for the nation's No. 3 cornerback recruit. But Texas A&M hosted him on campus to end the summer and have made a surge. Oklahoma and LSU remain in the picture, and Oklahoma State is a sneaky wildcard given that his older brother, Korie, plays in Stillwater.
With several of the nation's premier prospects already off the board, the attention is centered around the two Lone Star State prospects and where they will commit. Their decisions could potentially have a ripple effect as the rest of the recruiting process plays out from here until mid-December and into February.