Three-Point Stance: Grading new coaches; 2018 surprises; Week 4 picks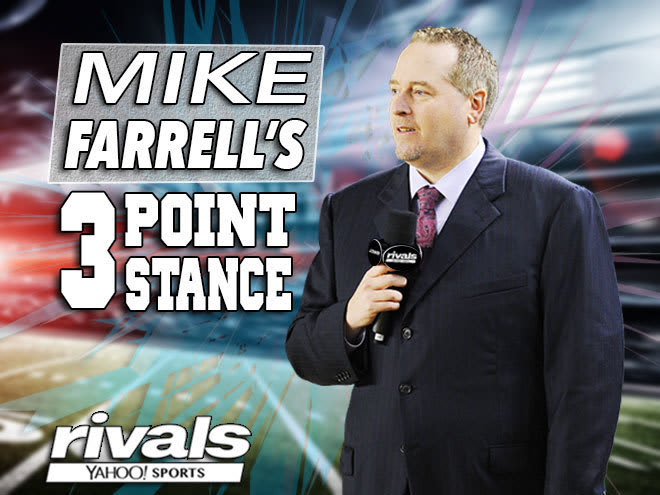 Rivals.com National Recruiting Director Mike Farrell's thought-provoking Three-Point Stance is here grading first year coaches a quarter of the way through the season, five things that would have stunned you before the season and predictions for the weekend.
MORE: Will Michigan have Big Ten's top class? | Ten surprising commitments

1. Coaching report cards at the quarter, and their grades in December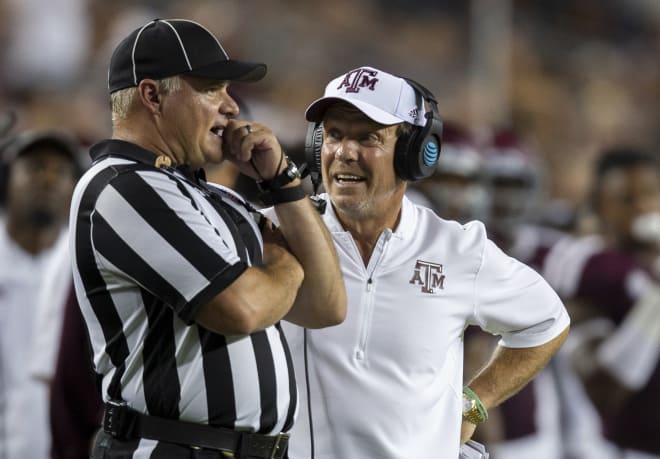 The season is 25 percent over, so why not rank the new coaches in Power Five? That sounds fun right? Here goes with some harsh ratings for many, including myself, after looking at the grades I handed out in December after the hirings.

Of course, these grades are extremely premature and (hopefully) a lot of the grades will be closer to my original assessments once they get a few recruiting cycles under their belts. But for now, let's see where they stand.

1. Jimbo Fisher, Texas A&M – B+ -- This is mainly based on the loss to Clemson as Texas A&M looked good and never went away against one of the best teams in the country. Alabama is looming and that could get ugly, but for now a 2-1 start and a close loss to Clemson has him on top of the list.
My hire grade in December: A+
2. Mario Cristobal, Oregon – B+ -- They haven't beaten anyone yet but they haven't lose either and have looked solid for the most part. Stanford is coming up this weekend and could change this grade dramatically, but so far so good at Oregon.
My hire grade in December: B
3. Joe Moorhead, Mississippi State – B+ -- He has his team in the national top 15 and has a good win over Kansas State on the road. Like others, he has some big tests ahead of him especially Auburn and LSU as well as Alabama in November, but so far he's done very well.
My hire grade in December: B

4. Jeremy Pruitt, Tennessee – B – The blowout loss to West Virginia was ugly but I'm giving him a B here because the team is 2-1 and it is headed in the right direction. I could be proven wrong as they face a tough part of their schedule with Florida, Georgia, Auburn, Alabama and South Carolina in their next five games.
My hire grade in December: B

5. Herm Edwards, Arizona State – B – Losing to San Diego State brought him down from the top of the list, but that win over Michigan State is still impressive and he's doing better than I thought he would.
My hire grade in December: D

6. Matt Luke, Ole Miss – C – The win against Texas Tech was a solid one, but that Alabama loss is so ugly it knocks him down to this ranged. It also didn't help they gave up 41 points to Southern Illinois.
My hire grade in December: C

7. Dan Mullen, Florida – C – The loss to Kentucky was embarrassing enough and historical enough to drop him into the C ranks despite a 2-1 start. He could swap places with Pruitt if the Gators beat Tennessee.
My hire grade in December: A

8. Scott Frost, Nebraska – D – An 0-2 start hasn't soured the feelings of the fans, but the Troy loss was a tough one to take even this early in his tenure.
My hire grade in December: A+

9. Chad Morris, Arkansas – D – He might be in the F range if I wasn't such an easy grader because Colorado State is not a great loss and the rout against North Texas was embarrassing, but we'll see what happens.
My hire grade in December: C+

10. Kevin Sumlin, Arizona – D – Arizona looks awful so far with bad losses to BYU (although that win by BYU over Wisconsin makes it look a little better) and Houston. The real problem is how he's used Khalil Tate (below).
My hire grade in December: Was hired in January

11. Jonathan Smith, Oregon State – D – A 1-2 start isn't that great. No one expected a win over Ohio State but wins over Southern Utah and Nevada should be expected, no?
My hire grade in December: C

12. Chip Kelly, UCLA – F – Loss, loss and loss. We knew it would take some time to turn UCLA into what he wanted, but losing to Cincinnati and Fresno State so badly wasn't part of the plan.
My hire grade in December: A+

13. Willie Taggart, Florida State – F – To me he's done the worst job despite a win on his resume.
My hire grade in December: B

2. Five headlines you did not see coming in August
Talk about stunning. Try reading some of these headlines before the season and tell me what you would have thought.
1. Urban Meyer is winless through three games – You'd be stunned reading that in early August right? We know the reason is the three game suspension, but it's still big news. The question remains, did Urban learn anything from the Zach Smith scandal? The answer to that is doubtful, but on the field he should continue to win and win big.
2. Ed Orgeron is leader for the SEC Coach of the Year – With Miami and Auburn on the schedule in the first three games, no one expected an undefeated start for LSU, much less Orgeron being the early leader for coaching honors.
3. USC and Florida State bow out of playoff race early – Some felt FSU could rebound and give Clemson a run in their division while others felt USC could represent the Pac-12 in the playoff. Now it's still mid-September and both are done with any hopes of making a national push.
4. Khalil Tate is a pocket passer – Wait, what? Yep, Kevin Sumlin in his genius has decided to keep Tate's running ability a tad restricted early in the season. I can't figure it out either so don't try too hard.
5. Trevor Lawrence isn't starting for Clemson – The hype was there and the job was open but Kelly Bryant is still the man at Clemson. I would have bet good money that Lawrence would be the guy by now.
3. Week 4 predictions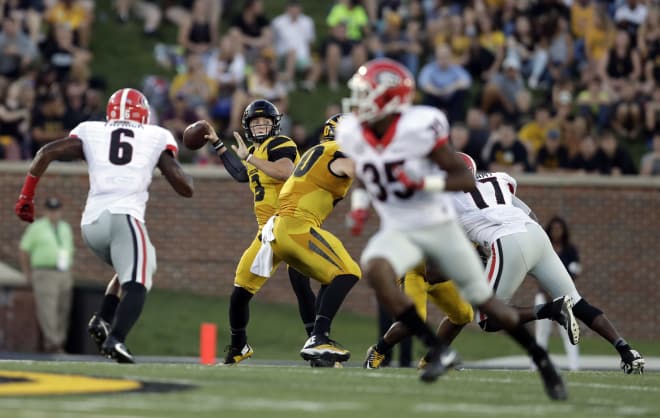 Its prediction time for the upcoming weekend so here goes…
Georgia at Missouri — I believe in the Mizzou offense but not in the defense, so I think Georgia wins the game but Missouri covers the 14.5 at home.
Notre Dame at Wake Forest – Wake Forest isn't a bad team and better than Vanderbilt, but Notre Dame should be focused and pull this out by more than a touchdown.
Nebraska at Michigan – Nebraska is a mess and Michigan is turning things around so look for the Wolverines to win by three touchdowns.
Texas A&M at Alabama -- There is no way A&M plays as well as they did against Clemson and Alabama thumps them.
Kansas State at West Virginia – West Virginia is going to blow them out at home, I don't believe much in Kansas State after watching that Mississippi State game.
TCU at Texas – How do I figure this one out? Texas is at home but will they look like they did last week? I'm taking the Longhorns because I think the USC game was a turning point.
Mississippi State at Kentucky – I like Mississippi State a lot. It is a well-balanced team and takes this one by 10 points.
Texas Tech at Oklahoma State – A shootout? You bet. Oklahoma State wins by 10 in a game where both teams score 40 or more points.
Stanford at Oregon – Bryce Love is back, so Stanford takes this one but it should be a close game.
Wisconsin at Iowa – Wisconsin gets back to winning ways with a sound thrashing of Iowa? Nope. I'm taking Iowa in the upset.
Arizona State at Washington – Washington hasn't been as impressive as expected this season but it destroys Arizona State.