Three-Point Stance: Dylan Raiola, Louisville, top 10 results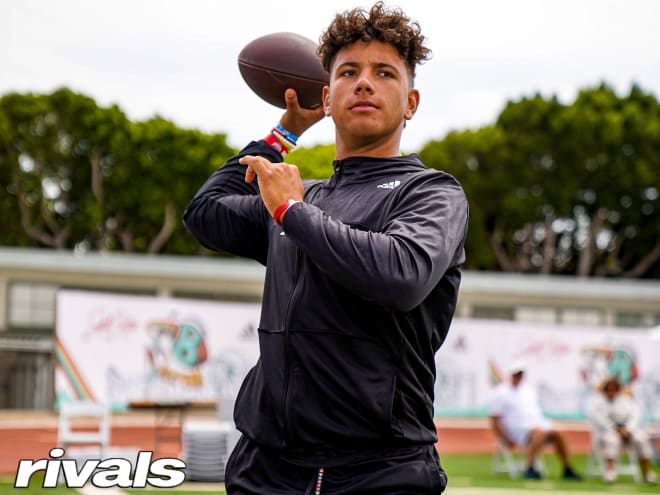 Rivals national recruiting director Adam Gorney has thoughts on 2024 No. 1 Dylan Raiola, Louisville's opening loss and whether the recruiting class will stay intact, and he breaks down what he saw from the AP top 10 teams during the opening weekend of college football:
RAIOLA IS DEFINITELY NO. 1
I saw Dylan Raiola play Friday night. It was more than just play – he dominated, he looked like a million bucks doing it and I'm happy we moved him to No. 1 in the 2024 rankings. The Chandler, Ariz., quarterback is good enough to be in consideration for the top billing in the 2023 class as well.
Raiola was great this summer at the Steve Clarkson QB Retreat but with pads on he looks like a mix between Justin Fields and Patrick Mahomes. He's the same height and about 10 pounds lighter than those two NFL quarterbacks, but Raiola has a phenomenal frame and absolutely looks the part.
The 2024 five-star transferred from Burleston, Texas, to Chandler for his junior season and is already the unequivocal leader of the team – even leading the group in prayer after the game. In a blowout, he was the first guy congratulating the subs when they did something well. It didn't come off as phony or forced.
The reason Chandler was up so much was because Raiola is absolutely phenomenal at running an offense. He checks at the line. He moves people around. And with the ball in his hands he's phenomenal throwing short stuff (like when he lobbed a beautiful screen pass over the defensive line) or bombing it down the field.
Not only does he make it all look so easy but Raiola also makes it look like many of today's NFL quarterbacks. It's uncanny how similar he looks to Mahomes on the field with the off-platform throws, off-balance throws, sidearm delivery when needed and just the right amount of gunslinger mixed in with responsible decision-maker.
There are others I really like in the 2024 class - Desmond Ricks is an outstanding lockdown corner, Jeremiah Smith is a dominant, high-level receiver and Colin Simmons is a great edge rusher. But I don't think it's all that close right now.
Raiola comes from an NFL pedigree as his father, Dominic, was a second-round NFL Draft pick and played for more than a decade with the Detroit Lions. His uncle, Donovan, played in the league and now coaches at Nebraska.
We thought so highly of Texas QB Quinn Ewers that when he reclassified to 2021, we moved him to No. 1 in the class. There's no indication Raiola is considering such a move but if he did, that same thought would cross my mind - even with Texas QB commit Arch Manning the current No. 1 player in 2023.
*****  
INTERESTING SITUATION AT LOUISVILLE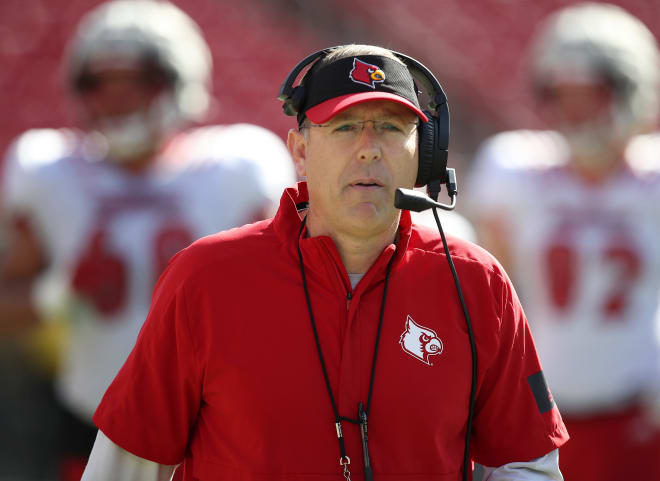 Scott Satterfield is now 18-20 at Louisville and after going 8-5 in his first season, the Cardinals have had losing records in back-to-back years and suffered an ugly loss Saturday to an average Syracuse team.
Satterfield entered this season on a relatively warm seat and after losing 31-7 to the Orange, things might have gotten turned up a little more. It won't get easier for Louisville, which visits UCF and hosts Florida State in its next two games.
Here's the issue though: Louisville has pieced together a top-20 recruiting class with eight four-stars which is currently more than Oregon, USC, Baylor and many other programs.
The No. 1 all-purpose back in the country, Rueben Owens II, is pledged to the Cardinals. So is the No. 1 dual-threat QB in Pierce Clarkson along with some elite Bellflower (Calif.) St. John Bosco teammates. Four-stars Madden Sanker, William Fowles, Stanquan Clark and others are high-level players.
In at least the last 10 recruiting classes, Louisville has never finished in the top 20 of the team rankings so this could end up being one of the Cardinals' best classes ever.
But what will the Louisville decision-makers do if Satterfield doesn't turn the program into a winner this season. Keep him and hope this recruiting class stays intact or move in another direction but risk losing all those elite prospects?
*****
AN EARLY LOOK AT TOP 10 PERFORMANCES
Alabama: The Crimson Tide crushed Utah State. No big surprise. Bryce Young was awesome. No big surprise. I wouldn't be shocked to see the Alabama-Texas line get up to around 20 before kickoff.
Ohio State: The Buckeyes looked different Saturday night and it wasn't necessarily in a bad way. They were more physical, more focused on the run, not pushing the ball downfield through the passing game and that was because Jaxon Smith-Njigba got hurt and Notre Dame's defense wasn't going to give up the deep ball. But I'd have the Buckeyes third in my rankings.
Georgia: An absolute masterclass destruction of an Oregon team that looked like it wasn't prepared for that level of heat and didn't want any part of it. There was no national championship hangover or many growing pains on defense. To beat Georgia this season is going to take a whole lot and maybe only Alabama has it, if even the Crimson Tide.
Clemson: The Tigers open Monday night after this story runs. The defense should be overwhelming to Georgia Tech. All eyes are on the offense and whether it can move the ball and score more than last season.
Notre Dame: The Irish impressed me Saturday even in a losing effort. It was nearly an impossible situation opening at Ohio State but QB Tyler Buchner was impressive, there are playmakers emerging and the defense battled like crazy. I wouldn't be surprised if ND was 7-1 heading into the Clemson game in early November.
Texas A&M: This felt like a game - against Sam Houston State and then with that long weather delay - that the Aggies just had to endure and get through. A 31-0 win was fine but much tougher competition is ahead. Texas A&M has all the talent in the world but the schedule does get challenging.
Utah: The Utes did exactly what was expected of them Saturday night at Florida – play its methodical game, grind down the Gators and be in striking distance of the win. But Cam Rising made one errant throw on the final drive and that was the deciding factor. One wonders what happens if Rising throws that ball away, Utah kicks the field goal and the game goes to overtime.
Michigan: A warmup against an overmatched team is what Michigan could expect for a while as the Wolverines have put together a pretty easy schedule early in the season. Colorado State? Hawaii? UConn? Those are all snoozers. Michigan probably outclasses Maryland and Iowa better improve on offense tenfold if it wants to hang with the Wolverines. It might be a while to see what this Michigan team is really all about.
Oklahoma: Oklahoma did what Oklahoma was supposed to do against a lesser opponent - overwhelm them early and cruise to an easy victory. The Sooners move on and bigger tests will be coming but this looks like a real contender right now.
Baylor: We can't learn much from Baylor shellacking lowly Albany. Let's see how tough the Bears are after traveling to BYU this weekend.