Three-Point Stance: Dream hires, dumpster fires and more
Rivals.com National Recruiting Director Mike Farrell's thought-provoking Three-Point Stance is here with some "pie in the sky" picks for potential job openings, rating the dumpster fires in college football and ranks the strength of each conference by its head coaches.
RELATED: Prospect pulse - Patrick Surtain | Five-star Cade Mays back on the market

1. Pie-in-the-sky candidates
Your team might have a job opening for next season and you are dreaming of a big name to not only help your program on the field but improve recruiting and bring some excitement to the masses. Here are some hires that would charge up college football, some likely and some very unlikely. Let's call them "pie in the sky" dream hires within reason, otherwise Nick Saban and Urban Meyer would be on each list. So a basis of some reality is necessary. Here goes.
Tennessee – Jon Gruden

We've heard it for what seems like a couple decades now right? If Gruden got back into coaching with the Vols, the fan base would be as happy as they've been since Tee Martin was winning a national title. This is clearly the dream hire.
Nebraska – Scott Frost

A former star player and the hottest young coach in the nation heading back home is exactly what Huskers fans want. If they don't get Frost, I won't want to be around our Red Sea Scrolls message board the day someone else is hired.
Florida – Chip Kelly

Need to fix the offense? This guy can do it. He's an offensive genius and he can recruit, albeit sometimes illegally, and bring offensive stars to The Swamp. Forget Frost or Dan Mullen, this is the dream hire.
Arkansas – Gus Malzahn

He's a local, he wouldn't be on the Hot Seat every season at Arkansas and he's a very good coach. Again this is "pie in the sky" and the chances of Arkansas luring him away from Auburn are slim to none, but why not dream if you are a Hawgs fan?
UCLA – Lane Kiffin

Wait, what? It's a better answer than Ken Norton Jr., right? I have no idea who the dream hire for UCLA would be barring Troy Aikman wanting to leave his million dollar gig as a broadcaster, so I'll make this one my dream hire. Recruiting would jump and interest in the program would quadruple. Make this happen, please.
Texas A&M – James Franklin

Since this was a dumb rumor at the beginning of the season, why not run with it? A&M couldn't do better than Franklin and he would be a dream hire for a team that hasn't won anything in forever. Oh and let's throw Jimbo Fisher in here as well, since that dumb rumor seems to be surfacing also.
2. Rating college football's dumpster fires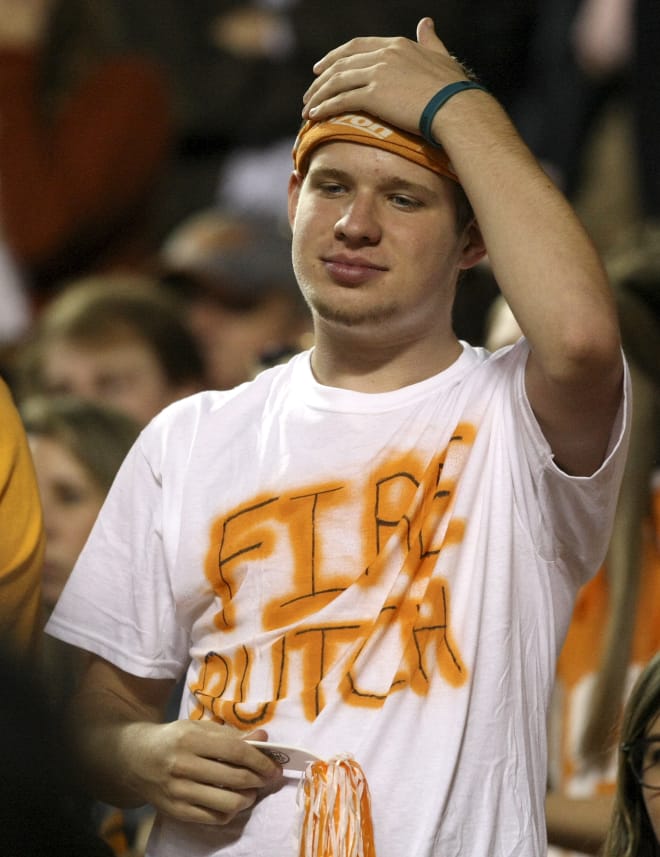 How often do you see someone rate the "dumpster fires" in college football? Not often, but I'll give it a shot. Here are the five programs this season who need a call to the fire department and a whole lot of man power to put out their dumpster fires.
• Tennessee – Five-star recruits are de-committing (okay, one), the team is winless in the SEC and the powers-that-be leave Butch Jones hanging out to dry to the media every week when he should have been fired weeks ago. This is a five-alarm fire and it's going to take some work to put it out.
• Florida – The coach didn't want to be there and made up allegations (allegedly) about death threats and the team has completely given up on the field. They are only below Tennessee because of the recruiting advantage of being in the state of Florida, but this fire is raging.
• Nebraska – Potential five-star recruits are de-committing (okay, one), the team can't win at home and it's clear Mike Riley isn't the answer. A home loss to Iowa will tie a home losing streak set in 1961. That's a fire.
• Florida State – Injuries have hurt, but the coaching hasn't helped and the defense, loaded with talent, just doesn't seem to care that much. There is no way they should have a losing record with that schedule and so much talent. This, however, is only a four-alarm fire and will probably be put out by next year.
• UCLA – If anyone seemed to care at UCLA, this would be an issue, but they don't seem to be bothered by how awful the football team is. With such a recruiting advantage over so many other programs, there is no way UCLA should ever have back-to-back losing seasons. But it's only a four-alarm fire because, again, no one seems to care.
3. The conference with the best coaches is ...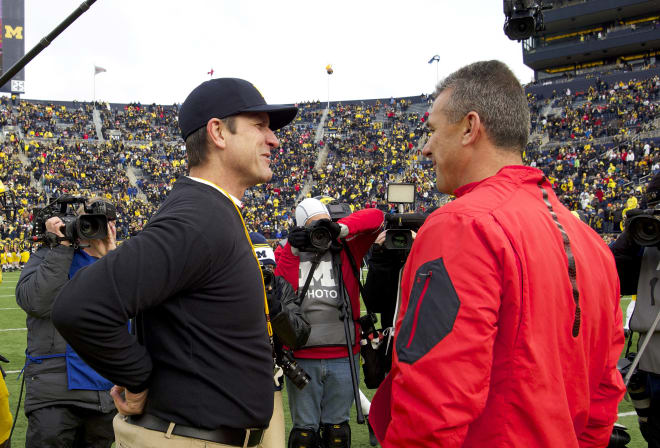 Which Power Five conference has the best coaches from top to bottom? Actually I thought this would be difficult, but it really wasn't as the Big Ten is the coaching king. Here are my five in order.
• Big Ten – From top to bottom, this is the easy choice. Only Mike Riley is on the hot seat and even coaches like DJ Durkin, Chris Ash and Jeff Brohm at middling to lower Big Ten programs are great fits. And with a Mount Rushmore of Urban Meyer, Jim Harbaugh, Mark Dantonio and James Franklin, it's hard to match the Big Ten.
• ACC – The ACC has some very good coaches, led by Dabo Swinney and the depth of coaching in the conference is solid. Even last place teams like Louisville and North Carolina have solid coaches in Bobby Petrino and Larry Fedora respectively and I don't see any major hot seat candidates following this season.
• Big 12 – From new coaches like Lincoln Riley and Tom Herman to forever coaches like Gary Patterson and Bill Snyder, this league is loaded with excellence. The only reason it's below the ACC is because two coaches can be considered Hot Seat guys in Kliff Kingsbury and David Beaty.
• SEC – With so many coaches on the hot seat, you'd think the SEC would be last. Nick Saban alone keeps it out of last place and Kirby Smart, Will Muschamp, Dan Mullen, Gus Malzahn and Mark Stoops have all done fine jobs. We could see as many as six new coaches in the league, but even the guys on their way out haven't been horrible.
• Pac-12 – Chris Petersen, Mike Leach, David Shaw and who else? Willie Taggart could be, but overall the conference is down when it comes to elite head coaches and guys like Todd Graham and Rich Rodriguez needed this season to save their jobs. Jim Mora has been so bad, he drags the league down by himself.