Three-Point Stance: Dr. Farrell, McElwain's status, NFL Combine
1. DR. FARRELL GIVES THE 10 MOST VALUABLE PROGRAMS A CHECK-UP
As spring football begins to ramp up across the country, I wanted to take a look at the 10 most valuable college football programs - per a 2015 Forbes article - and their relative health heading into the 2017 season.
1. Texas – SICK – The Longhorns are far and away No. 1 when it came to money coming into the program, but the on-field results haven't been there for several years. Yes, Texas has a new coach in Tom Herman, but until things get turned around, this is a program that should be embarrassed by its 24-26 record over the last four seasons.
2. Notre Dame – SICK – It's hard to believe how quickly things have fallen for the Irish. They were in the playoff hunt in 2015 and were a disaster just a year later. Recruiting is going well but Brian Kelly is on the hot seat after an awful 4-8 season.
3. Tennessee – SICK – The Volunteers have gone 18-8 over the last two seasons and yet I have them as sick? Yes. They were a dark horse to win the SEC East in 2015 and the clear favorite in 2016 and fell short each time. Tennessee's 12-12 record in the SEC over the last three seasons, despite playing in an awful division, doesn't deserve a healthy grade.
4. LSU – SICK – Two years ago, in a similar article, I knocked LSU for being unable to win the SEC West or beat Nick Saban. So what has changed?
5. Michigan – HEALTHY – Finally, a good checkup for a team. The Wolverines have a premier coach in Jim Harbaugh, the program is recruiting at a high level and the 2016 team made a push toward the playoff.
6. Georgia – HEALTHY – This is going to tick off a lot of non-Georgia fans as the Dawgs went 8-5 last season despite playing in a weak division. How can that be healthy? Well, recruiting is off the charts so far under Kirby Smart and he inherited a bit of a mess from Mark Richt. The Dawgs are headed in the right direction.
7. Ohio State – HEALTHY – Urban Meyer is the best head coach recruiter in the country, the Buckeyes' national recruiting efforts are as good as they have ever been and the 2016 team made the College Football Playoff.
8. Alabama – HEALTHY – Duh. Nick Saban is perhaps the best college football coach of all time, the Crimson Tide played for a national championship in 2016 and have won four titles in recent years. Oh yeah, and Alabama finished No. 1 in recruiting again.
9. Oklahoma – HEALTHY – Despite a rough start to 2016, I think the Sooners are a healthy program. They are the class of the Big 12 and coming off of an 11-2 campaign.
10. Auburn – SICK – The Tigers went 8-5 in 2016 with few quality wins. Gus Malzahn is on the hot seat after posting three-straight losses to rival Alabama, and it's hard to have a healthy program when your coach is in danger of losing his job.
2. MCELWAIN'S JOB STATUS SHOULD BE SECURE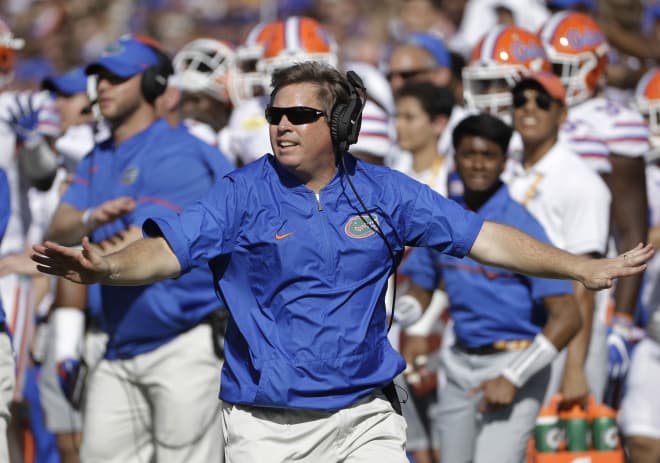 I'm a bit confused. I keep reading articles - most recently by Sports Illustrated's Andy Staples, someone I respect greatly - that say Florida head coach Jim McElwain is on a warm seat. I read that as saying McElwain needs to win and win big within two seasons or lose his job. Staples, it should be noted, didn't refer to the temperature of McElwain's seat, but he did state that McElwain "needs to make significant strides during the next two seasons or risk suffering the same fate as (Ron) Zook and (Will) Muschamp." Zook and Muschamp, of course, finished with winning records but didn't win enough to satisfy Florida fans and administrators.
Hasn't McElwain done enough to deserve a measure of job security? Despite inheriting an offensive mess, McElwain has guided the Gators to two SEC East titles and a 13-3 record in the SEC. Staples, who was a walk-on at Florida, knows more about the culture in Gainesville than I ever will, but I feel McElwain has been successful enough to stay off the hot seat radar.
I've been critical of McElwain's recruiting efforts, and his program's 2017 class failed to address many needs, but if he's on a warm seat then Hugh Freeze, Butch Jones, Bret Bielema and Gus Malzahn must be engulfed in flames.
3. WHAT I EXPECT FROM THE NFL COMBINE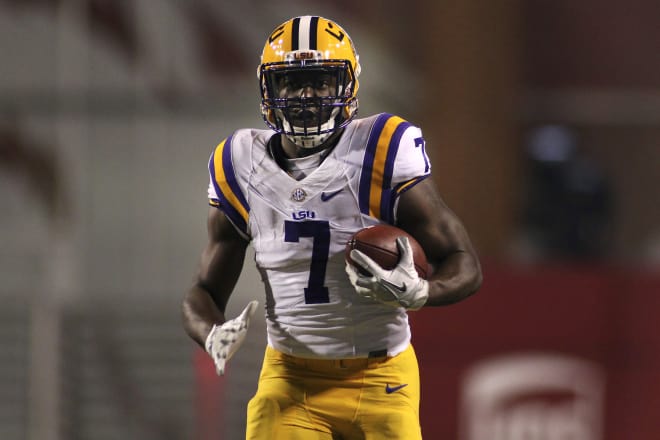 The NFL Combine's on-field action starts Friday. Here's what I'm looking for from Indianapolis:
... I expect Deshaun Watson (former five-star prospect) to show he's the best quarterback in the draft.
... I look for Leonard Fournette (former five-star prospect) to prove he's No. 1 at running back.
... I think Myles Garrett (former five-star prospect) will solidify his hold on the No. 1 overall slot.
... Like always, there will be some former two-star prospects that continue to move up the charts. This year, that group includes draft prospects such as Ryan Ramczyk, Forrest Lamp, Corey Davis and Charles Harris. Contrary to popular belief, I love it when former two-star prospects prove us wrong and use the slight of a low ranking and college coaches ignoring them to drive their journey to the NFL.