Class of 2018 Rivals250 rankings update: Biggest movers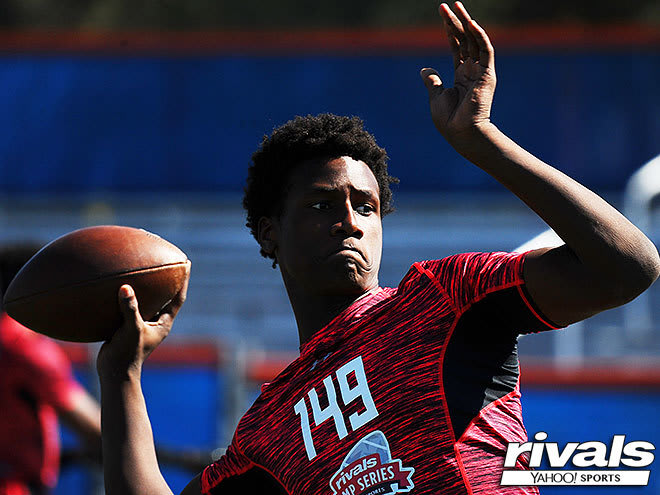 The updated Rivals100 was released on Monday with plenty of changes, except at No. 1, where Clemson quarterback commit Trevor Lawrence remained.
On Tuesday, the complete Rivals250 was released and there was a tremendous amount of recruits who moved into the rankings after valuable late-season and offseason evaluations.

Here is a look at the biggest movers up in the latest Rivals250 release.
Movement: N/A
Analyst's take: "Milton is seeing his offer list grow. Michigan recently offered. Milton has an ideal build and an incredibly strong arm. He's becoming more polished." – Rivals.com Southeast Recruiting Analyst Rob Cassidy
Movement: N/A
Analyst's take: "Wilson is a big, rangy outside linebacker that can hit like a ton of bricks. His big frame and exceptional athleticism give him scheme versatility and college coaches will be able to mold him however they see fit. Alabama, Clemson, Georgia, North Carolina, Ohio State, Penn State and Virginia Tech made Wilson's top seven but it seems like North Carolina and Clemson could hold a slight edge over the field, with Alabama, Georgia and Virginia Tech on their heels." – Rivals.com Mid-Atlantic Recruiting Analyst Adam Friedman
Movement: N/A
Analyst's take: "Campbell names no favorite in the process. His track speed makes him special when combined with his solid size." - Cassidy
Movement: +58
Analyst's take: "Masina is a long, athletic outside linebacker who has looked excellent at camps this offseason. He has long arms to poke the ball away, he trusts his eyes and goes after passes to intercept, and he's athletic enough to turn and run in coverage. A bunch of Pac-12 schools, including USC, UCLA and Utah, and others like Nebraska, are involved early." – Rivals.com National Recruiting Analyst Adam Gorney
Movement: N/A
Analyst's take: "Simon is another big athlete that covers very well and is a physical presence off the line of scrimmage. He has a ton of room to fill out his frame but his ability to cover in space makes him so valuable. Notre Dame, Stanford, Ohio State, Michigan and many others have caught Simon's eye." - Friedman
Movement: N/A
Analyst's take: "Austin may be one of the most physically strong wide receivers in America. He accelerates well and is nearly impossible to jam." - Cassidy
Movement: +71
Analyst's take: "McKee is an athletic dual-threat quarterback with excellent size who's comfortable throwing in the pocket or getting outside and making things happen with his feet. He's a reliable passer who can look over the line of scrimmage to find receivers all over the field and then he has the arm strength to deliver crisp passes. Stanford and BYU stand out early on but many others are involved." - Gorney
Movement: +56
Analyst's take: "Osborne is a tremendously athletic outside receiver who can run by cornerbacks, make difficult catches when he's covered up and he's a great route runner who always seems to find the soft spot in the zone. Not many receivers out West have the production and reliability of Osborne. He's committed to Washington." - Gorney

Movement: +105
Analyst's take: "Taylor spent last offseason working at a number of positions, but this year he seems to have found his spot at wide receiver. He's already been a regular at events and has been very impressive with his speed and route-running. The Tennessee commit has also played quarterback and defensive back during his career and his versatile skillset only makes him that much more valuable." – Rivals.com Southeast Recruiting Analyst Woody Wommack

Movement: N/A
Analyst's take: "O'Neal was a recent visitor at Texas and Oklahoma junior days. He's still collecting big offers, adding Michigan, Ohio State and Oregon over the last month. O'Neal is an exciting defensive back that is as physically impressive as any prospect at his position in this class. His athleticism is off the charts and is lethal when closing on a receiver trying to make a catch or making a play on the ball in the air." – Rivals.com Texas Recruiting Analyst Nick Krueger
Movement: N/A
Analyst's take: "Hall is thought to be high on Miami but is yet to rule any school out. He needs to add a bit of muscle, but he's a long, rangy defensive back that closes incredibly well." - Cassidy
Movement: N/A
Analyst's take: "Jones is a massive offensive lineman who, at about 335 pounds, is surprisingly light on his feet but powerful and tough. He played left tackle during the Under Armour camp and looked great, dominated defensive linemen all day, but long term he's probably a guard. Arizona State, Cal, Washington and a bunch of other Pac-12 schools among others are involved early on." - Gorney
Movement: N/A
Analyst's take: "Ezzard was one of the top performers at the annual Rising Seniors event, with that showing coming on the heels of an impressive junior season he warranted a bump up. He's a strong, physical wide receiver with impressive speed and can contribute in the return game as well. Alabama, Auburn, Georgia and Oregon are in the mix to land his commitment." - Wommack
Movement: N/A
Analyst's take: "Copeland has a long list of offers, including ones from Alabama, Florida, Miami and Michigan. Copeland's length and burst make him intriguing. He's capable of stretching the field on the outside and breaking tackles if need be." - Cassidy
Movement: +54
Analyst's take: "McDonald is a hybrid wide receiver/tight end who can line up outside, get open and make things happen down the field or he can line up in the slot and be a complete mismatch for linebackers trying to defend him. He's a smooth route runner with excellent hands and good speed. A bunch of Pac-12 schools along with Florida, Texas A&M and others are in the mix." - Gorney
Movement: N/A
Analyst's take: "Adams is a strong receiver and smooth runner with very reliable hands. He makes the tough catches look easy and easy catches look effortless. Defensive backs have a hard time keeping track of Adams because he just seems to glide right by them with his great speed. Clemson is in great position with Adams, but so is North Carolina, where his father is the defensive line coach. Offers from Ohio State and Alabama are also intriguing to him." - Friedman
Movement: N/A
Analyst's take: "Jones is an explosive downfield target with a huge catch radius that quarterbacks will love. He has very good footwork and does a great job of creating separation while using his length to make it nearly impossible for defensive backs to reach the ball in his hands. Jones holds early offers from Maryland, Virginia Tech, N.C. State, Virginia and a few others." - Friedman
Movement: N/A
Analyst's take: "Hines recently named his top-five as LSU, Oklahoma, Texas, Texas A&M and TCU. Hines mauls his way into the Rivals250 as a punishing interior offensive lineman that plays as strong as any guard in the class. He's powerfully built and will make a nice anchor for the ground attack of whichever team picks up his commitment." - Krueger
Movement: +35
Analyst's take: "Lenzy is speed personified as he's fast in a straight line but also in and out of his routes and with the ball in his hands. Plus, he can also play defensive back, turn and run with any receiver and compete for the ball. I'd like to see him get more physical at times, but with his speed and playmaking ability, Lenzy could be a huge asset." - Gorney

Movement: N/A
Analyst's take: "The tough running style and versatility of Salahuddin had schools hurrying to offer him over the past couple months. He is a violent runner that has the strength to run over defenders and the speed to beat them to the edge. Salahuddin's quick feet help make him very elusive in the open field. The hometown Maryland Terps are in good position right now, but offers from Oklahoma, Nebraska, Wisconsin and many others will draw some of his attention." - Friedman
Movement: N/A
Analyst's take: "Jaramillo is a tough, hard-nosed offensive tackle who likes to mix it up. He's really good with his hands to stun the defensive lineman and then he can move his feet as well. Jaramillo needs to keep adding mass but that should come in time. Oregon, Oregon State, Washington, UCLA and others are involved." - Gorney
Movement: N/A
Analyst's take: "King spent most of his junior season playing quarterback but now that he's back in his natural position of defensive back, he continues to impress. He's a long, lean cornerback who knows how to use his size without being overly aggressive. Tennessee and Ole Miss are early factors in his recruitment." - Wommack
Movement: N/A
Analyst's take: "Gordon has picked up multiple offers on a weekly basis over the last few months and now has an offer sheet with 24 total offers. He's a scrappy and physical defensive back that can play multiple spots in the secondary. Gordon is continuing to fill out physically and in early events this spring has put that to good use, jamming up receivers at the line and overpowering receivers for balls in the air." - Krueger
Movement: N/A
Analyst's take: "Addison is one of the best-looking prospects in California this recruiting cycle and at 6-foot-5 he's long, lean and athletic. At the Under Armour camp he shined at safety and had multiple interceptions and pass deflections. He can also flip over to wide receiver. With more seasoning and experience, Addison has a chance to be special. USC, UCLA and Nebraska stand out most at this point." - Gorney
Movement: N/A
Analyst's take: "Dedich is a barrel-chested, super strong interior offensive lineman who will probably make his way at center. He likes to play physical, he doesn't mind mixing it up and he has that fearlessness needed to dominate inside. He has great technique and he's a tough kid. Washington, Colorado, UCLA and others are involved." - Gorney
Movement: N/A
Analyst's take: "Wilson is committed to Florida. He broke out only recently, after showing the ability to cover a number of South Florida's top-flight wide receivers. Wilson is a physical prospect with impressive speed." - Cassidy
Movement: N/A
Analyst's take: "Next in line from the Lotulelei family after Star and Lowell is this 2018 prospect who wants to make his way as an offensive lineman. He definitely has the skills to do it. Lotulelei is a big, strong interior lineman who plays with no nonsense and can manhandle defensive tackles." - Gorney
Movement: N/A
Analyst's take: "Adeoye is a big, thick linebacker with a strong lower body who explodes into his tackles but also has the speed to run plays down from behind. He sees the play well, anticipates and has surprising closing speed for a bigger linebacker. Adeoye can play inside or outside at the next level. Illinois, Missouri and Kentucky got in early and LSU, Ole Miss and Iowa are in the mix as well." – Rivals.com National Recruiting Director Mike Farrell
Movement: N/A
Analyst's take: "Williams is another great-looking, long, athletic prospect who plays quarterback in high school out of necessity but will move to either wide receiver, safety or outside linebacker in college. I've seen him mainly at receiver and he's great because he has a huge catch radius and excellent hands. Alabama, Florida State, USC and many other major programs are involved." - Gorney