Three-Point Stance: Coaching job security, Big Ten, Heisman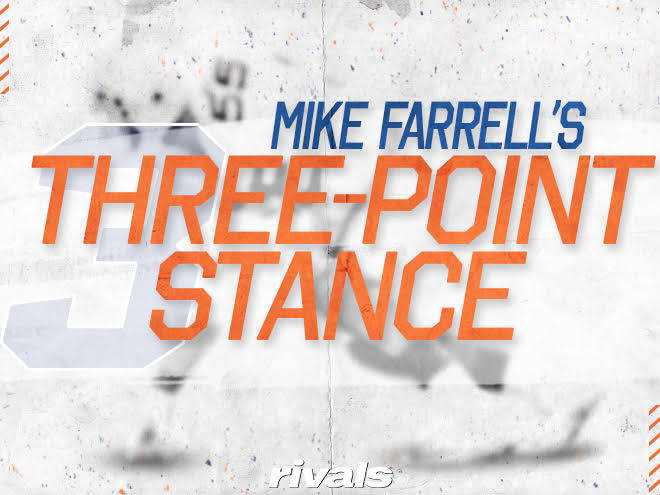 1. Coaches with the most job security. 
I did a Hot Seat list on Tuesday, which was actually laughed at by some Nebraska fans (sorry, Scott Frost is No. 1). Today, I'll do a security list for the Power Five. This is for non first-year coaches at their programs so sorry Mario Cristobal.
1. Nick Saban, Alabama — Duh?
2. Dabo Swinney, Clemson — He's ahead of Kirby Smart simply because the ACC isn't the coach killer the SEC is.
3. Kirby Smart, Georgia — The reigning national champ has job security, right Ed Orgeron?
4. Pat Fitzgerald, Northwestern — He's there for as long as he wants to be.
5. Jim Harbaugh, Michigan — Why Harbaugh after just a one-year extension? What other coach can publicly want to take an NFL job, not get that offer and come back like nothing happened?
6. Matt Campbell, Iowa State — He's been mentioned for every big job over the last many years, and Iowa State would keep him forever.
7. Kyle Whittingham, Utah — He broke through to the Rose Bowl now and has won his division three of the last four years.
8. Ryan Day, Ohio State — Seems low, right? Only because this is the one job up North where national titles determine the future.
9. Mel Tucker, Michigan State — I have $95 million reasons to think he will be there for a long time.
10. Mark Stoops, Kentucky — Tough call for No. 10, right? With so many candidates I went with Stoops because he's been so important to this program's turnaround from being just a hoops school.
*****
2. Big Ten players to step up - who aren't quarterbacks.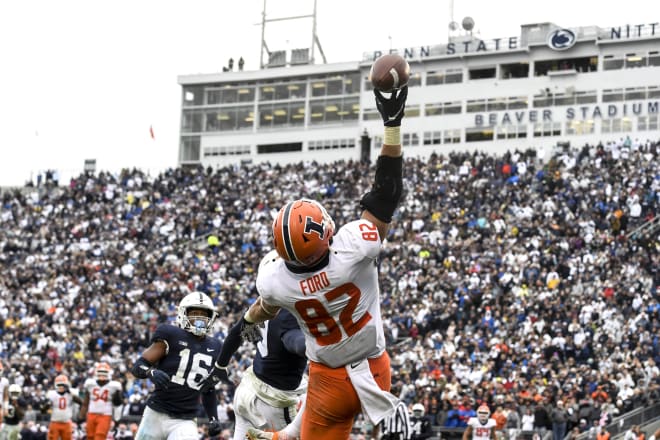 As we enter the spring let's take a look at players on offense who needs to take their game up a notch to help their teams. We start today with the Big Ten and I made it hard -- no quarterbacks or transfers.
Illinois: TE Luke Ford — There are so many to name, but the tall pass catcher has the potential to double his production from last year and be a safety net for transfer QB Tommy DeVito.
Indiana: OL Matthew Bedford — There are so many changes at Indiana on offense, but the offensive line needs to improve, especially in run blocking. Bedford needs to lead this effort.
Iowa: OC Michael Myslinksi — I could go with RB Gavin Williams as he replaces Tyler Goodson, but Tyler Linderbaum and his leadership and smarts need to be replaced more.
Maryland: RB Colby McDonald — The offensive line is back and there is talent at wide receiver, but McDonald needs to step up and become the No. 1 guy at RB with Tayon Fleet-Davis gone.
Michigan: WR Cornelius Johnson — Michigan can run the ball but it needs a true No. 1 wide receiver, so a huge jump from Johnson would be nice.
Michigan State: WR Trey Mosley — Wanna take pressure off Jaylen Reed? Mosley has to help do that as he will get single coverage.
Minnesota: OL Aireontae Ersery — The offensive line loses so much and Ersery needs to plug in as an elite tackle.
Nebraska: RB Markese Stepp — There is depth at running back, but Nebraska fans want to see the Stepp they expected last season when he arrived from USC.
Northwestern: WR Malik Washington — The offense was bad, and Washington needs to step up even more to help a rough QB situation.
Ohio State: WR Julian Fleming — Is he needed? Maybe not with Marvin Harrison Jr. and Emeka Egbuka set to emerge behind Jaxon Smith-Njigba, but Fleming has the talent to be great.
Penn State: WR Parker Washington — Jahan Dotson is gone now, so Washington needs to show he can be a true No. 1 and help Sean Clifford.
Purdue: WR Milton Wright — David Bell is gone, so there are plenty of catches to replace and Wright needs to become that next guy.
Rutgers: RB Kyle Monangai — He's a hard runner who gets his chance to show he's the guy this season.
Wisconsin: WR Chimere Dike — Wisconsin loses so much at wide receiver. Dike has no choice but to take a massive step forward.
*****
3. Five dark horses for the Heisman 
Finally, Bryce Young, CJ Stroud, Caleb Williams and others will be the talk of the preseason Heisman list, but how about five dark horses? Why not?
1. Jaxon Smith-Njigba (WR, Ohio State): We hadn't seen a wide receiver win the Heisman since Desmond Howard before DeVonta Smith broke through in 2020, so maybe we have a new trend going. JSN is a unique talent who will now take on the true No. 1 role in Columbus after the departure of Chris Olave and Garrett Wilson. He showed what he can do as the top dog in the Rose Bowl as absolutely decimated Utah's defense. In the Buckeyes' scheme he could put up historic numbers. Maybe CJ Stroud plays Mac Jones to his DeVonta Smith?
2. Jahmyr Gibbs (RB, Alabama): Yes, he plays on the same team as the reigning Heisman winner and the odds-on favorite for next year's award, but Gibbs is a special talent that will be heavily featured. He's the most complete back we've seen for the Crimson Tide since Josh Jacobs, and he is a true threat in the passing game in addition to his strong running. If he gets the requisite touches and we see some regression from Bryce Young he could absolutely explode.
3. KJ Jefferson (QB, Arkansas): Even in a run-first scheme like the one that the Razorbacks play, Jefferson still shines at the quarterback position. In 2021, he finished with 2,676 passing yards and 21 touchdowns with only four interceptions to go along with 664 yards on the ground and six rushing touchdowns. He'll be asked to do even more, and if Arkansas keeps progressing the way it has the past two years, he could put up some fantastic numbers.
4. Brennan Armstrong (QB, Virginia): Armstrong was quietly among the best quarterbacks in the country this past season, finishing the season with 40 total touchdowns and 4,700 total yards. With some key transfers being added and a wide-open ACC he could undoubtedly become the top statistical quarterback in the country.
5. Deuce Vaughn (RB, Kansas State): One of the most versatile players in the nation, Vaughn was already an All-American in 2021, but look for him to take another step forward in 2022. He'll once again put up video-game numbers and if Kansas State can ascend to the top of the Big 12 – which is not by any means out of the question – he could easily find himself in New York come December.