Three-Point Stance: Best power trios in college football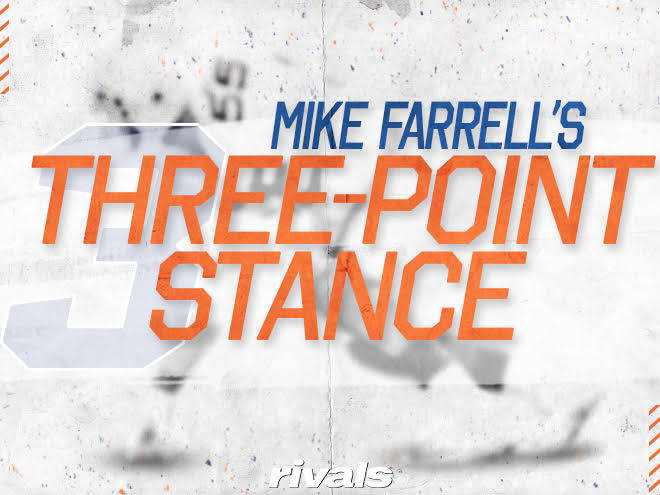 National Recruiting Director Mike Farrell's Three-Point Stance is here looking at the best power trios in college football, a Power Five look at teams ready to break out and how it's time to play some football.
1. Power trios
The Beastie Boys, Lebron/D-Wade/Bosh, Aikman-Emmitt-Irvin. Whether it's music or sports, top trios – The Triplets in the case of the 1990s Cowboys – is a cool concept. So who has the best set of triplets in college football next season.
Here are my top five:
Clemson — No one can come close as the Tiger Trio belong in a class all by itself. Trevor Lawrence, Travis Etienne and Justyn Ross are an amazing 1-2-3 punch and they will be in the playoff again.
UNC — Wait, what? North Carolina? Another ACC team is No 2? Check out the numbers on Sam Howell, Michael Carter and Dazz Newsome. And this doesn't even include Dyami Brown, who could make almost anyone's list at WR. Oh, and Javonte Williams nearly rushed for 1,000 yards as Carter did as well. The UNC offense is loaded.
USC — Picking No 3 was tough and USC will be a controversial choice. Kedon Slovis, Stephen Carr and Amon-Ra St. Brown could put up nasty numbers in the Pac-12 this year. Carr is the main question, but should have a breakout year.
Ohio State — It's hard to put OSU fourth on this list with Justin Fields and Chris Olave as the QB and WR. Trey Sermon is the question mark but he's shown great ability.
Alabama — Mac Jones is solid and Najee Harris and Jaylen Waddle are elite. And I only pick Waddle over Devonta Smith because of his return ability.
Next week I'll do Nos. 6-10.
*****
2. Power Five breakout teams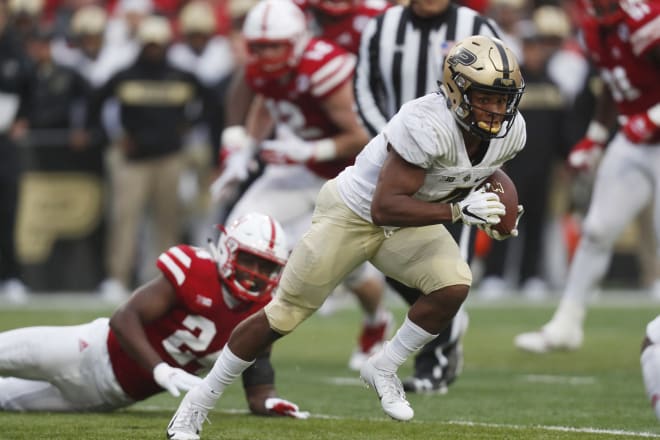 Who's ready to break out in each Power Five conference? Why not take a shot in the dark.
Big Ten — I'm starting with the hardest conference by far. Minnesota already broke out last season and you can't really say Ohio State, Wisconsin, Penn State or Michigan can you? At one point I thought about Iowa, but it lost a lot and Nebraska still isn't ready for prime time. I'll go with Purdue, assuming Rondale Moore stays healthy and that offense clicks.
SEC — I'm going with Florida here and that may be considered too easy. But Georgia has had a recent stranglehold on the SEC East and this could be the year the Gators change that.
ACC — I'm torn on this one and I answered Louisville a while back in Ask Farrell, but knowing the Cards won't win their division I'm changing my pick. UNC is loaded and it can win the Coastal. Just look at the weapons on offense.
Pac-12 — This is easy for me. It's Arizona State. With quarterback Jayden Daniels and a young defense, this is a team ready to take the next step. Herm Edwards has surprised me and will surprise many more.
Big 12 — This was a toss-up between Iowa State and Oklahoma State, but I'm going with the Cowboys. The offense has the potential to be very special and that's all it takes in the Big 12 to make a major move.
Next week I'll do the teams under the gun in each Power Five conference.
*****
3. California State University system makes premature decision
Okay, I finally need to write about this.
COVID-19 has taken so much from us already — life, freedom, joy, socializing, jobs and more — that it can't take one more thing. That thing is football. Yes it might seem trivial to talk about a sport amid a global pandemic, but football season is months away and it represents much more than strong and fast players hitting each other. It represents hope. Hope for the nation for some sense of normalcy.
Basketball and baseball are likely done for 2020, so we have to assume that football remains alive to give us hope.
So when California State University system chancellor Timothy White announced on Tuesday that it will hold fall classes primarily online, it's a gut punch to America. The California State University system includes FBS schools Fresno State, San Diego State and San Jose State.
It's premature and irresponsible. I get that we can't expect athletes to play football while we keep fans safe at home, but at some point we are going to have to let people decide for themselves. I'm tired of decisions being made months in advance about something we still know so little about. This country needs something to look forward to this fall and football, for sports fans, has been just that. Let's not kill all hope in May. It's ridiculous.