The top ten former four-stars selected in the 2017 Draft
The 2017 NFL Draft is over and through seven rounds there were numerous prospects rated four stars out of high school by Rivals.com. Here's a quick look at the top 10 of those elite players drafted, with nine selected in round one.
Mark Pszonak contributed to this report.
MORE: Former five-stars selected in 2017 | Which region won the NFL Draft
1. SOLOMON THOMAS - No. 3 to the 49ers
The skinny: Thomas took official visits to Stanford, UCLA and Arkansas before committing to the Cardinal on Signing Day. Since he remained rather quiet throughout his process, his decision was still an unknown until he put pen to paper.
Farrell's take: Thomas was one of those in the 2014 class who was close to that fifth star at No. 37 overall but missed the cut because he didn't have the length you'd like from an elite outside pass rusher. In college, he turned out to be the best inside pass rusher, at least in the draft, so he proved how versatile he was. We thought he might make a full-time move to defensive tackle, but he remained athletic enough to stay outside and his motor has never been questioned.

2. JAMAL ADAMS - No. 6 to the Jets
The skinny: Adams took official visits to his three finalists, LSU, Florida and Ole Miss, before committing to the Tigers at the 2014 Under Armour All-America Game.
Farrell's take: Adams, like Solomon, was close to that fifth star in 2014 at No. 38 overall. He, too, was held back because he lacked the length you look for in elite safeties. He obviously made up for that with his instincts, physical play and closing speed, and we always knew his leadership was off the charts. The Jets found themselves a surefire defensive leader, and LSU recruiting at defensive back will get a boost.

3. MIKE WILLIAMS - No. 7 to the Chargers
The skinny: As his senior season was fast approaching, Williams committed to Clemson over South Carolina. Alabama, Georgia, Notre Dame and Tennessee were also involved, but this came down to an in-state battle between the Tigers and Gamecocks.
Farrell's take: Williams was always a big kid coming out of high school with a lot of potential, but he was also very raw. He obviously ironed out a lot of things at Clemson, overcame a scary injury and emerged as one of the elite big receivers in the draft. Philip Rivers is going to love him because he's a bail out guy with a great catch radius.

4. CHRISTIAN MCCAFFREY - No. 8 to the Panthers
The skinny: With his father, Ed McCaffrey, considered a legend for the Cardinal, Christian was always considered a heavy Stanford lean. So it came as no surprise that his he committed to Stanford in early May.
Farrell's take: McCaffrey was a Rivals100 prospect, so we liked him a lot, especially out of a state where the competition isn't the greatest, but we never saw his record-breaking career coming. We saw him more as a third down back and slot receiver rather than the every-down, super-productive star he became. Now I have the same questions about his ability to handle running back duties in the NFL, and maybe he will prove me wrong again.

5. MARSHON LATTIMORE - No. 12 to the Saints
The skinny: Lattimore took official visits to Ohio State, Alabama and Georgia Tech, but his recruitment came down to the Buckeyes and Crimson Tide. He made his commitment to Ohio State on national television during the U.S. Army All-American Bowl.
Farrell's take: Lattimore was very highly rated early in the process, and as a four-star we still liked him. But he was outplayed by his own high school teammate in our final evaluation, and that led to a drop and some concern over how bad he wanted it. Those questions were answered ten-fold in college. The Saints needed help at corner, and the best one in the draft fell to them after some odd picks in the top 10.
6. DEREK BARNETT - No. 14 to the Eagles
The skinny: Barnett trimmed his list to Tennessee, Vanderbilt, Ole Miss, Texas A&M and Missouri before committing to the Vols during his senior season.
Farrell's take: Barnett was in our Rivals250 and had a lot of potential, but he certainly wasn't the beast we saw dominate the SEC for three years. He was a guy we could see playing inside at one point in his career, but he worked outside and inside, took on double teams and was great in pursuit. The measurables were lacking when talking about an elite speed rusher, but his heart couldn't be measured. The Eagles landed a future star.

7. GARETT BOLLES - No. 20 to the Broncos
The skinny: After attending Saratoga Springs (Utah) Westlake where he played defensive tackle, Bolles went on his LDS mission. He then attended Ephraim (Utah) Snow College where he played for two seasons before transferring to Utah. He also considered Alabama, Ohio State, Michigan State, Oregon, Arkansas and Georgia.
Farrell's take: Bolles is an example of a kid getting numerous chances and finally taking advantage of one of them to be a star. After his mission and now as a father, he has matured greatly. and those maturity questions were the main thing that held him back from a fifth star as our No. 3 JUCO prospect. The Broncos needed an elite offensive tackle; Bolles fall to them at No. 20 had to make them very happy.

8. TAKKARIST MCKLINEY - No. 26 to the Falcons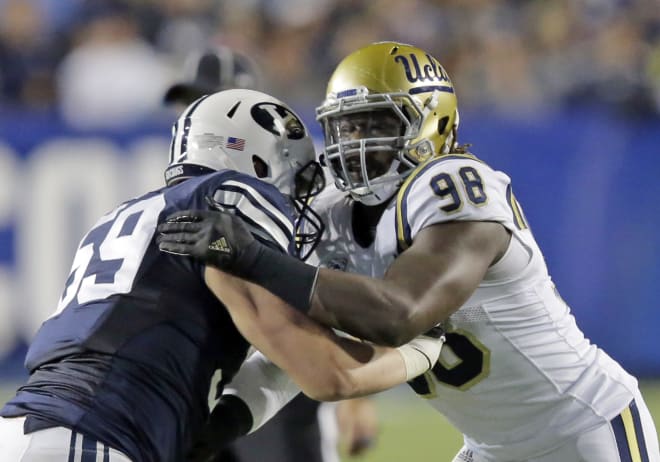 The skinny: Originally a Cal commit out of high school, McKinley did not quality and attended Contra Costa College for one season. After that campaign, the former Richmond (Calif.) John F. Kennedy recruit picked UCLA.
Farrell's take: McKinley was a talented kid who only got better in JUCO. He always had that elite athleticism despite being very raw. His passion and motor are clear on the field, and his display at the draft has no one questioning that desire as well. However, now he has to answer questions about his maturity and ability to contain his emotions at the next level, something the Falcons will surely work on.

9. TACO CHARLTON - No. 28 to the Cowboys
The skinny: Charlton committed to the Wolverines a little less than a year prior to his own Signing Day and stayed strong with his word throughout the remainder of his process.
Farrell's take: Charlton was always a physical specimen and a big athlete in high school, who was a four-star based on that ceiling. But he took a while to develop and put things together, and the same thing happened in college. He has a high bust factor for the Cowboys, and it all depends on his desire and has little to do with his athletic ability.

10. BUDDA BAKER - No. 36 to the Cardinals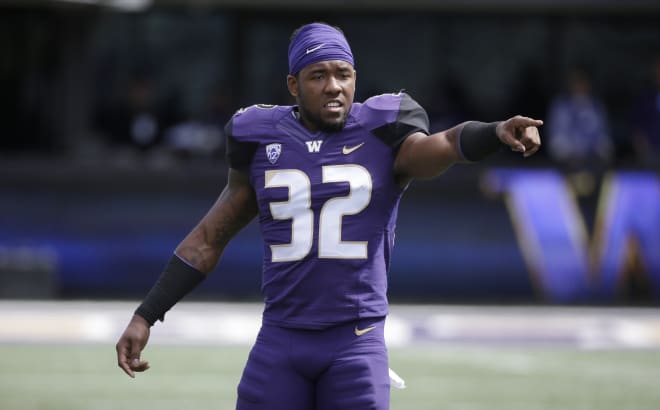 The skinny: Baker originally was an early commitment to Oregon, but backed off his word late in the process. After trimming his list down to Washington and UCLA, he committed to the Huskies on Signing Day.
Farrell's take: Baker was certainly high on our list, and it was his lack of overall size that kept him from a higher ranking. It's also likely the reason he dropped to the top of round two in the draft. But he's always been a physical and willing tackler and has played bigger than his size, so being paired with Tyrann Matheiu will be great for him in Arizona.