Ten former five-stars selected in first round of 2017 NFL Draft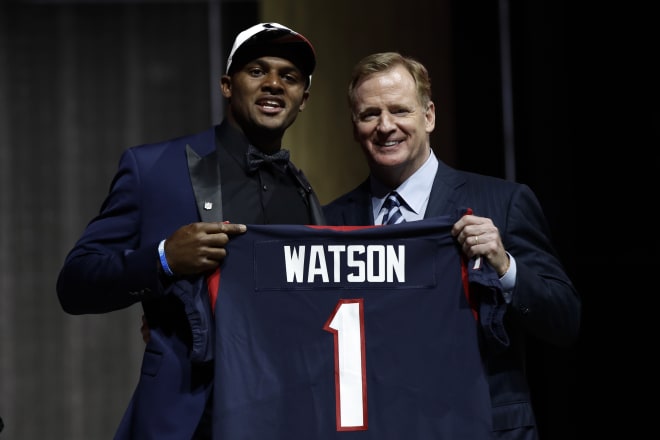 Mark Pszonak contributed to this report.
The 2017 NFL Draft is over and through seven rounds, there were numerous players taken that were at one point ranked as five-star prospects by Rivals.com. However, this year we only needed one round to reach double-digits. Here are the top 10 five-stars drafted.
1. MYLES GARRETT - No. 1 to the Cleveland Browns
The skinny: Garrett originally had plans to take official visits to Texas A&M, Ohio State, Alabama and Florida State, but when he realized that he wanted to stay closer to home he trimmed his list down to the Aggies and TCU before committing to the Aggies during his senior season.
Farrell's take: The first from that loaded 2014 class, Garrett should have been No. 1 in his recruiting class, but No. 2 isn't so bad. He was a freak out of high school and became freakier in college. He should help the Aggies recruiting efforts as well, especially for edge rushers.
2. LEONARD FOURNETTE - No. 4 to the Jacksonville Jaguars
The skinny: While he dragged out his process, Fournette was always regarded as a heavy lean to LSU. He did not pull any surprises at the end as he committed to the Tigers over Alabama and Texas during the Under Armour All-America Game.
Farrell's take: Fournette was one of our highest ranked running backs in Rivals.com history, so this isn't unexpected. What was unexpected, at least to me, is that he speed translated to the college level and to the 4.4 level at the combine as he got bigger and stronger. That's amazing. And his protégé, Derrius Guice, could be as good or better at the NFL level.
3. DESHAUN WATSON - No. 12 to the Houston Texans
The skinny: Watson had no drama in his recruiting process as he committed to Clemson on Signing Day in 2012, a full year before he actually signed his own papers.
Farrell's take: Watson was always that guy where the intangibles came into play when evaluating and ranking him. He's also the reason Clemson is recruiting quarterbacks as well as anyone and won a national title. He's one of those players who can be pointed to as the reason a program took the next step. That's special.

4. MARLON HUMPHREY - No. 16 to the Baltimore Ravens
The skinny: Humphrey was long considered a lock to Alabama since his father, Bobby Humphrey, was an ex-player and top draft pick. Florida State put up a good fight, but in the end Humphrey committed to Alabama a week before Signing Day.
Farrell's take: Humphrey was a surefire five-star talent and one of the cockiest kids I've run across but that can sometimes be needed, especially at cornerback. I'm not sold on his value this high.

5. JONATHAN ALLEN - No. 17 to the Washington Redskins
The skinny: Allen trimmed his list down to Alabama, Florida, Ohio State, Penn State and Virginia Tech before committing to the Crimson Tide in May of his junior year.
Farrell's take: Allen was from the 2013 class, much less loaded among the five-stars but still with plenty of talent. He was an absolute monster on film and showed early in high school he could play inside or outside. There was little doubt that his skills would translate to college and landing in round one is not a surprise.
6. ADOREE' JACKSON - No. 18 to the Tennessee Titans
The skinny: Jackson picked USC on National Signing Day with UCLA, Florida and LSU being his other finalists. Tennessee was also a major player late in his recruitment while Oklahoma and others were considered, since Jackson is originally from the St. Louis area.
Farrell's take: Jackson was one of the most versatile and quickest players over the last few years, a De'Anthony Thomas-type with better defensive potential. His size was always a concern for us but the fact that he could easily flip to wide receiver if corner didn't work out and his special teams ability kept us sold on his five-star status.
7. O.J. HOWARD - No. 19 to the Tampa Bay Buccaneers
The skinny: Howard committed to the Crimson Tide two years before his National Signing Day and never seriously wavered on his word.
Farrell's take: The most athletic tight end I've ever scouted and the best I've seen since Greg Olsen, Howard was a can't miss talent. The fact that he wasn't utilized much at Alabama is stunning and honestly puzzling, but that will change in the NFL. He is a match-up nightmare. At one time during his recruitment, he was out highest ranked tight end ever at No. 5 and only slid near the end of our evaluation cycle.
8. JABRILL PEPPERS - No. 25 to the Cleveland Browns
The skinny: Peppers committed to Michigan over Penn State and others in May before his senior season. Stanford was the early front-runner, but the Wolverines were his childhood favorite.
Farrell's take: There was never a doubt that Peppers was a five-star talent from the time I scouted him as a freshman at Bosco and he was better than the older and more recognized Yuri Wright. His leadership was apparent when he transferred to Paramus Catholic and led his team to the state title and his versatility was off the charts early. He has helped Michigan make serious recruiting inroads in New Jersey.

9. TRE'DAVIOUS WHITE - No. 27 to the Buffalo Bills
The skinny: White left no doubt about his recruiting process by making a commitment to LSU at a Junior Day almost a year before his own Signing Day.
Farrell's take: White is another five-star from the 2013 class and, like Allen, came back for another year to get better and it paid off. He was a special teams star and great defender but he also played quarterback which helped him work on his defensive instincts and reading offenses. He continues the DBU tradition at LSU along with Jamal Adams.
10. RUEBEN FOSTER - No. 31 to the San Francisco 49ers
The skinny: Foster originally committed to Alabama, then flipped to Auburn until the Tigers fired Gene Chizik. After taking five official visits he re-committed to Alabama two days before Signing Day.
Farrell's take: The final 2013 five-star on this list Foster was a 245-pound linebacker coming off an injury with a very odd recruiting story and yet we stuck with his ranking based on potential. He slimmed down in college and became a star, but he had a high bust factor out of high school and now carries one into the NFL.