The Five-Star Challenge Five-Year Team: Running Backs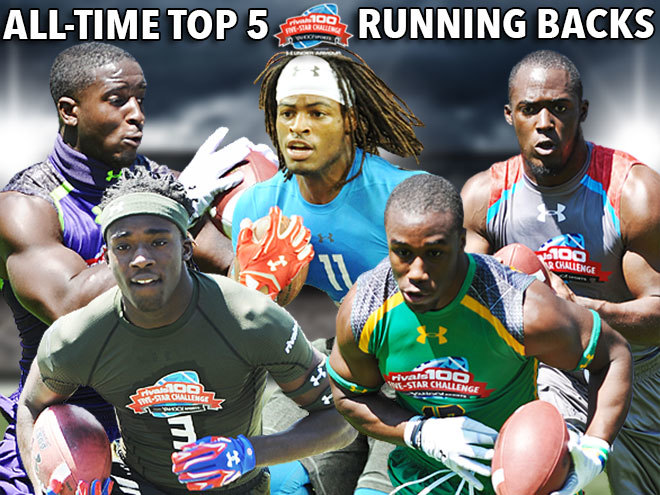 The fifth edition of the Rivals100 Five-Star Challenge Presented By Under Armour is in the books and, with such an important anniversary of an amazing event, we thought it would be cool to look back at the top five prospects that attended at each position. Today we look at the quarterbacks.
Note: The order is based on a combination of success at the event, success at the high school level and, in many cases, success in college.
MORE: Five-Star Challenge Five-Year Team: QBs | Full Five-Star Challenge Coverage
The Skinny: Fournette was a man amongst boys, both physically and with his talent level, at the 2013 Five-Star Challenge in Chicago after attending our first event as an underclassman. He was always considered a heavy lean to LSU, so his commitment to the Tigers over Alabama during the Under Armour All-America Game did not come as a huge surprise. At LSU, he has shown numerous flashes of greatness and finished the 2015 season as a consensus All-American.
Farrell's Take: Big running backs rarely excel in camp settings so it wasn't as if Fournette was a superstar at either event he attended, but he did show much improved ball skills the second year and more speed. But unless he's in full pads and running over people, it's hard to appreciate him otherwise. But, without a doubt, he's the most successful of a strong group here.
The Skinny: Harris was able to showcase all of his impressive talent at the Five-Star Challenge in Atlanta earlier this month. The talented back is committed to Alabama, but USC, UCLA, Cal, Texas A&M, Ohio State and Michigan are just some of the schools that are continuing to apply pressure on Harris. While Alabama looks to be in a good place, a flip to a school closer to home is not out of the question.
Farrell's Take: Harris would be first on this list if it was simply based on performance at the event as he was simply outstanding. There's a chance he could surpass even Fournette when it comes to college success -- he's that talented. He's the most well-rounded and athletic running back I've seen in a very long time.
The Skinny: Michel was electric at the 2013 Five-Star Challenge and has shown those same abilities at the college level. He committed to Georgia in the spring of 2013, picking the Bulldogs over several schools, including Miami, Florida and Florida State. Despite the Bulldogs adding additional backs in his class, most notable Nick Chubb, Michel stuck with his word and signed with Georgia. With Chubb's injury last fall, Michel shined and rushed for 1,136 yards and eight touchdowns.
Farrell's Take: Chubb has been amazing and I hope he fully recovers from his awful injury, but Michel is the more well-rounded back and was out of high school. He can run inside, bounce it outside and at our event in Chicago he showed off his excellent receiving skills. A star since he was in 8th grade, he has a chance to be an amazing NFL player and could have a breakout year this season for the Dawgs.
The Skinny: Hood first committed to Notre Dame, but re-opened his process in August, 2013. North Carolina immediately became the favorite, due to the proximity to his home, so it did not come as much surprise when he committed to the Tar Heels a week later. After a lackluster freshman season, Hood burst onto the scene last fall with 1,463 yards and 17 touchdowns in North Carolina's wide open offense.
Farrell's Take: Hood was another running back at the 2013 Five-Star Challenge in Chicago, an absolutely loaded group. A big, physical back with sneaky speed, he is another who didn't excel in camp or 7-on-7 settings but he also didn't embarrass himself at all. In fact it was at this event that I saw much improved footwork from Hood and improved receiving skills. He's living up to our five-star billing now.
The Skinny: Jones initially made a commitment to Oklahoma State after also seriously considering USC, Notre Dame, Baylor and Oregon. However, despite the commitment, he continued to look at other schools which eventually led to his decommitment during his senior season. After taking official visits to both USC and Notre Dame in December, Jones committed to the Trojans at the Under Armour All-America Game. At USC, Jones made an immediate impact as a true freshman, rushing for 987 yards and eight touchdowns in 2015.
Farrell's Take: Jones was a speedster and a perfect fit for a setting like the Five-Star Challenge but he wasn't utilized very well by his quarterback. When he did get the ball, he wasn't as shifty as expected. But despite an average showing, he was awesome on film, was impressive at the Under Armour Game and is off to an amazing start in college. Running backs and linebackers are the hardest to evaluate in camp settings without pads, so Jones was never penalized in our rankings for not having as much of an impact as expected and it's a good thing for us.