The Five-Star Challenge Five-Year Team: Quarterbacks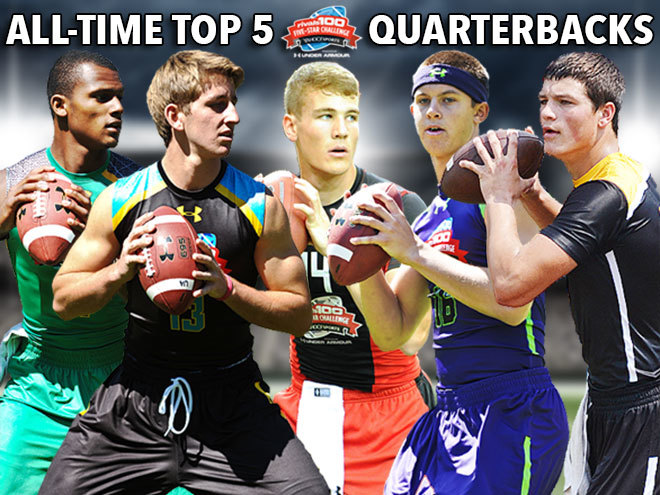 The fifth edition of the Rivals100 Five-Star Challenge Presented By Under Armour is in the books and, with such an important anniversary of an amazing event, we thought it would be cool to look back at the top five prospects that attended at each position. Today we look at the quarterbacks.
Note: The order is based on a combination of success at the event, success at the high school level and, in many cases, success in college.
RELATED: Farrell Awards | Media Day | Video interviews | All-Offense | Full Coverage
The Skinny: Watson experienced no recruiting drama as he committed to Clemson two years before his own National Signing Day and stayed firm until he signed with the Tigers. He quickly became the starter at Clemson as a true freshman but injuries slowed his progress and eventually cut his season short. Fully healthy in 2015, he was the winner of the Davey O'Brien Award, which is given annually to the nation's top quarterback.
Farrell's Take: Watson was a five-star on Rivals.com -- the only site to rank him as a five-star -- for many reasons. However, one of those reasons wasn't the Five-Star Challenge. It wasn't that he was bad, far from it, but camps and 7-on-7 especially do not showcase what he does the best: move the pocket and give defenses fits. And I want to note here that Watson is one of the highest character prospects I've ever been around and that showed through at the event with his leadership.
The Skinny: Rosen shined at every camp he attended, including the Five-Star Challenge in 2013 as an underclassmen. UCLA and Stanford were always considered the front runners for Rosen but the Cardinal decided not to offer and the rest is history. After taking a few visits, including one to Michigan only a few days before his announcement date, Rosen did decide to stay local and committed to the Bruins. As a true freshman last fall, he finished with an impressive 3,669 yards and 23 touchdowns.
Farrell's Take: The 2013 Five-Star Challenge was the first time I decided we should have underclassmen quarterbacks as backups at the event which meant they threw the first day during camp but only snapped for the 7-on-7 the next day. Rosen was the reason I realized having them not throw each day was a dumb idea because on day one he was better than every other quarterback including Watson and Kyle Allen. And the best part? He told me he was better than all of them and how dumb it was that he wasn't throwing on both days. He has always shown that kind of moxie and it's part of what makes him great.
The Skinny: Allen proved himself as one of the top quarterbacks in the country during the 2013 Five-Star Challenge. With recruiting, he always had Texas A&M as one of his early favorites, but a sudden commitment to the Aggies came as a bit of a surprise. He stuck with his word and picked the Aggies over Ohio State, Oklahoma State, Notre Dame and UCLA. After experiencing his ups and downs during his two seasons in College Station, he decided to transfer, finally deciding to take his talents to the Houston Cougars.
Farrell's Take: Allen came into the event as a four star and earned that fifth star mainly because of his performance in Chicago in 2013. And his performance was the best I've seen at the Five-Star Challenge to this day. I don't know how many times the ball hit the ground in the 7-on-7 portion of the event, but I could probably count them on one hand. His confidence, mechanics, field vision, patience and decision making was off the charts. I think he'll be a smash in Houston.
The Skinny: Johnson arrived at the 2016 Five-Star Challenge as the top quarterback in the country and lived up to that billing in Atlanta. He continued to show impressive arm strength, decision making and technique. With recruiting, Johnson's process became a bit chaotic as it began with a commitment to Tennessee, but then saw him flip to Clemson last December where he is currently committed.
Farrell's Take: Johnson is as smooth as they come at quarterback and was excellent in both the camp setting and the 7-on-7. He's improved some minor mechanical issues and the ball comes out with even more zip than it had the last time I saw him. Johnson could be a guy in a few years we are talking about as a potential No. 1 pick, he's that talented.
The Skinny: Because of Bill O'Brien's history of developing quarterbacks, Hackenberg became the first commitment for the new coach at Penn State. He stayed firm with his commitment throughout the Sandusky scandal and sanctions at Penn State, despite the pull from other schools such as Alabama, Florida and Miami. His time at Penn State started off well, but ended with more questions than answers. Even with this, he was still drafted in the second round by the New York Jets in April.
Farrell's Take: Hackenberg was at our very first Five-Star Challenge in Atlanta and led his team to the 7-on-7 title by making some key reads and some very good passes. However, he was also picked a few times as well and that lack of consistency left him as a four-star until after our final eval at the Under Armour All-America Game. He always had the physical skills to be great it was the decision making that always led to questions and that's still the case today but he showed a lot of that high ceiling at our first event.