The Farrell Awards: Rivals100 Five-Star Challenge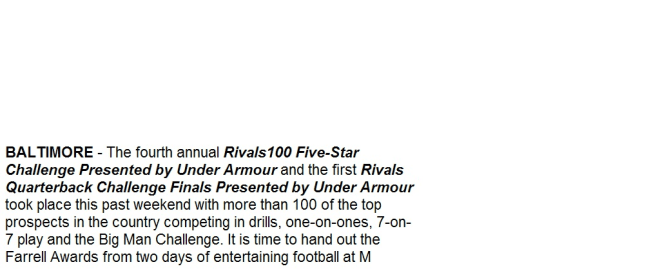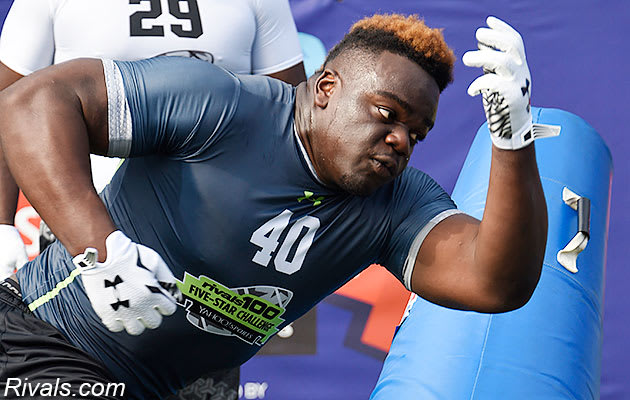 Mighty Mouse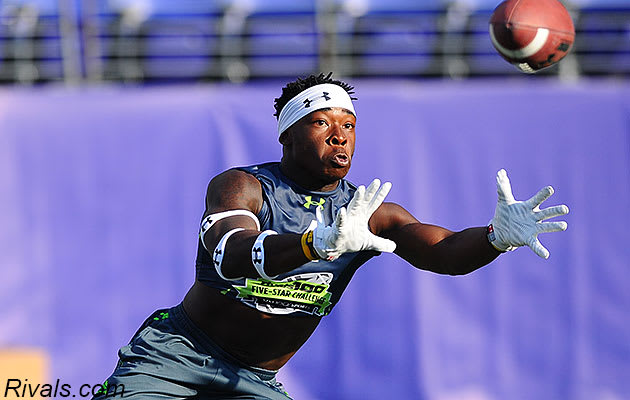 Anger Management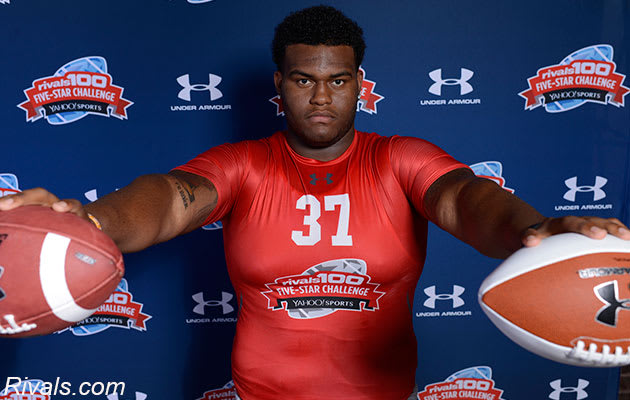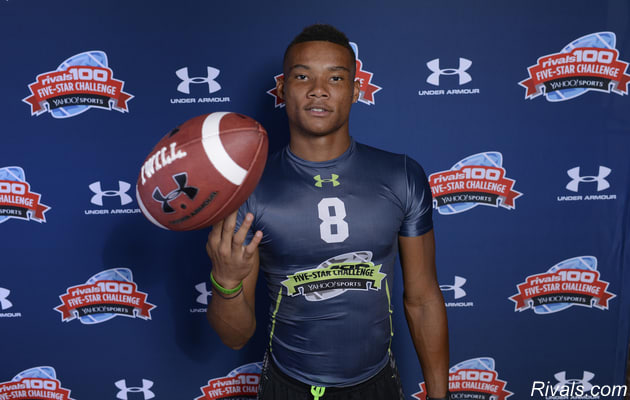 This award goes to the player who showed off the best straight-line speed and looked like he had rockets on his back. Determining the winner was a tough call. Robertson edges out a speedy group of guys here because he showed the best ability to not only get open downfield but also get upfield fast after the catch. He wasn't as dominant as he was a year ago and his team's win was a true team effort, but he can still fly.
Trashy Chatter
This award goes to the biggest trash-talker at the event and Hardman didn't stop talking from the start until the finish. Whether it was getting into his opponents ear in one-on-ones after making someone look foolish or getting in the ear of his quarterbacks for missing him when he was wide open, Hardman was out to prove he belonged in the five-star discussion and didn't mind sharing that opinion.
Bear Market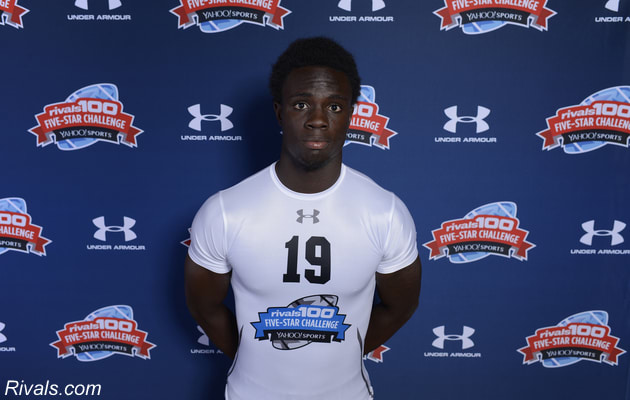 Bull Market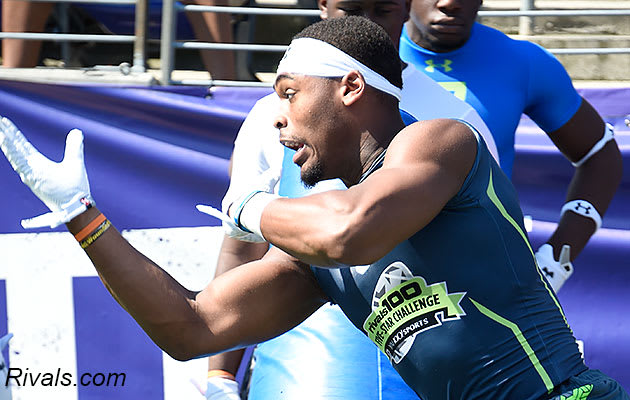 This goes to the player who raised his stock the most. Cooper showed us something in the Atlanta regional event and took it a step further in Baltimore. He was bigger and thicker than he was a few months ago but showed that amazing motor and ability to flatten out after he got the edge on his opponent. His shoulder dip combined with that first step will make him a pass-rushing specialist at the next level, and he can also play some standup linebacker if needed.
Shot Of Jolt
This goes to the prospect that showed the most energy and pep in his step, for those who don't remember the greatest soda ever created. Nauta won the Gatorade Leadership Award for his efforts and character and the way he interacted with teammates and coaches. And on the field he never stopped working and was one of the most dominant weapons on any team during the 7-on-7 portion. While his team finished outside the championship round, it wasn't his fault - he worked hard each and every rep and simply owned a whole lot of linebackers and defensive backs.
Spin It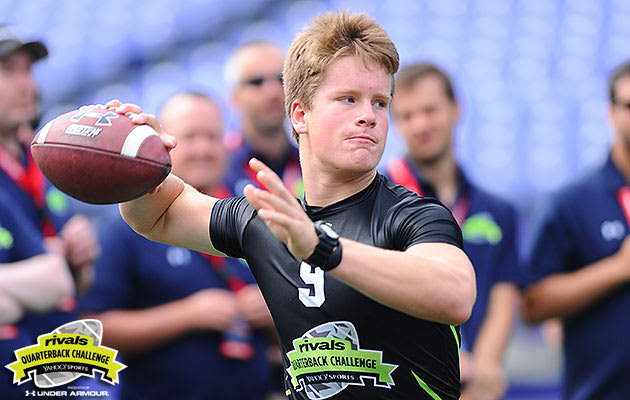 This goes to the quarterback who throws the prettiest ball and "spins it" better than anyone else. The selection here is Smith from the Quarterback Challenge Finals, where his last throw was as strong as his first and he showed he could really zip the ball, perhaps better than anyone in the Five-Star Challenge portion of the event. Smith didn't win the Challenge and struggled a bit during the footwork and processing portion, but there's no question he throws a pretty ball.
Tunnel Vision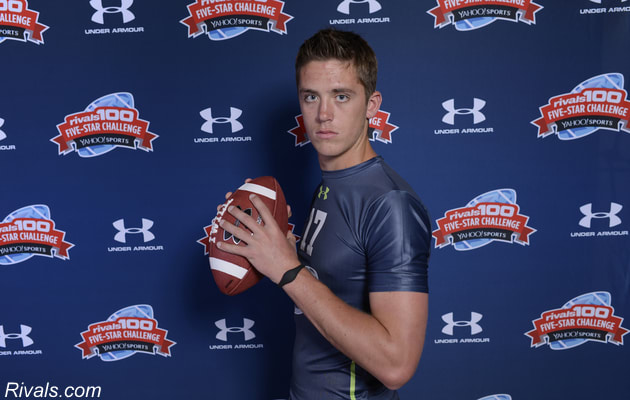 This isn't an award you want to win, as it goes to the quarterback who locked in on his targets way too often and you can see the rawness in Coan's game. While he can get away with locking in a bit or being slow on his progressions on Long Island, this was a whole different level and a great learning experience for him. He had his moments, but when he forced the ball into coverage it was because he was keying in on one guy.
The Windup And The Pitch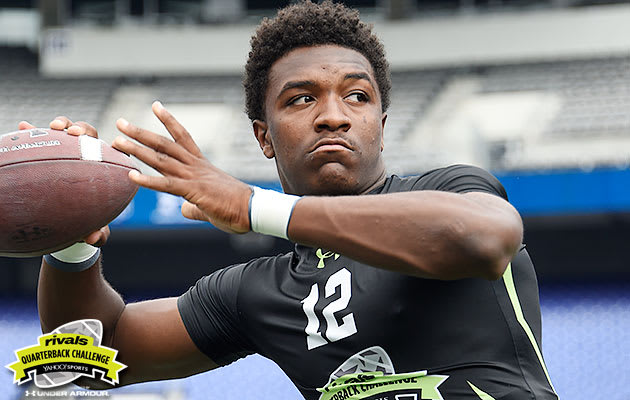 This award, if you can call it that, goes to the quarterback with the most deliberate delivery -- not a good thing. Tate is an athlete moreso than a pure quarterback and could play a different position in college, but right now he needs to tighten up his release and get the ball more quickly which, in turn, will allow him to get more zip on the ball.
Poise Under Pressure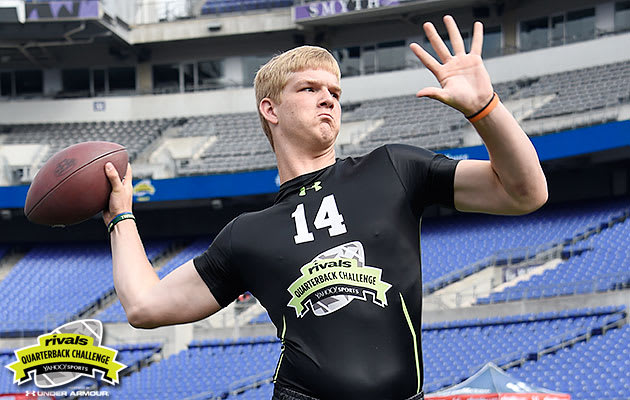 The quarterback that doesn't get rattled gets this award and it's odd for the runner up, and not the winner, of the Quarterback Challenge Finals, to earn this status. But during the final two-man playoff, Brice made a couple of key passes to stay alive against Jake Allen and did so with zero emotion or nerves. He looks like a guy who isn't frazzled by much and it showed during his run to a second place finish.
.
Fancy Feet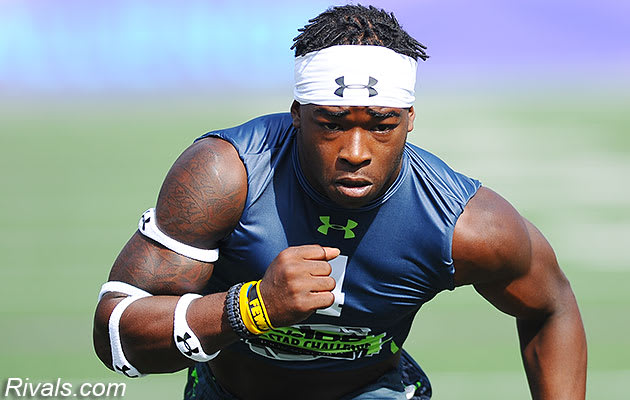 This goes to the prospect with the best footwork, regardless of position, and Bruce has some of the fastest feet you'll see. This usually goes to a defensive back, or has at least half the time in the past, but there is no denying that Bruce loves to show off his footwork and is the most elusive player in 7-on-7 in the country after the catch. He's a blur with the ball in his hands and is fun to watch as he dances for extra yardage.
Stickum
The Snuggie
We could call this award "the blanket," but it doesn't sound as cool. This is for the defensive back who provided the best overall coverage at the event and Jones was the one guy who sought out Bruce and was able to stay with him better than anyone when he did his thing with multiple cuts. Covering Bruce is nearly impossible, especially with all of his triple and quadruple moves, which is unrealistic for real football as the quarterback would get killed. But they're certainly fun to watch, and Jones did the best job staying with Bruce of anyone.
Mr. Pick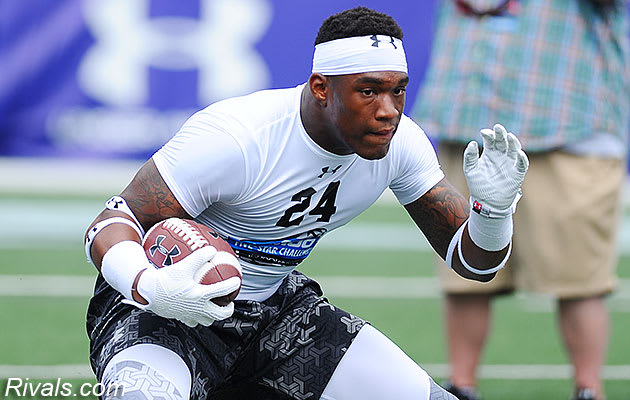 This goes to the player who had the most interceptions over the weekend and was the biggest threat to pick off a pass. It's rare when a linebacker wins this award, but Wilson is the exception. Wilson's three interceptions of note were matched by others, but he was covering wide receivers at time for his outgunned team and in one-on-ones he took on all comers. Wilson has done the same thing at many other events including our Atlanta regional. His coverage ability is uncanny and hard to teach.
What Position?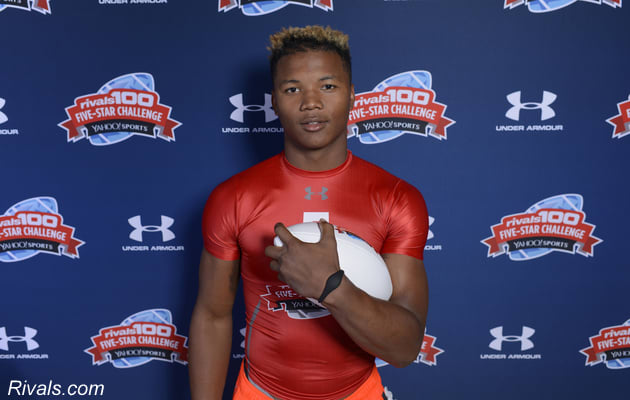 This award goes to the player you look at during warmups and simply assume plays a position other than his own. Jackson is a big kid and likely to grow into a linebacker, but if he does stay as a safety he will be a big one who can cover a lot of ground. His frame is excellent, he uses his long arms to disrupt passing lanes and knock the ball out of the hands of defenders and he's just starting to scratch the surface of his potential.
Jekyll And Hyde
This award goes to the prospect that looked great one moment and simply overmatched at other times. It was a different Hill that we saw in the morning session compared to the team play at night. In the morning he was excellent in one-on-ones and one of the stickiest cornerbacks on the field, leading to a nice spot on the skill top performers list. But during 7-on play he was beaten quite often down the field and looked lost at times, a stunning turnaround. Perhaps it was because he didn't have a ton of help or that his defense was on the field so often, but it didn't seem to affect a couple other players on his team like it did Hill.
All Or Nothing
Work Ethic
Gotta Wear Shades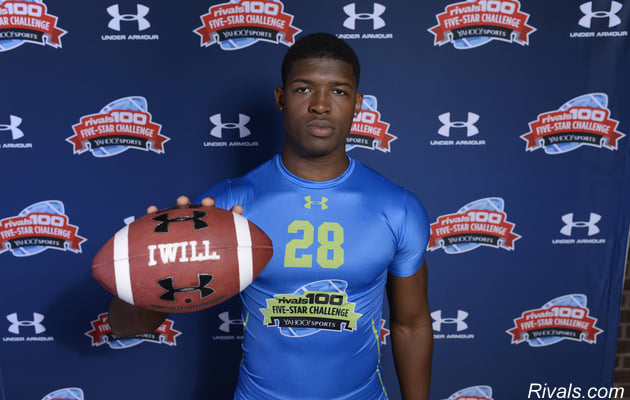 The future is so bright ... you get the message. This is about the underclassman prospect that has the highest upside. It was a really tough call because there were many. I'll go with Kaindoh over some guys who are currently ranked higher and will likely be ranked higher for awhile, but he's just starting to learn to be great and use his physical ability so I can see him outpacing a lot of different 2017 prospects in the end.
Medic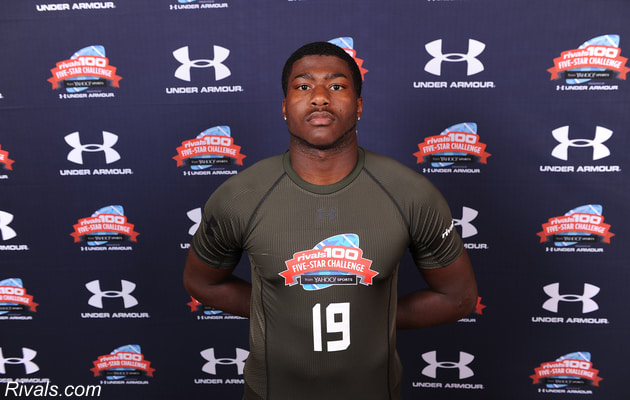 This is for the player or players who, unfortunately, got bit by the injury bug at the event, and Joyner's recent run of bad luck continues. He was hurt at the regional camp in Charlotte very early and was injured at the very beginning of the one-on-ones during the morning session, ending his day early. There is no questioning the legitimacy of his injuries, but you have to start wondering if he's injury-prone after back-to-back issues and a frame that's still not filling out as much as expected.
Tough Cookie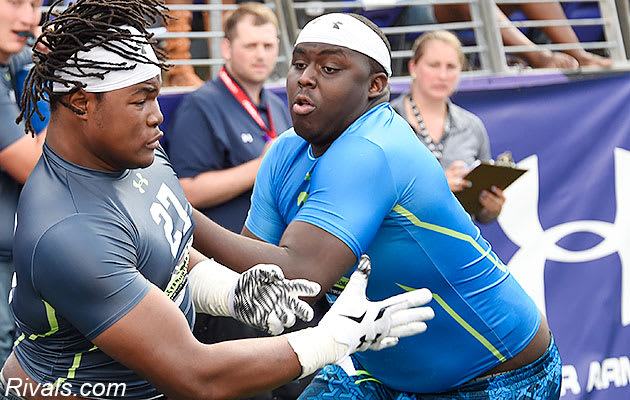 Richie Petitbon
Most Disappointing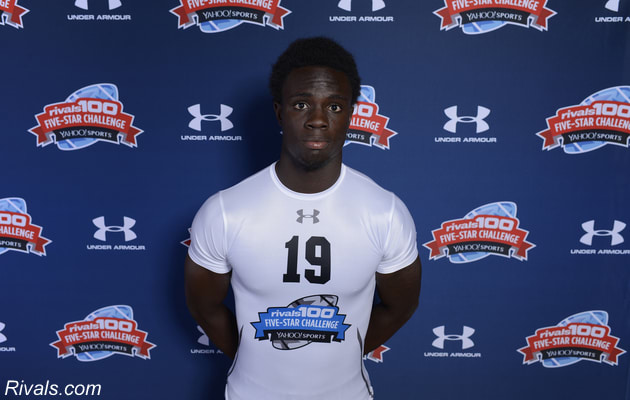 This is a tough award to hand out, especially to a recent five-star, but Salomon came into the camp as a newly minted five-star and left with plenty to prove. This just wasn't the same guy we saw at the Miami regional when he dominated a great group of defensive backs, looked in better condition and was running much better. Either he was banged up a bit and wasn't saying or he had an off day, but this was disturbing to see after earning lofty five star status. The drops on the day were abundant and he didn't seem to get open very often as his entire team struggled.

Complete Coverage
Mike Farrell
National Recruiting Director