The best SEC-bound QB/WR duos in the 2023 class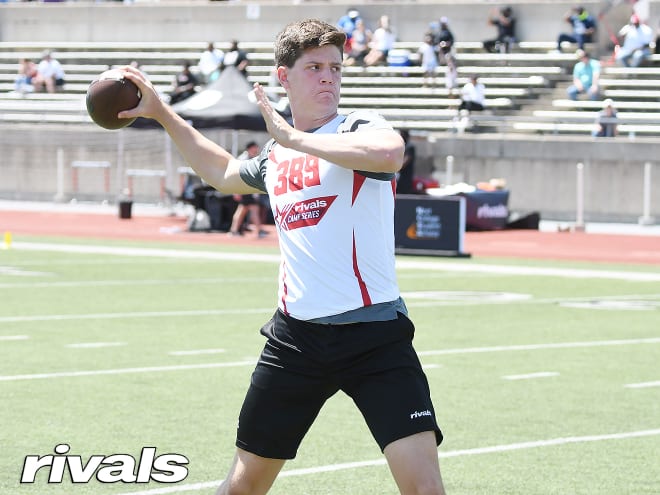 1. Alabama: Eli Holstein and Jalen Hale  
The interesting part about this selection is that Alabama has two quarterbacks committed in the 2023 class in Holstein and four-star Dylan Lonergan. The Tide also have a whole bunch of receivers, although Hale is the top-rated one and someone who could be really special down the line.
After an early commitment to Texas A&M, Holstein picked the Crimson Tide and he's proven to be one of the best quarterbacks in the country. Hale is a rare physical specimen who was serious about the in-state schools and others. But he picked Alabama, which has had issues at the position this season, so he could be a welcome addition to Tuscaloosa.
Arguably more than any team in the SEC, Alabama is loading up at quarterback and receiver.
*****
2. LSU: Rickie Collins and Shelton Sampson  
There are a lot of weapons in LSU's receiving corps for the 2023 class, but Sampson could be the best, even if he's remained off the national radar throughout his recruitment and not done many national events. He's a local prospect, tall, athletic, a great playmaker and he fits the mold of former LSU receivers that have become stars.
Four-star QB Rickie Collins had been committed to Purdue for about 10 months, but once LSU really started to pursue the Baton Rouge (La.) Woodlawn standout it felt like it was inevitable that he would flip to the Tigers. That happened on the first day of August and now he's sitting pretty with Sampson, four-stars Jalen Brown, Khai Prean and others on offense.
*****
3. Florida: Jaden Rashada and Aidan Mizell  
Mizell has been dealing with an injury this season, so his exposure has been limited, but when it comes to supremely fast and athletic receivers, there aren't many better in the 2023 class than the four-star from Orlando (Fla.) Boone.
Now Mizell is going to be paired with an elite quarterback in Rashada, who flipped from Miami to the Gators recently, and who gives coach Billy Napier a top-notch player at the position. Florida has some really good receivers coming in the 2023 class, but Mizell could be special and Rashada is one of the best QBs in the country.
*****
4. Tennessee: Nico Iamaleava and Nathan Leacock
There might not be a better quarterback in the 2023 class than Iamaleava, who has incredible size, athleticism, playmaking ability and upside like we haven't seen in a long time. The Downey (Calif.) Warren standout is so dynamic and has such charisma playing the position that he should be a perfect fit in coach Josh Heupel's offense.
The Vols don't have a ton of pass-catchers in this class - and arguably the best one is four-star tight end Ethan Davis. But Leacock is an interesting player because he's a big-bodied receiver at 6-foot-3 and 200 pounds and he's having a monster season with 68 catches for 1,531 yards and 23 touchdowns. The two should be terrific together.
*****
5. Ole Miss: Marcel Reed and Ayden Williams  
Reed is one of the more intriguing quarterbacks in this class because he's not a finished product as a dual-threat quarterback. But he's such an incredible weapon because he can throw it from the pocket, he's very comfortable throwing on the run and he's putting up big numbers in the run game as well this season. And to have a weapon like Williams on the outside is only going to make him better.
There is a lot to like here because coach Lane Kiffin will be able to fine-tune Reed's game and design plays to get the ball to Williams, who could be one of the best receivers in this entire class. This combination is really intriguing as the Rebels hope to remain as one of the top teams in the SEC.