Top guns: A look at the top-ranked Rivals.com QBs in our history
Trevor Lawrence - No. 1, 2018 
Recruiting: At Cartersville, Ga., Lawrence broke the state record for passing yards and passing touchdowns, previously held by Deshaun Watson. Lawrence committed to Clemson in December 2016 and never wavered off that pledge.
Overview: Lawrence is competing for the starting job at Clemson as a freshman with fifth-year senior Kelly Bryant.
Farrell's take: Lawrence replaces Josh Rosen as the best quarterback I have seen coming out of high school. He's not the athlete Vince Young and Terrelle Pryor were at the same stage - not even close - but he's the most complete at the position. From mechanics to accuracy to pocket poise and mobility, Lawrence has it all. He should be a star in college and beyond.

Vince Young - No. 1, 2002 
Recruiting: The top-rated prospect in the inaugural ranking class, Young committed to Texas during his official visit to Austin in January before National Signing Day. Miami was one of the main contenders in Young's recruitment. Some schools considered moving Young to wide receiver or defensive back.
Overview: Young was the third overall pick in the 2006 NFL Draft by the Tennessee Titans after winning.a national championship with the Longhorns, but the former five-star had an uneven NFL career. In six NFL seasons, Young finished with 8,964 yards with 46 touchdowns and 51 interceptions.
Farrell's take: Young was an amazing athlete out of high school, and it's true when people say he could have been an All American safety if he wanted to play defense. His mechanics and release weren't pretty, but he couldn't be stopped and he got the job done. It was no surprise to us that he went on to become a star in college.

Terrelle Pryor - No. 1, 2008
Recruiting: Pryor took official visits to Michigan and Ohio State and gathered reporters on National Signing Day only to inform them he would also take a look at Penn State, as well. Six weeks later, Pryor signed with the Buckeyes.
Overview: After scandal hit Ohio State, Pryor was eligible for the NFL Supplemental Draft and he was selected by the Oakland Raiders in the third round. Moved to receiver, his best season was was in 2016 with the Cleveland Browns, in which he totaled 1,007 receiving yards and four touchdowns.
Farrell's take: Pryor was a freaky athlete, like Young, and could have gone the basketball route as well. He was huge, could move and had better mechanics than Young - although they weren't that much better. He could kill you with his arm or his feet and he was hard to bring down because of his size. I expected his college career to end with a national title, but the fact that he's a wide receiver in the NFL speaks to his athleticism.

Jimmy Clausen - No. 1, 2007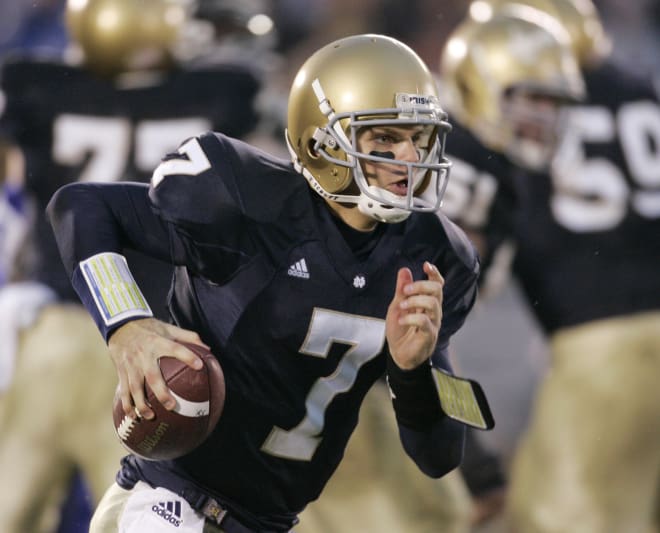 Recruiting: Arriving at the College Football Hall of Fame in a stretch Hummer limousine, Clausen committed to Notre Dame over USC, South Carolina and others. In his illustrious high school career, Clausen was compared to Dan Marino, Tom Brady, John Elway and Joe Namath. He was also called "the LeBron James of high school football."
Overview: A second-round selection by the Carolina Panthers, Clausen played in only 22 NFL games and finished his career with 2,520 passing yards with seven touchdowns and 14 interceptions. He was 1-13 in his 14 NFL starts.

Farrell's take: The hype surrounding Clausen was more than for any other quarterback I've ever covered. He didn't have great size but he was big enough and he could certainly make all the throws. He was an older senior and played like it, and it was hard to find flaws in his game. He had a solid college career and stuck around the NFL for a while but didn't meet the ridiculous hype.

Josh Rosen - No. 2, 2015
Recruiting: The top-rated quarterback and No. 2 player in the 2015 class, Rosen committed to UCLA in the spring before his senior year. Michigan was a serious contender. The five-star quarterback was highly interested in Stanford but the Cardinal never offered.
Overview: After throwing for 9,341 yards with 59 touchdowns and 26 picks in 30 games at UCLA, Rosen was selected No. 10 overall in the 2018 NFL Draft. Quarterbacks Baker Mayfield, Sam Darnold and Josh Allen were picked ahead of him.
Farrell's Take: Prior to Lawrence, Rosen was the best quarterback I've ever scouted. So why wasn't he No. 1? That's my fault, as we had Rosen No. 1 heading into all-star evaluation and I pushed Byron Cowart back up to the top as Rosen skipped the Under Armour Game. That's one of the bigger regrets I've had in rankings. His best skill? His ability to remain calm under pressure and lead his team from behind.

Justin Fields - No. 2, 2018
Recruiting: After an early commitment to Penn State, Fields pledged to Georgia in October of his senior season and signed with the Bulldogs despite late pushes by Texas A&M, Florida and Florida State. He was the No. 2 prospect in the 2018 class behind Lawrence.
Overview: It is expected that Jake Fromm, who led Georgia to the national championship game, will still be the Bulldogs' starting quarterback but that coach Kirby Smart and his staff will find certain packages so Fields can play this season.
Farrell's take: Lawrence vs. Fields was an interesting battle in 2018 and it will be interesting to see who has the better career. To me, despite Fields being No. 2 in the country, it wasn't that close between the two, as I liked Lawrence better. But Fields was outstanding in high school at extending the play and making plays outside the pocket. He was also a very accomplished pocket passer.

Shea Patterson - No. 3, 2016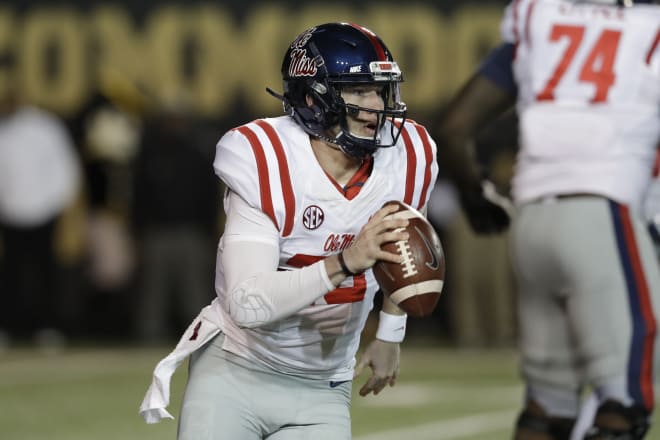 Recruiting: In his freshman season of high school, Patterson committed to Arizona. A couple years later, he backed off that pledge and later picked Ole Miss over LSU and many others. He was third in the 2016 class rankings, behind defensive tackles Rashan Gary and Dexter Lawrence.
Overview: In 10 games at Ole Miss over two seasons, Patterson threw for 3,139 yards with 23 touchdowns and 12 interceptions. He missed almost half the season last year because of injury. After Ole Miss was mired in scandal, Patterson transferred to Michigan, where he's competing for the starting job this season.
Farrell's Take: The only question we had about Patterson was his size, because he checked the box for everything else. Like Rosen, he was very good at remaining calm under pressure and nothing seemed to bother him. And he had a live arm, excellent accuracy and could extend the play very well. We'll see how he does at Michigan after showing some promise at Ole Miss.

(Tied)  JT Daniels - No. 4, 2018
Recruiting: Daniels committed to USC over Michigan, Stanford and others and then decided he would enroll a year early, essentially skipping his senior year of high school. At Santa Ana (Calif.) Mater Dei, Daniels threw for more than 12,000 yards with 152 touchdowns and 14 picks in three seasons.
Overview: Daniels is competing for the starting job as a freshman with the Trojans, with competition from former four-star Jack Sears and three-star Matt Fink.
Farrell's Take: The jury is still out on Daniels - as it is with Lawrence and Fields - but we expect big things. Like Patterson, the only real question mark with Daniels is size, and he has arguably the best downfield touch I've seen in a quarterback in high school. He accelerated his eligibility to get to USC early, and that was a good move because he showed all he could show at the high school level.

(Tied)  Rhett Bomar - No. 4, 2004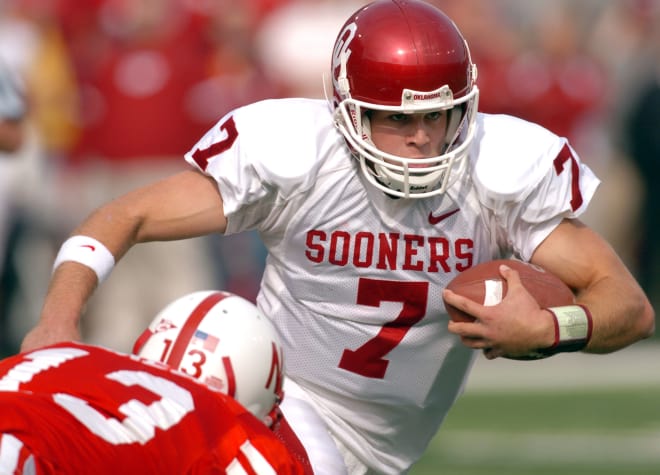 Recruiting: Bomar was a longtime Oklahoma commit, with Texas and Florida State being the other main contenders in his recruitment. The only players ranked ahead of him in the 2004 class were Adrian Peterson, Ted Ginn, Jr., and Early Doucet.
Overview: Bomar was Oklahoma's starter, but in August 2006 he was dismissed by then-coach Bob Stoops. He transferred to Sam Houston State, and then was a fifth-round selection in the NFL Draft by the New York Giants. He bounced around from New York to Minnesota to Oakland for a couple years before leaving the NFL.
Farrell's Take: Bomar had great promise and, like many others on this list, was very good at extending the play and improvising in high school. He had good size, was mobile and had a very good arm. It's a shame he never allowed himself a true chance to be a star at Oklahoma, because his career could have been a great one.

(Tied) Ryan Mallett, No. 4, 2007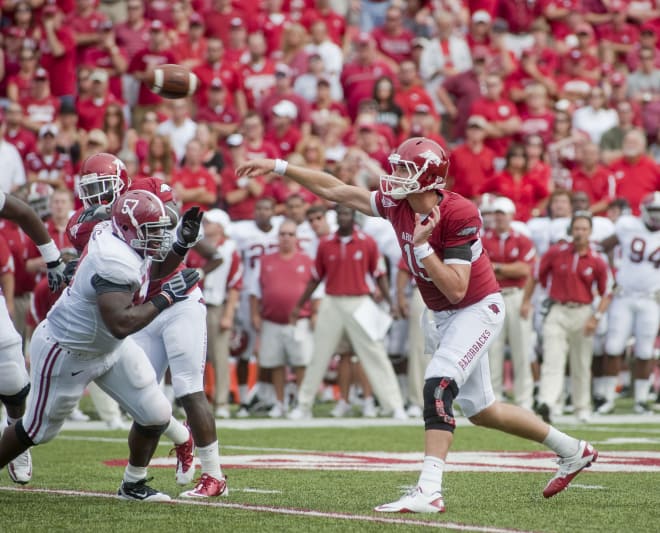 Recruiting: Rated as the fourth-best prospect in the 2007 class, Mallett was the No. 2 quarterback that year behind Clausen. He chose Michigan over Florida State, Alabama, Oklahoma, Notre Dame and others.
Overview: After playing one season at Michigan and following the coaching change from Lloyd Carr to Rich Rodriguez, Mallett left Ann Arbor for Arkansas. He ended up throwing for 62 touchdowns and 19 interceptions with the Razorbacks. Mallett was a third-round pick by the New England Patriots, then played in Houston and has been with the Baltimore Ravens for the last three seasons in a backup role.
Farrell's take: Mallett still has the strongest arm I've seen at the high school level in my career, as he had an absolute cannon. And he also showed touch on most of his passes and didn't try to use that big arm to fit the ball into every small space. His career was a good one in college, but I expected more of a pro career with his arm strength.

(Tied) Ben Olson - No. 4, 2002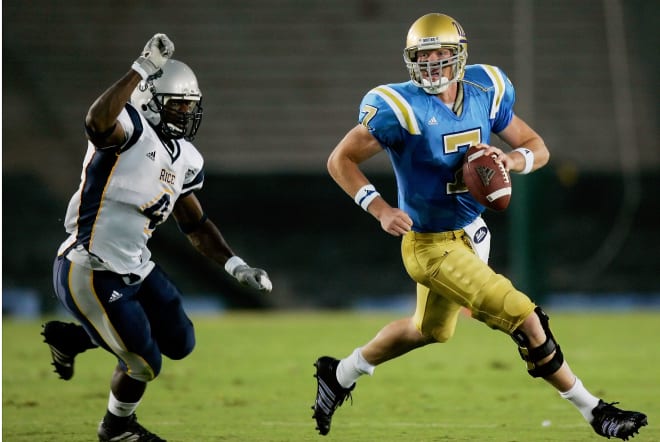 Recruiting: Ranked behind only Vince Young, Haloti Ngata and Lorenzo Booker in the 2002 class, Olson trimmed his list to BYU, Stanford and UCLA. Olson picked the Cougars, redshirted his freshman year and then went on his two-year mission. After returning, Olson transferred to UCLA.
Overview: Olson won the starting job for the Bruins, but injuries plagued him throughout his college career. After going undrafted, Olson broke his foot during a tryout with the Philadelphia Eagles and decided to give up football.
Farrell's take: Olson went on a two-year mission and never got his career on track due to injuries, but he had a ton of promise out of high school. It's hard to go from high school to no football for two years, but it's not clear if the mission was the issue or just bad luck. But when looking at high school quarterbacks, Olson had everything you wanted.