Texas Tech makes major splash, lands five-star Micah Hudson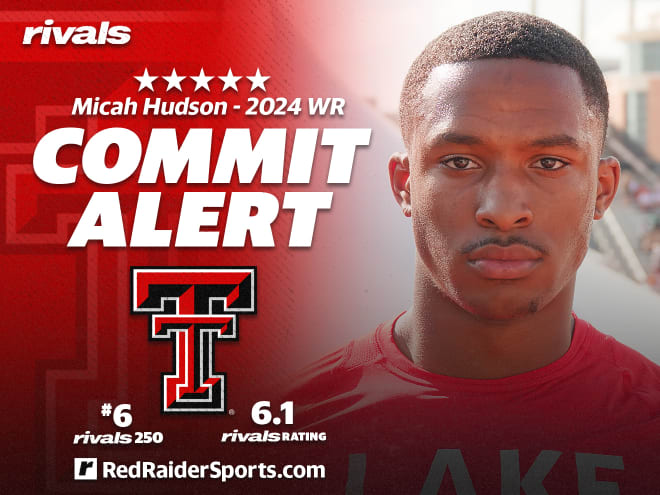 Micah Hudson and Texas Tech have made a major splash on the recruiting trail. The five-star, game-changing wide receiver has chosen the Red Raiders over a host of other offers.
The Red Raiders have long been a serious contender in Hudson's recruitment. He had made several visits up to Lubbock, including for his first official visit in the summer, and the staff made him a top priority from the moment that Joey McGuire took over.
"Their pitch has always just been real relationships," Hudson told Rivals. "That's really what it is. I don't have to be Michael Crabtree. I don't have to be Patrick Mahomes. I can just be me."
Hudson becomes the highest rated recruit to commit to Texas Tech in the Rivals.com era. He is a bonafide playmaker on the outside with ready-made ability to be a difference maker from the moment that he arrives on campus.
Texas Tech had different selling points for the nation's No. 2-ranked wide receiver prospect. Most importantly, they earned his trust and established a bond with the Lake Belton standout and his family.
"They have my back and they're going to keep it real with me at all times," said Hudson. "They haven't changed up. It's been the same way since they first started recruiting me, so I know that I'd be in good hands."
Which ultimately helped push the Red Raiders over the top. Offensive coordinator Zach Kittley, wide receivers coach Justin Johnson, and director of player personnel James Blanchard were all heavily involved in his recruitment.
Part of the Red Raiders' pitch to the elite pass catcher was his fit in Kittley's explosive, receiver-friendly offense. Hudson sees a seamless transition to Texas Tech's scheme and believes that he could thrive in the offense.
"We do a lot of the same things (at Lake Belton). Obviously, they have some different concepts and routes and things like that," Hudson told Rivals. "But I feel like I could come in and maybe be a better player than even Michael Crabtree if I just put the work in and everything."
Hudson has spoken highly of rising redshirt sophomore Texas Tech quarterback Behren Morton. Additionally, he has developed a friendship with quarterback commit Will Hammond, who had some strong moments at the Elite 11 earlier this month. He's confident that he will be surrounded by talent in Lubbock.
"Will is cool. He doesn't have to say anything at all. He's a silent killer, and I like him a lot," said Hudson. "(Texas Tech) is very good at evaluating talent early on, so it's a no-brainer that they're going to have good players."
Micah Hudson is ranked as the No. 6 overall prospect in the 2024 recruiting cycle by Rivals. At 6-foot and 193 pounds, the five-star recruit is the No. 2 player at his position and the No. 2 player in Texas for the class.
SHARE YOUR THOUGHTS WITH TEXAS TECH FANS AT REDRAIDERSPORTS.COM