{{ timeAgo('2022-07-24 16:00:56 -0500') }}
football
Edit
Texas A&M gets a commitment from Rivals100 OL Chase Bisontis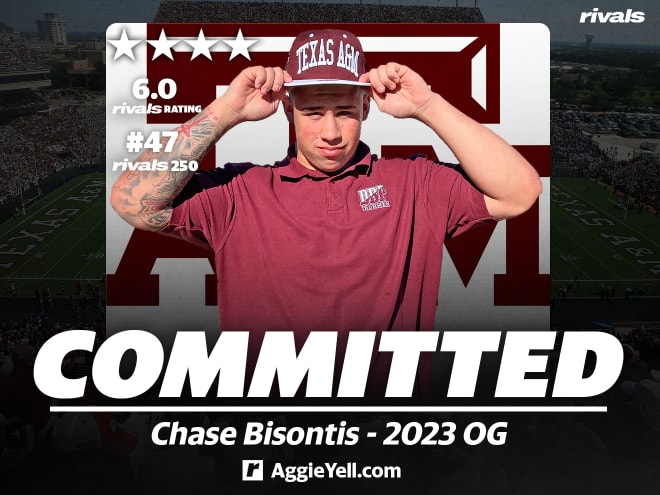 Rivals100 offensive lineman Chase Bisontis preferred to handle his recruitment outside of the spotlight but that didn't stop schools from across the country from pursuing the Ramsey (N.J.) Don Bosco star.
Georgia, LSU, Michigan State, Rutgers, and Texas A&M were all finalists for Bisontis and all of them except Georgia hosted him for official visits. After wrestling with his decision, Bisontis settled on Texas A&M.
IN HIS OWN WORDS...
"There are so many things that went into why I picked Texas A&M," Bisontis said. "The relationships I have with the coaches, they play in the SEC, and we're going to win a National Championship soon. All of that stuff went into my choice. My relationships with the players were big as well. It's just a great fit for me.
"Coach Addazio played a huge role for me," he said. "I feel like the relationship is very strong. My official visit and meeting them in person went great. Everybody here at Don Bosco knows coach Addazio. A lot of Don Bosco players went to Boston College and played for him when he was the coach there. When I ask those guys, like Tommy Sweeney who is in the NFL with the Bills, they only say great things about him. That's what I wanted to hear.
"I feel like, being one of the early commits for this 2023 class for the Aggies, I'm going to do my best to recruit the rest of the country," said Bisontis. "TJ (Shanahan) is definitely one of the top guys on the board so I'm going to be going after him.
"With that top class last year, another big factor for me was the competition I'll play in practice will only make me better," he said. "I know there will be some hard days but it will make me better in the long run. That was a big factor for me."
WHAT THE AGGIES ARE GETTING...
Bisontis is an excellent offensive line prospect with the potential to play this game for a long time. He checks all the boxes from a physical perspective, checking in at 6-foot-5, 290-pounds. He has a skill set that would allow him to play guard or tackle at the next level but he'll more than likely end up at guard. Bisontis brings impressive athleticism to the position and has not trouble getting out of his stance, pulling either direction, and finding a defender to block in space. He has outstanding strength numbers in the weight room and it shows on the field. Bisontis is able to walk defenders backwards using a combination of lower body strength, leverage, and a strong punch. Defenders have found it almost impossible to get to the ball carrier once Bisontis gets his hands on them. He'll have a bit of a learning curve to deal with at the next level when it comes to handling elite interior pass rushers but his natural athleticism should help him progress quickly in this area. Bisontis won't have any problems adjusting to the aggressive and tough playing style necessary to succeed in college.
WHY IT'S BIG FOR TEXAS A&M...
Texas A&M, last year's team recruiting champion, has taken a fairly slow approach to recruiting in the 2023 class but now they have three commitments from players inside the top 50 of the Rivals100. Bisontis will provide a big lift to the Aggies and their 2023 recruiting class ranking. He is just their second offensive line commit and sixth member of this class. Offensive line coach Steve Addazio has recruited New Jersey for decades and tapped into his long standing connections in the state to develop a relationship with Bisontis. Addazio and his son Louie, an assistant at Texas A&M, really led the charge in the recruitment of Bisontis and adding him to this class will help build on Texas A&M's already impressive stretch of signees on the offensive line. Don't be surprised when more highly ranked offensive linemen join Texas A&M's recruiting class and team up with Bisontis.