Ten prospects on our radar after the Rivals 3 Stripe Camp in S.F.
HAYWARD, Calif. - Plenty of players have gone from off the radar to recruiting superstar after a strong showing at Rivals Camp Series event over the years and at Sunday's stop of the Rivals 3 Stripe Camp Series presented by adidas in Northern California, we had a chance to see plenty of future stars.
Today we introduce you to 10 players who are now firmly on our radar and will surely be names to know down the road.
RELATED: Commit predictions | Players who earned their stripes | Full schedule
Mars signed up as an athlete for the camp and was given a red jersey (for defensive players) but he shined at running back and really stood out all day. He was elusive in the cat-and-mouse drills early on, showing off great speed and elusiveness to slip by linebackers and then he was good during one-on-ones as well. Army is his lone offer but more schools could get involved soon.
Glass is a versatile athlete who could translate to either side of the ball at the next level thanks to his speed and agility. On Sunday he worked out at defensive back and showed a nice ability to read and react to opposing wide receivers. He also impressed the event's coaches with his efforts during position specific drills, drawing praise for his attention to detail. Glass has early offers from Nevada and Fresno State but his list could grow as the spring moves along.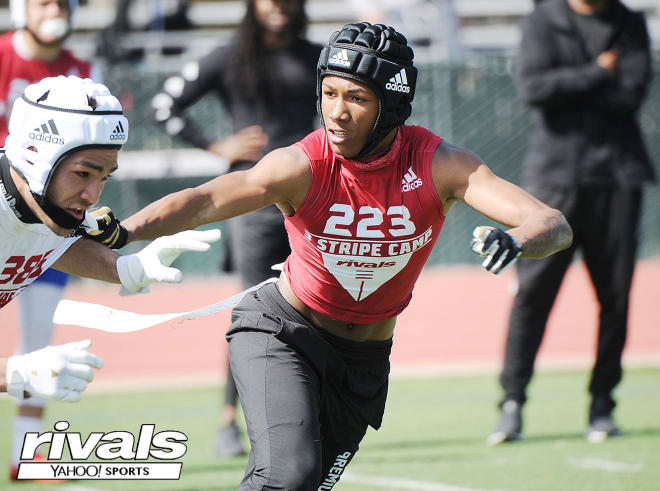 Austin plays with an attitude and toughness that has served a lot of other Long Beach Poly standouts throughout the years. He has length at cornerback, he runs with any receiver and he's super competitive so he's always aggressive and trying to make plays. No schools have offered yet but Austin should take a more prominent role on the team this season and could see his recruitment take off.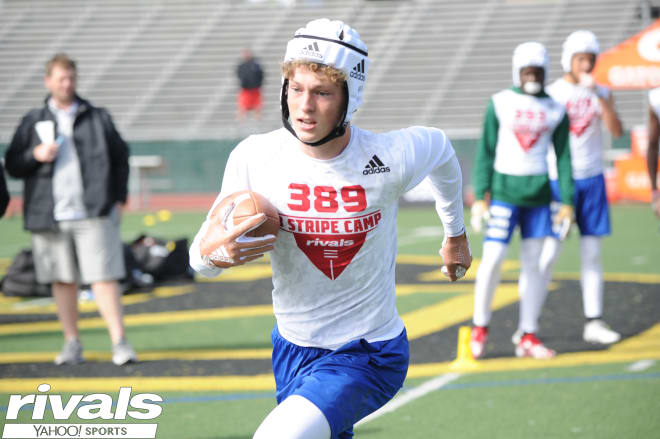 Woods showed that he was one of the top receivers in the camp pretty early in the day, and so long as the passes to him were relatively accurate, he had one of the highest catch rates on the afternoon as well. Woods might not have been a burner in the truest sense of the word, but ran well and was able to use his size to take advantage of sealing off defensive backs – which in general seemed to be physically smaller as a group. Woods was neck-and-neck with Joshua Jackson for wide receiver MVP honors, with the difference really being the highlight catches by Jackson.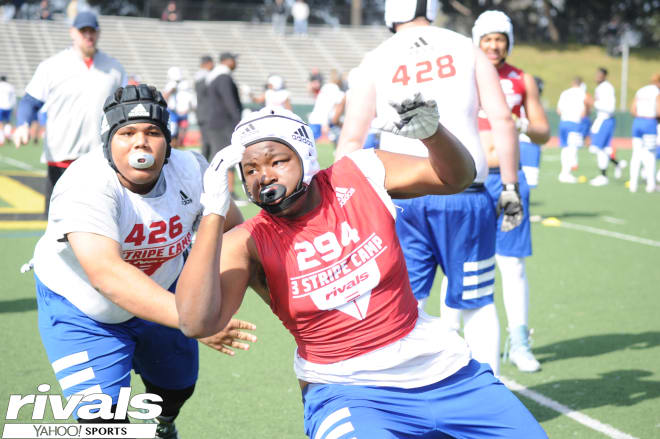 Benton was tough and mean all day, active in all the drills and really competitive during one-on-ones where he won a bunch of reps. The Pittsburg, Calif., prospect has really active hands, a nice spin move and he keeps his feet after initial contact. San Jose State is his first offer and others could be coming.
Petry was another bigger receiver that did a good job winning physical battles with defenders to have a nice camp performance. Given his size, his ability to stop, cut and work back to the ball was something that defenders didn't really have an answer for on intermediate routes in one-on-ones. He was also able to catch a couple over his shoulder in the back of the end zone as well, and showed some nice body control to put himself between the ball and the defensive back to win reps.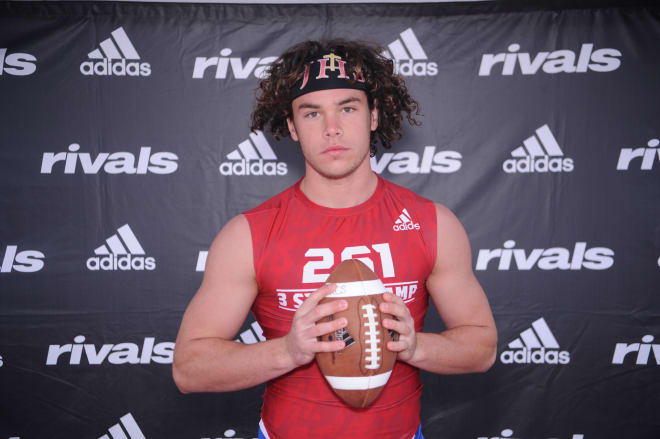 Once Cannan got his bearings in pass coverage, he was one of the more consistent linebackers during one-on-ones. He was able to match many of the players he was against step-for-step and had a good sense of when to get his head turned around to look for a play on the ball. During the open field tackle simulation, he was steady and didn't fall victim to a running back shaking him out of his cleats.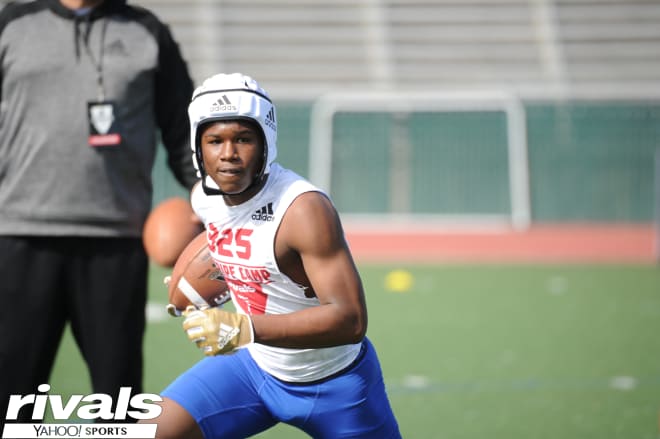 Brown already has an early offer from BYU, but the 2022 running back seems primed to finish his recruitment with a wide variety of options. For such a young player, Brown's patience and footwork turned heads both in the open field tackle simulation drills and in one-on-one passing reps against linebackers. While he's understandably still a bit on the smallish side, he still has a solid build that should be able to carry even more lean muscle as he continues to grow.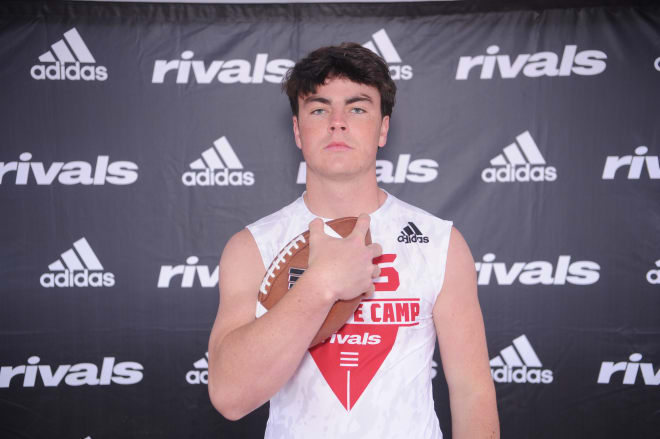 On an afternoon where a number of young quarterbacks had strong showings, Stewardson might not be the first name that came to mind, however, he had one of the more consistent days throwing the ball. He's still a little rigid in his drop, but drives through to deliver true passes and had some of the best downfield accuracy of the quarterbacks in attendance.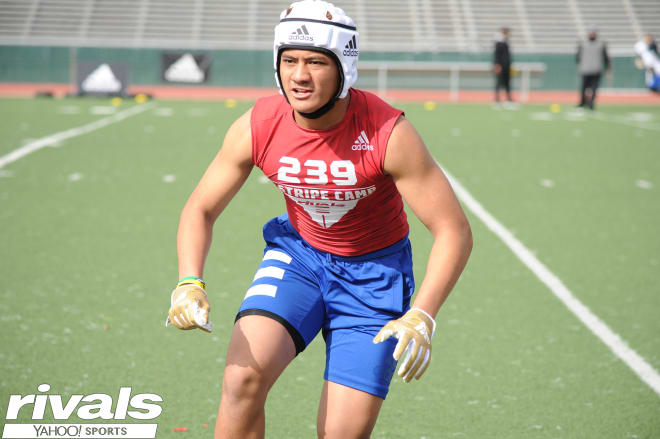 If the name sounds familiar, his brother, Brandon, was a top four-star linebacker last recruiting cycle who had been committed to BYU for a long time and ended up signing with Washington. The class of 2020 prospect is already filling out physically so whether he's a defensive back or linebacker long term is yet to be seen but he's excellent in coverage and physical at the line of scrimmage. Nevada and BYU have offered so far.