Players now on the radar after Rivals 3 Stripe Camp Nashville
Turrentine actually burst onto our radar as a rising freshman last year at the St. Louis stop of the series and since then has picked up a few offers, including LSU. But he was back on Sunday and showed that his performance last year was anything but a fluke as he once again impressed with his length and athleticism. While Turrentine has some notoriety in the Southeast, it's clear he will be a national-level recruit and by this time next year might have over 20 offers to his name.
The Linebacker MVP stood out immediately during individual position drills and had everyone checking their roster. How could a kid with an ideal 6-foot-2, 215-pound linebacker frame with tremendous athleticism be virtually unknown?

Turns out, there is a good reason for that. Casey did generate some buzz last off-season, but had to have shoulder surgery and missed all of his junior season. Cincinnati, Purdue and a few Mid-American Conference programs caught wind of him early and offered, but that list will expand exponentially when the rest of the world sees him.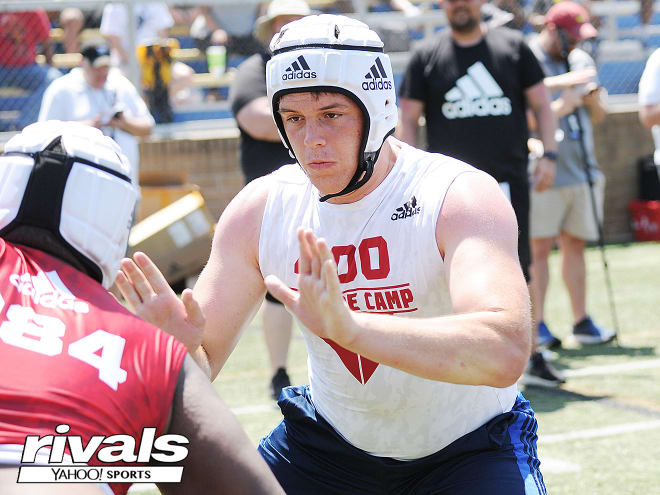 Vaughn was actually invited to the 3 Stripe Camp, but did not realize it and thought he had to attend the Rivals adizero Combine on Saturday in an attempt to qualify. He was formally invited back for the next day, then went out and posted several strong reps against the event's top defensive linemen. Vaughn measured in at 6-foot-7 and 283 pounds with very little extra weight and strength that belied his frame. Cincinnati, Marshall and a few MAC programs have already extended offers, but his size, athleticism and fundamental proficiency will attract more.
The defensive back position was loaded with well-known prospects, but when discussions for the MVP got down to the wire a lesser-known Riley was in those conversations. At 6-foot and 165 pounds Riley utilizes his length well has good fluidity for a player of his height. But, what was most impressive about Riley was his IQ for the position. At times he seemed to have a better idea of the route than the receiver did, and he came away with several interceptions because of it. Western Kentucky is his only FBS offer right now.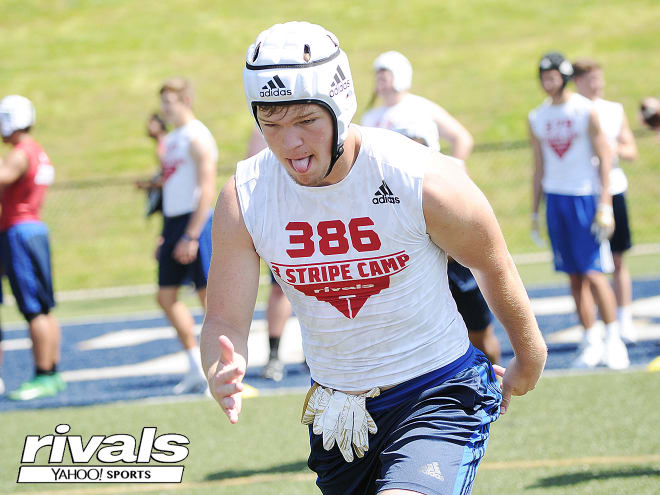 Following Sunday's camp, Hill had a tweet about being slept on, and he may have a point. Measuring in at 6-foot-5 and 215 pounds, Hill caught our attention because he was doing things at that size one would not expect, even at a camp as talented as the Rivals 3 Stripe.

From a speed, quickness and athleticism standpoint, Hill is well ahead of the curve for the tight end position. He also has a frame that should have no trouble adding more weight without sacrificing movement skills. No school has offered yet, but that will change if they see what we saw.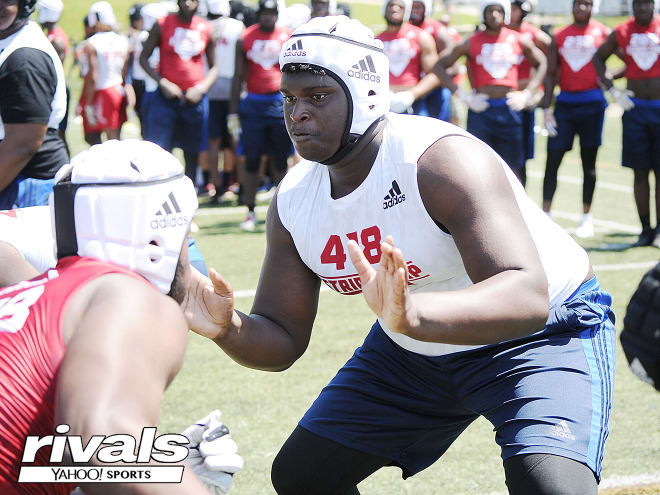 Gupton was rated as a Power Five prospect coming into Sunday's camp, but South Carolina was his only Power Five offer. Listed as a tackle, Gupton lined up at guard and looks likely to play that position in college.

There was a little extra weight on his frame that he would do well to trim up in the coming months, but his play was outstanding and showed real potential. On one particular rep he literally KO'd the defensive linemen with his initial punch. In other reps he went blow-for-blow with the strongest defensive tackle at the event, while staying light on his feet.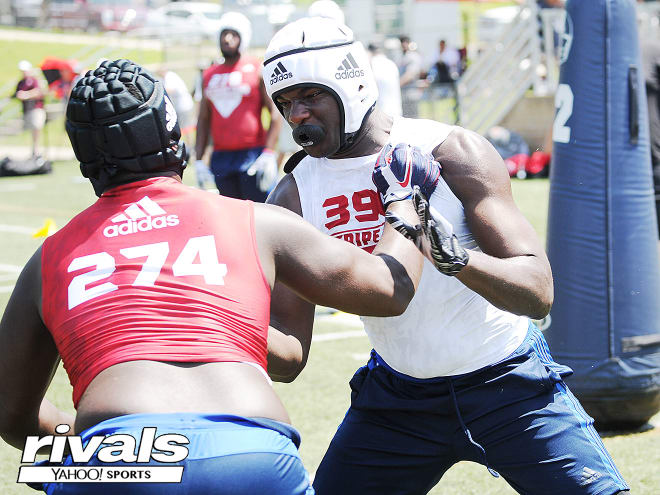 Bedford was another invitee from Saturday's Rivals adizero Combine, and was a guy who immediately jumped off the field despite more than 1,200 participants streaming through the testing that day.

On Sunday he measured in at a very lean 6-foot-5 and 262 pounds, and he has the frame to support 300 pounds-plus. Not only was Bedford's on-field performance impressive, but his demeanor also stood out. He was a gracious, polite young man in every encounter, but had no trouble flipping the switch when the whistle sounded. A few FCS schools have offered, but players with his frame and skill set become very popular with FBS coaches.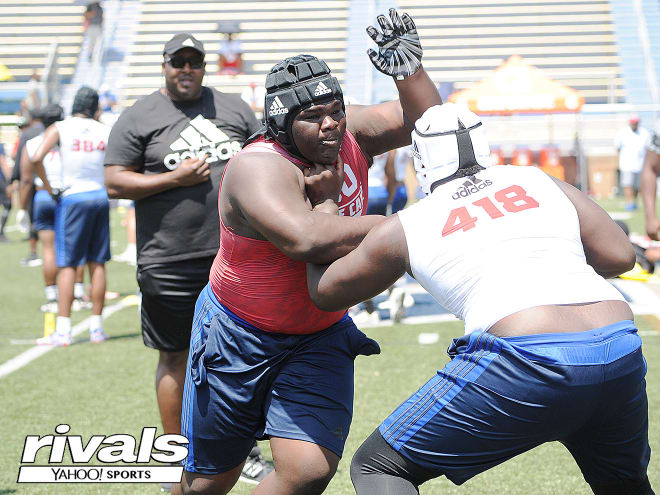 Simmons was a force on the defensive line from the start. He is a big, strong, wide body who used his power to win a lot of reps. He always had a smile on his face, he loved competing and his stock should rise. He is a space-eater with some power.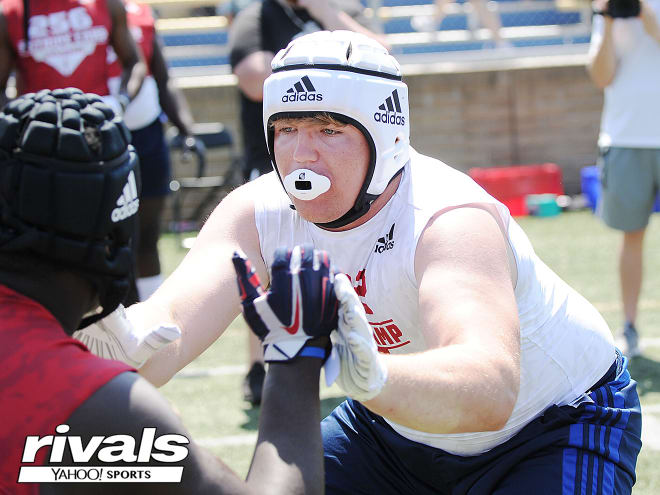 Volk is a big offensive lineman who was one of the top tackles on the day. He played with patience and once his hands were locked in, he finished the defensive lineman off. Iowa State is his lone offer, but that should change soon.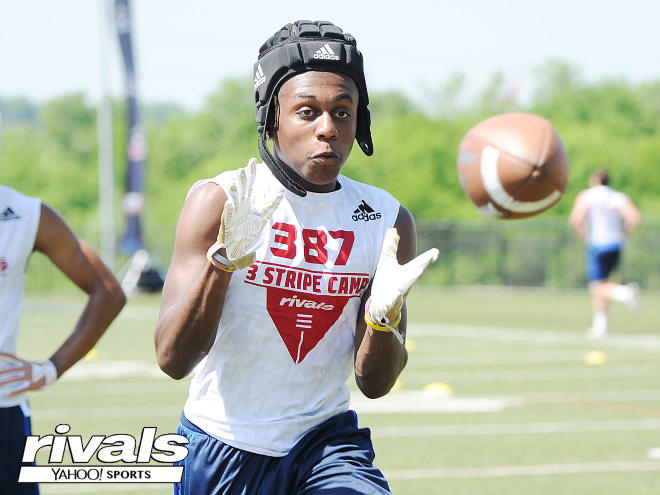 Caldwell is a wide receiver that showed consistent hands. There were many drops throughout the day for different reasons, but Caldwell was one of the more consistent wideouts when it came to hands. He got open, he made adjustments to the ball and he was making the play when given the opportunity.
Gabbert is a quarterback that threw a very nice ball all afternoon. He spins it well, his passes were very catchable and he could be a steal for Miami-Ohio. He may not be the tallest signal caller, but his delivery is strong and he has a nice arm.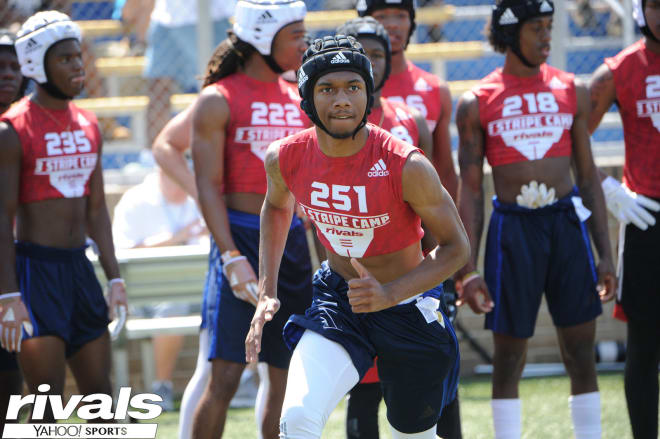 Wilder is a 6-foot-2 corner who broke up his share of passes. He uses his length in coverage and he stayed with some top wideouts. The rising senior entered the camp without an offer, but he played with confidence, he showed his skill-set and he will earn some offers in the coming months.