Takeaways from Rivalry Weekend in The Boot
NEW ORLEANS -- It was Rivalry Weekend in Louisiana as parish rivals St. James-Lutcher and Edna Karr-Warren Easton squared off. Both contests featured high emotions and a surplus of talent on each side of the ball.
Rivals was on hand for all of the action. Here's some takeaways from the action in The Boot: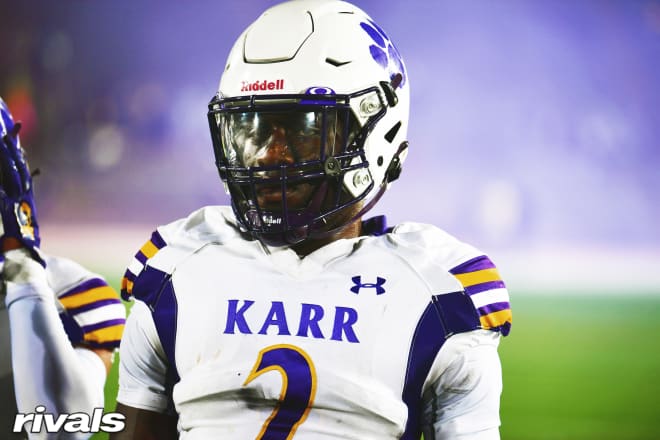 BAMA, LSU BATTLING OVER STATE'S TOP RECEIVERS
Rivals100 wide receiver Shazz Preston was on the wrong side of the Lutcher-St. James outcome, but a slow offensive night didn't prevent the state's top pass-catcher from impacting the game. The recipient of several short designed passes to get him the rock early, Preston was effective breaking tackles and picking up added yardage. He made some spectacular grabs along the sidelines and was equally impactful on the other side of the ball.
Playing at safety, Preston darted to the ball-carrier and was equally as physical making tackles as he was breaking them. Preston's coming off a visit to the Cotton Bowl for the Texas-Oklahoma showdown and was also on hand for LSU's tilt with Auburn. Official visits to both Georgia and Alabama loom particularly large with strong connections but also a lot of uncertainty in Baton Rouge.
Rivals250 wide receiver Aaron Anderson has a reputation as the most dynamic athlete in Louisiana. That's been developing since he emerged as an impact freshman on one of the state's most high-octane passing attacks. Anderson opened the Karr-Easton game with a 65-yard touchdown racing down the sideline with the jets to easily break away from a crowd.
Anderson has continued to expand his game from year to year. At 5-foot-10, he contends for jump-balls and can win against double coverage. He's physical after the catch and adds a vertical element to the offense, but his biggest impact might be as a return specialist.
Anderson committed to LSU when the Tigers offered after a playoff game against Easton last December, but he's coming off another visit to Tuscaloosa. Alabama hasn't stopped pressing for the Louisiana four-star, who is torn between these two teams.
BUXTON BREAKS OUT
Hurricane Ida devastated parts of the Gulf Coast up to 60 miles outside of New Orleans, which included parts of the River Parishes like LaPlace, Houma and Thibodaux. Jameian Buxton, one of the state's top junior defensive lineman who grabbed college coaches' attention as an eighth-grader, transferred to Easton and made his season debut against Karr.
Checking in at close to 6-foot-3 and 275 pounds entering his junior year, Buxton was impactful off the edge and in the middle of Easton's defensive front. Playing over the tackle, Buxton overpowered blockers and consistently wrapped up backs. When left alone on the back side, he made a tackle for loss and swatted down a pass. Playing over the center -- where he's best suited -- he generated excellent push-back and made a stop right at the line.
LSU, Florida State, Mississippi State, Auburn, Vanderbilt and Colorado have been the teams in heaviest contact with Buxton since September hit. Interest is quickly picking up.
STOCK UP FOR WINFIELD
Winfield has been an impact player for Lutcher (La.) dating back to his freshman season as a wide receiver. As a sophomore, he won the starting job over a senior and has never looked back. Over the past six games, Winfield has amassed 1,180 yards and 19 touchdowns rushing, averaging better than 12.6 yards per carry in the process.
On top of that, Winfield has completed 45-of-70 passes (64-percent completion) for 654 yards and eight touchdowns. The coaches rave about his leadership as well.
In a high-pressure environment against a crosstown rival, Winfield was spot-on. He was accurate throwing in the short field and could put some juice behind his passes. Winfield has upside at the position and certainly could do damage at the Group of 5 level. He is drawing an obvious comparison to former UTSA quarterback Lowell Narcisse, who also played under Jenkins.
Additionally, he boasts upside as a Power 5 offensive athlete. Winfield saw action back at safety, too.
Winfield camped at UCF and impressed the coaches, including head coach Gus Malzahn, who has a longstanding connection to Lutcher head coach Dwain Jenkins. Before returning back home, Malzahn offered Winfield as a quarterback. The same goes for Louisville. A source noted that Gabe Fertitta, an assistant at Louisville, has been in regular contact about Winfield after offering this spring.
Winfield camped at LSU and is getting monitored by the Tigers. Mississippi State head coach Mike Leach has also taken a liking to the dual-threat quarterback. Those SEC teams and others are giving him looks both as a quarterback and an athlete.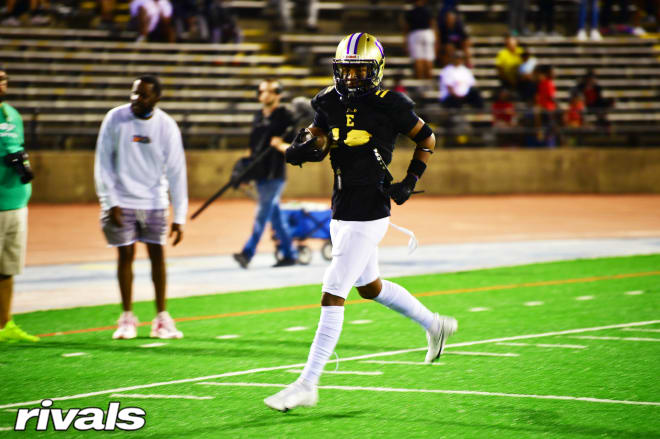 FOSTER RISES TO THE CHALLENGE
Four-star Warren Easton cornerback Wallace Foster is putting together an impressive resume midway through his sophomore season. An impact freshman this time a year ago against high-level competition, Foster also captured DB MVP honors this spring at RCS Dallas and rebounded well in a primetime matchup against the aforementioned Anderson.
Anderson got the best in this one on the game's opening play -- a credit to 2023 passer AJ Samuel with the ball placement over the top for a 65-yard score. Foster exercised a short memory and rebounded with a strong showing in coverage for the remainder of the contest. The sophomore closes well, kept his eyes drawn to the receiver and has long arms to jar the ball away on the back end. Foster has good situation awareness and was able to eliminate the deep threat for most of the contest.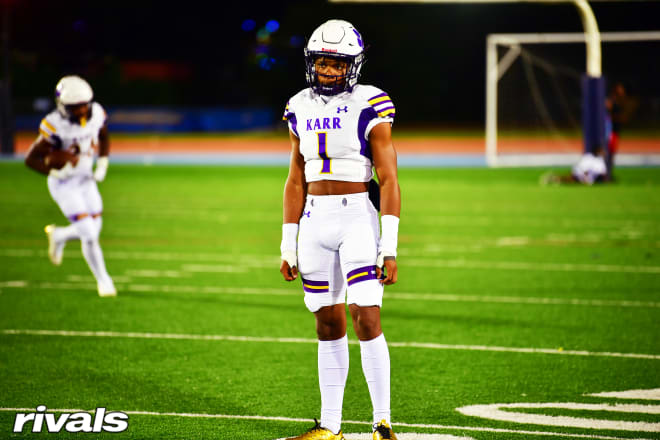 QUICK HITTERS
--Three-star Karr cornerback Ryan Robinson closed strong on receivers underneath and was solid taking away the deep threat. Florida State has long been a team trending with the New Orleans standout, but Auburn recently offered. That's a team to watch.
--Four-star LSU defensive tackle commit Tygee Hill played multiple spots up front to help slow down Easton's rushing attack. Hill helped set the edge and notched a sack in the process.
--Three-star Easton linebacker Jirreah Johnson continues to shine as an off-ball linebacker. He flies to the ball, is a sure tackler in space and closes in a hurry. He reminds me of former Arkansas linebacker Scooter Harris.
--Purdue commitment Malachi Preciado was terrific in pass-pro and is an equalizer up front moving defenders off the ball. The Boilermakers have a good one in Preciado and made even more noise in Louisiana over the weekend with a commitment from Rivals250 quarterback Rickie Collins.
--Tulane commit Kadan Lewis is another Houma-area transplant playing the 3-tech for Easton. Lewis got loose a few times and provided a pass-rush up the middle to force a handful of errant throws.
--Created a new profile for 2023 defensive end Jonathan Bax, who was flew off the edge for Karr throughout the night. He's got a great get-off. Northwestern State offered over the weekend.