Takeaways from regular-season finales across Texas
The regular season came to an end throughout the Lone Star State last weekend as district titles were captured and others' fates were sealed. Now, the calendar has flipped to the postseason in Texas high school football.
Before we turn the page, Rivals National Recruiting Analyst Sam Spiegelman shares his thoughts on the sights and sounds from across the state, including rivalry games in Houston and Austin to cap the regular season. Here's some thoughts involving Clemson, Texas A&M, Texas, Baylor, Indiana and Ohio State commitments, as well as tidbits involving Texas, Georgia, Ole Miss, Michigan State and Stanford.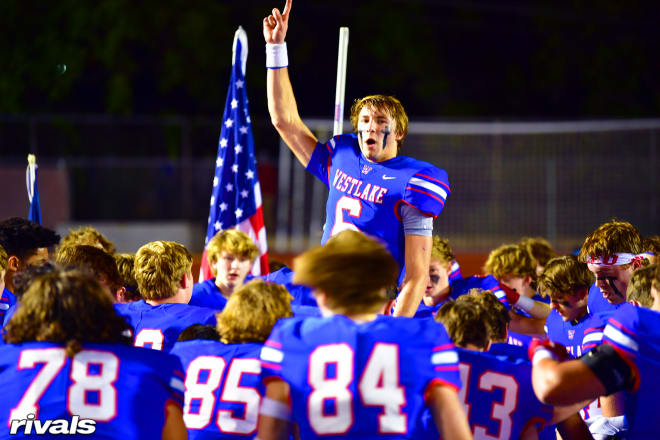 KLUBNIK HAS STAMP ON QB1
After a three-week stint on the sidelines with an injury to his non-throwing shoulder, five-star Clemson commitment Cade Klubnik returned to the starting lineup for Austin Westlake in the crosstown rivalry showdown against Lake Travis, which by the way was canceled a season ago due to CoVid-19. Stakes were high as the nation's No. 1 passer accounted for more than 300 yards of total offense, including 275 yards passing and five touchdowns (3 through the air; 2 rushing) in a lopsided victory.
Behind the scenes, Klubnik had been eyeing a comeback for this game and delivered in as big of a stage as the Texas high school football regular season can deliver. Over multiple in-person evaluations, Klubnik has shown the ability to operate this offense at an extremely high level. He was near flawless in this one -- going through his progressions, taking chances downfield and also turning to his legs when the situation called for it. Klubnik is really sharp in the red zone and showcased some zip on throws down the seam, also by the goal line and throwing his receivers open throughout the night.
Klubnik has captured back-to-back state titles since stepping into the starting role as a sophomore. He was remarkable in January's 6A championship game. He captured Elite 11 MVP honors over the summer and just pieced together a wildly impressive, efficient performance against one of the state's top programs.
Klubnik has certainly cemented his position as the nation's top signal-caller -- with his playmaking ability, decision-making and physical tools as wells. Even if Quinn Ewers didn't enroll early at Ohio State, Klubnik would've challenged for the QB1 spot.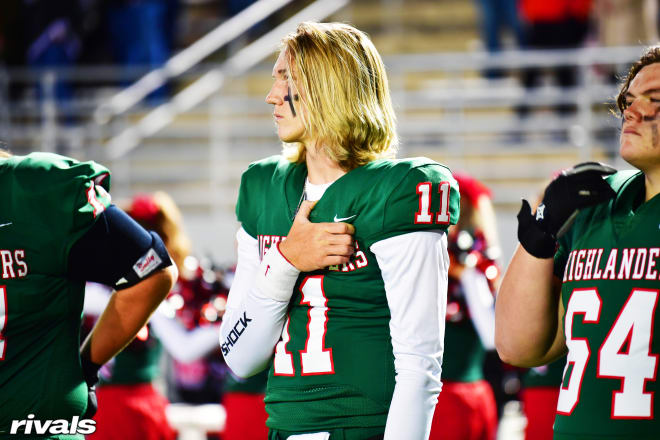 ANOTHER ELITE QB IN 2024 CYCLE
Much like the Westlake-Lake Travis affair on Friday, Thursday's showdown featuring The Woodlands and College Park was a breakthrough moment for another extremely talented quarterback in Texas. Mabrey Mettauer, 6-foot-5, 215-pound multi-faceted signal-caller, also stepped up in a big-game setting with crafty playmaking ability and outstanding decision-making.
Mettauer and The Woodlands overcame a three-point halftime deficit to win decisively. In the process, Mettauer let it rip with good ball placement on a handful of throws downfield, down the seams and outside the numbers. One play, he resisted a deep shot to check it down for a positive gain and elected to throw it away -- a rarity for a sophomore. He was careful on multiple occasions throughout the game and finished 12-of-15 passing for 183 yards and a touchdown.
More so, the athletic Mettauer resorted to his legs and was Fran Tarkenton-esque in how he evaded defenders and played through contact. He brings prototypical size at the position and a dual-threat skill-set. He finished with 91 yards on a dozen carries.
Mettauer holds early offers from Florida, Miami and LSU, and is coming off a visit to Arizona State. The 2024 quarterback will visit Ohio State this weekend. Along with in-state four-stars DJ Lagway (Willis High) and Dylan Raiola (Burleson High), there's an elite crop of quarterbacks in Texas yet again for 2024.
IN-STATE BATTLE BREWING FOR THE BLACK UNICORN
Rivals100 all-purpose back Rueben Owens capped the regular season as one of the state's leading rushers and a video-game-like stat line for his all-purpose yardage totals. On the season, he's on his way to 2,300 yards and led the state in scoring for the regular season (234 points). Over the past two weeks, Owens has touched the rock 35 times and piled up 547 yards and 10 touchdowns.
At practice on Thursday, Owens saw action as a single-back, wing back, receiver and as a Wildcat quarterback. He's electric with speed to create big chunk plays from anywhere on the field.
Owens sported Texas A&M gloves during practice before assistant Tommie Robinson and Georgia assistant Dell McGee were at El Campo for Friday's contest. The nation's top all-purpose back was back in College Station again on Saturday as momentum continues to build for the Aggies with the one-time Longhorns pledge. Texas, Georgia, USC and Oregon are other teams involved.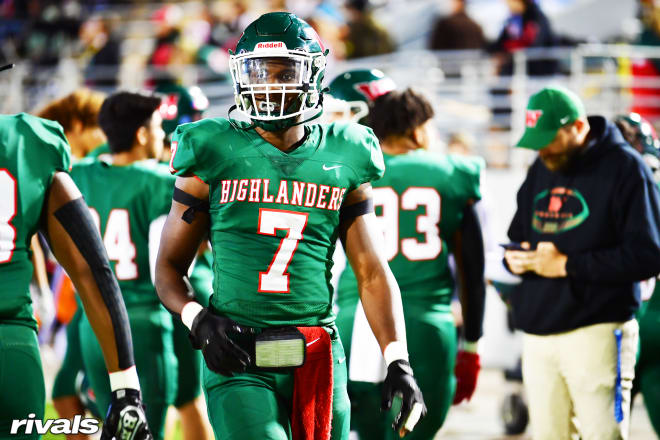 STOCK UP ON TEXAS A&M COMMITMENT
It's been a while since four-star Texas A&M commitment Martrell Harris Jr. has been at full strength. Certainly, he played at 100-percent for The Woodlands and made plays in multiple facets of the game in the game and is a stock-up candidate as we shift into the postseason.
Harris, who clocked a 4.5 40 before his sophomore season, showed off that speed running down ball-carriers and showcasing his ability to roam sideline to sideline. He also came up with a tackle behind the line crashing down off the edge and a pass deflection running with a slot receiver downfield. He's an efficient tackler in space and brings a ton of athleticism to the position. Harris will need to continue to improve shedding blockers, but will give coordinators a ton of creativity.
Harris was back in College Station over the weekend, but there's some interest from Oklahoma State, which recently extended an offer, and his longstanding connection to Ole Miss assistant Coleman Hutzler might lead to a visit to Oxford before Signing Day. LSU hasn't offered Harris, a Baton Rouge native, but assistant Blake Baker has been in touch recently.
FLORIDA TRANSPLANT IN THE FIVE-STAR CONVERSATION
After dominating the Rivals Camp Series this offseason, including the Five-Star Challenge in June, TJ Shanahan Jr. ascended to the No. 1 guard in the country. Shanahan also relocated from the Orlando area to Austin and took over as Westlake's right tackle, adding even more star power to the Great Wall of Westlake and the offseason as a whole.
Shanahan is already a top-20 prospect and made a compelling case to become the second five-star offensive lineman in the 2023 class. He's explosive off the line and a relentless blocker with one of the highest motors from an offensive lineman during an in-person evaluation all season. Six-foot-5, 325-pound Shanahan can overpower defenders and effectively cancel out one or more from a play.
With the relocation to Central Texas, both the Longhorns and Texas A&M have inched closer to the top of Shanahan's interests. Ohio State, Georgia, Notre Dame and LSU also remain in the picture.
THREE TEAMS IN PURSUIT OF RIVALS250 RB
-- Rivals250 running back Kedrick Reescano headlines a strong young contingent of talent at Houston-area New Caney. Reescano eclipsed 600 yards of offense through the first three games and has scored more than 20 touchdowns this season. He's built in a similar mold to Heisman candidate Kenneth Walker. Coincidentally, Michigan State is one of a handful of teams in the mix along with Oklahoma State and nearby Houston.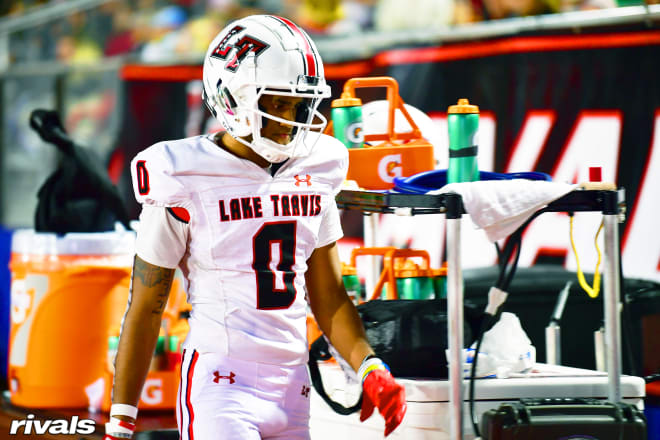 OHIO STATE PLEDGE IMPRESSES
-- Rivals100 wide receiver Caleb Burton was the catalyst for Lake Travis showcasing his vertical speed from the slot for an 18-yard touchdown and again on an endaround 12 yards to pay dirt. Burton also shook a defender with good acceleration after the catch. Ohio State is adding another talented playmaker in Burton.
-- 2023 quarterback Bo Edmundson had a shaky outing with some impressive deep balls, great arm strength and quick release. He also threw a a few passes into traffic and finished with one touchdown and two picks.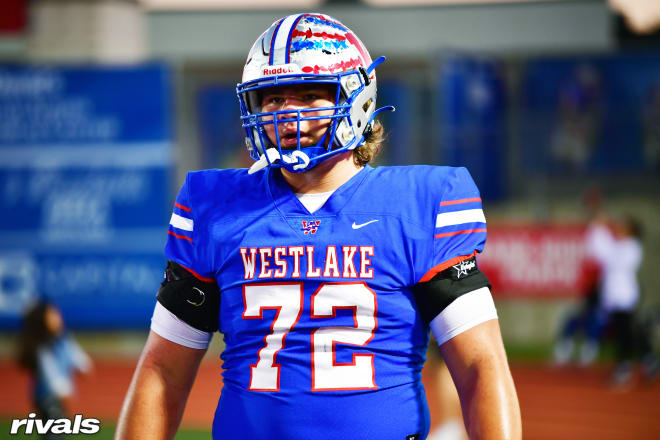 STARS ALIGN FOR DEFENDING CHAMP WESTLAKE
-- Rivals250 wide receiver Jaden Greathouse and three-star wide receiver Keaton Kubecka each came away with touchdown catches. Greathouse broke loose for a 44-yarder in the end zone. Texas and Oklahoma both covet him. Kubecka reeled in a strike from Klubnik from 12 yards out in the red zone. Kansas is an early offer, but that should pick up sooner rather than later.
-- With Shanahan on board, Texas pledge Connor Robertson moved inside to guard, where he plays with a mean streak. He could be an impact blocker for the Horns in time. Indiana commitment Bray Lynch looked thinner and was light on his feet. He came up with a few knockdowns in pass-pro.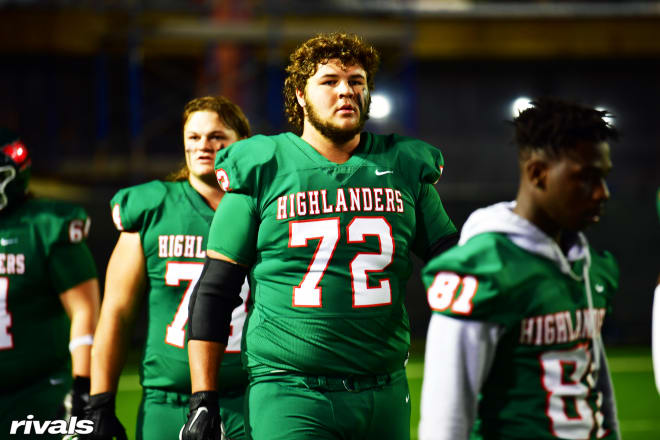 STOCK UP ON BAYLOR OL COMMITMENT
Stock up for Baylor offensive tackle commitment Kaden Sieracki. The 6--foot-7, 320-pounder is not only massive but nimble, too. Sieracki can move defenders off the ball and was solid in pass-pro throughout the night, allowing his quarterback to extend plays and take off at will.
BUZZ ON TWO OF CENTRAL TEXAS' BEST RECEIVERS
-- Rivals250 athlete Mikal Harrison-Pilot is open to playing either receiver or defensive back, but the majority of schools in pursuit might prefer to test the 6-foot, 190-pounder on offense first. Harrison-Pilot has seen Texas, Texas A&M, Houston, Arkansas and has emerged as a top target for Mississippi State. He'll head up to Ohio State this weekend in hopes of landing an offer with mutual interest from both sides.
-- Rivals100 wide receiver Braylon James has been one of the major bright spots for Del Valle as the 6-foot-3, 190-pound wideout has been breaking out on the field and emerging as a leader in his locker room. His breakout season has drawn the eyes of major programs in-state, including Texas and Texas A&M. James was in College Station over the weekend. Stanford is another contender and I have an early FutureCast on the Cardinal for the top-100 player.