Take Two: Would Jeff Brohm leave Purdue for Louisville?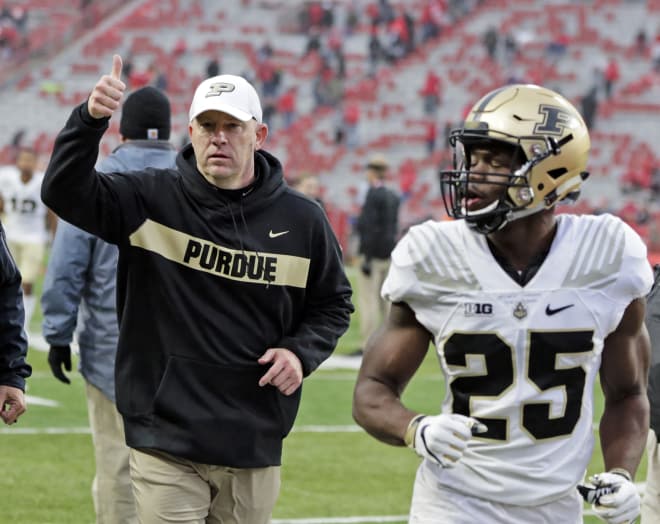 MORE TAKE TWO: How long will Tennessee's rebuild take?
Take Two returns with a daily offering tackling an issue in the college football landscape. Rivals.com National Recruiting Analyst Adam Gorney lays out the situation and then receives takes from Rivals.com National Recruiting Director Mike Farrell and a local expert from the Rivals.com network of team sites.
THE STORYLINE
The coaching rumor mill is already heating up around Purdue coach Jeff Brohm, especially after his Boilermakers took down Ohio State last weekend.
With Louisville coach Bobby Petrino possibly on the hot seat, replacing him with Brohm, who played for the Cardinals, would be a logical move. But things could be a little more complicated because of buyout money.
According to various reports, Brohm has also been pegged as someone who might be looking at a "higher-profile" college job with Auburn, USC and Ohio State mentioned in a Louisville Courier-Journal article as possibilities. None of those jobs are open, of course, and Ohio State seems like a complete stretch. There is also talk that coaching in the NFL might interest Brohm.
Purdue is also in a pretty good place. Brohm is surrounded by his brothers on staff, the facilities and recruiting have improved, and he is apparently close with his bosses in West Lafayette. The sense that he's building a program from the ground floor could be enough to keep him there.
Maybe Brohm has been waiting it out until the Louisville job opens but that is looking more and more like a long-term rebuild as well. It could be a dream to go back and coach the Cardinals. But is this situation as not cut-and-dry as it looks on the surface?
FIRST TAKE: BRIAN NEUBERT, GOLDANDBLACK.COM
"The Brohm-to-Louisville thing is more complicated than people think. I know the city and his alma mater and all that stuff mean a lot to him and his family, and I'm sure that's always been one of his target jobs coming up in the profession. Obviously, it would be a really difficult thing for him to turn down.
"But I don't know what his long-term aspirations right now are. What's to say the NFL doesn't come after him one day? He's straight out of central casting as an offensive mind for that league right now. And, I think he's genuinely content and happy at Purdue. That doesn't mean he will stay forever.
"He's just never struck me as being in any hurry to go anyplace from Purdue. Purdue, by its standards, made an extraordinary investment in football, built a ridiculous facility, pays him really well by any standard and not just a Purdue standard, and he likes his AD a lot. He has absolute support to the highest levels of the university. He likes to recruit Kentucky and right now he's doing a pretty decent job getting Kentucky to come to him."
SECOND TAKE: MIKE FARRELL, RIVALS.COM
"If Louisville opened, he would probably jump at that because of his connection there. I'm not sure if it will open but he's definitely going to be one of those hot names, especially after beating Ohio State.
"He had a chance to go to Tennessee last year based on the rumors. It's not like he's sitting around waiting for some big job. He's looking for the right fit and Louisville could be it. You're going from a bottom-dwelling Big Ten team to a mid-level ACC team. It's a little bit of lateral move, but Louisville can contend for a championship in the ACC. We've seen that. In the Big Ten, Purdue cannot."