Take Two: Will Tremaine Edmunds be the first LB taken in NFL Draft?
Take Two returns with a daily offering tackling a handful of issues in the college football landscape. Rivals.com National Recruiting Analyst Adam Gorney lays out the situation and then receives takes from Rivals.com National Recruiting Director Mike Farrell and a local expert from the Rivals.com network of team sites.
MORE: Rivals Roundtable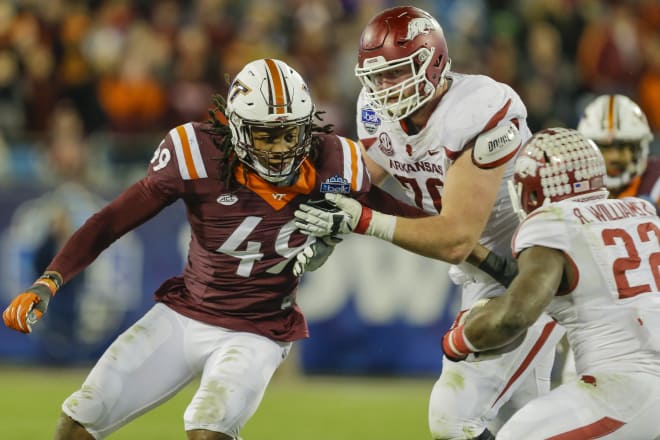 THE STORYLINE
Tremaine Edmunds could be the first linebacker taken off the board at the NFL Draft later this month.

NFL analyst Chris Simms of Bleacher Report recently heaped massive praise on the Virginia Tech superstar, calling him the "Saquon Barkley of defense," and a "bigger, faster Brian Urlacher," and a better prospect than Anthony Barr. Last but not least, Simms said there were no weaknesses in Edmunds' game.
ESPN NFL Draft analyst Mel Kiper Jr. also loves Edmunds but maybe not so much. Kiper has Georgia's Roquan Smith as the first linebacker off the board at No. 10 with Edmunds coming two spots later at No. 12.
"Edmunds hasn't really projected quite as high as I thought he would," Kiper said on a call last week. "What affects Edmunds is he's such a freakish talent you expect more dominant play week-in and week-out.
"I don't think teams necessarily saw that even though he had over 100 tackles and made a lot of plays, shows a lot of versatility. The freakish numbers worked against him in that regard. You thought he'd be Lawrence Taylor out there, just making plays everywhere in every game and that wasn't the case. That's why I had him dropping down to 12 to the Buffalo Bills. Roquan Smith has moved a little bit ahead of him."
In Rivals.com National Recruiting Director Mike Farrell's post-combine mock draft, he has Edmunds as the first linebacker taken at No. 9, followed by Smith at 10.
It's a close call, but will Edmunds be the first linebacker taken or does Smith have the better resume to take a shot on him earlier in the first round?
FIRST TAKE: TIM SULLIVAN, HOKIEHAVEN.COM
"Edmunds is – and always has been – an incredible physical specimen. Players with his size who can run like he does are few and far between. He's quick side-to-side as well, and to cap it all off, hits like a ton of bricks. He's shown a lot of inconsistency translating it to production, though. Too often at VT, he'd try to make a play that was a teammate's responsibility, opening up a backside lane. Some of that is youth - he doesn't even turn 20 until May, obviously a rarity among guys in the draft - but he'll have to play within a system to reach his full potential in the NFL. He's a bright kid and should be able to do that, but I understand the hesitation among some analysts to simply assume that he will."

SECOND TAKE: MIKE FARRELL, RIVALS.COM
"Edmunds will be a top-10 pick. I like both of them. If you're looking for a guy who has not reached his ceiling yet and we do this with our recruiting rankings all the time, there are guys who are more ready now, who are closer to their ceiling, that's Roquan. He's a great tackler, quick-twitch kid, covers a lot of ground, not the longest or the biggest linebacker in the world but he's much closer to a finished product than Edmunds is.

"But when you look at that ceiling and the potential to be just an absolute freak then that's when you look at Edmunds. I've seen both of them projected to go within three or four picks of each other so I don't think it makes a difference. It depends on what you want. Do you want to take a chance on a kid who has the ceiling to be great but hasn't reached that level yet, just an athletic freak, or do you want the guy who was the best linebacker in college football last year and has already shown what he can do?"