Take Two: Lane Kiffin's approach at FAU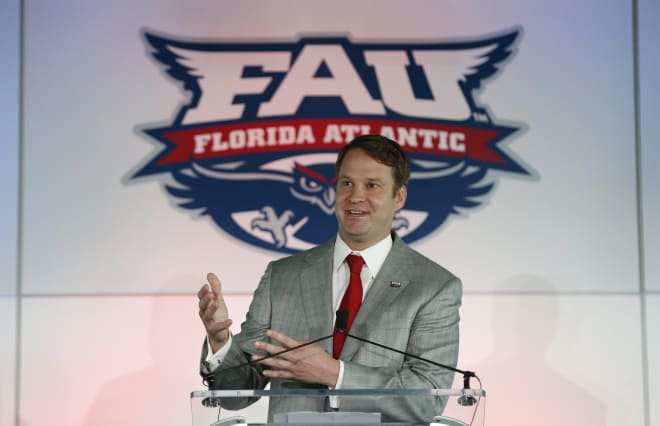 Take Two returns this week as a daily offering tackling a handful of issues in the college football landscape. Rivals.com National Recruiting Analyst Adam Gorney lays out the situation and then receives takes from Rivals.com National Recruiting Director Mike Farrell and a local expert from the Rivals.com network of team sites.
MORE TAKE TWO: Should Tom Herman's success be surprising? | Justin Fields
Storyline: Lane Kiffin is back in the news this week, telling reporters that FAU's football program has a new moniker – LSU, as in Last Strike U. But is he saying that about himself and his own coaching career or about some of the transfers FAU has accepted in recent weeks?
Kiffin, rife with controversy at head coaching stops with the Oakland Raiders, Tennessee and USC, where he was infamously fired on an airport tarmac sometime after 3 a.m., is in his first year as FAU's coach.
In the last week or so, FAU has accepted three transfers from Power Five schools – John Franklin III from Auburn, Jovon Durante from West Virginia and former Oklahoma quarterback Chris Robison, who enrolled in Norman in January and was out by August for a "violation of team rules."
Three players from East Mississippi Community College, the host of the popular Netflix series 'Last Chance U.', have also found their way to FAU including quarterback De'Andre Johnson, who got booted from Florida State after he punched a woman in a bar.
So what is Kiffin doing? Is this anyway to resurrect a coaching career, to show any level of seriousness to athletic directors around the country who might give Kiffin another chance to lead a major, national program?
Is Kiffin doing the right thing by giving young men a second – and possibly last – chance to help rebuild the FAU program and their own reputations? Or can Kiffin just not get out of his own way?
First take: "It's only a risk if this thing blows up in his face, which it could. If Kifiin wins in year one or two without a rash of off-field incidents from players with pasts, everything is fine. He's out of there and on to other programs – places where he doesn't have to take chances to get high-level talent. If this fails in the way that losses start piling up, in the way that his tenure is rocked with scandal, he's probably done. We hear a lot about FAU turning into Last Chance U, but this is very much Last Chance U for Kiffin as a head coach. This season in Boca Raton will be intriguing no matter what happens. The first two years of this are boom or bust." – Rob Cassidy, Rivals.com Southeast Recruiting Analyst
Second take: "It's a little scary. I don't know if he can resurrect his reputation doing this. Let's say he wins with these guys, but a couple of them run into trouble or none of them run into trouble, it's a big red flag for Power Five programs that have to ask if they hire this guy will he start recruiting guys with all kinds of off-the-field issues. He's picking and choosing some pretty questionable characters. If I'm an athletic director looking to hire somebody, I don't care how much success he's had at FAU, I'd have to make sure this guy doesn't do this when he gets to my school. It's just more proof it's hard to rein this guy in." - Farrell