Take Two: Is Taggart turning Florida State into recruiting power?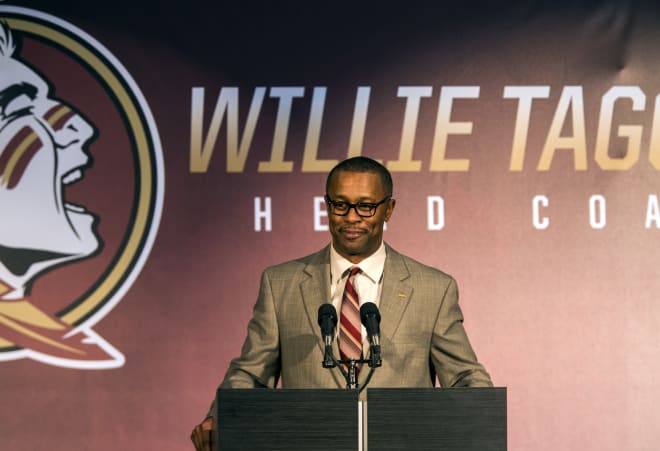 THE STORYLINE
It is still early in the recruiting cycle and seven months before Early Signing Period, but Florida State is on a tear and first-year coach Willie Taggart has been dominating the trail.
The Seminoles have the third-best recruiting class nationally, behind only Oklahoma and Alabama and, quite impressively, they have three of the top 14 players in the Florida state rankings committed already.
Four-star DB Akeem Dent, the second-best player in the state behind Bradenton (Fla.) IMG five-star running back Trey Sanders, along with four-star WR Maurice Goolsby and four-star OL Dontae Lucas, have all picked Florida State.
Compared to every other program in Florida and those programs that recruit the state regularly, Florida State is doing a bang-up job. Only Georgia, Clemson and Missouri have one pledge each in the state's top 20.
Miami is also performing well with in-state four-stars, but not to the level of Florida State with elite talent. And Florida is nowhere to be found yet. Still, only six of the top 20 players in the state have made their commitments, so there's plenty of time for the Hurricanes - and especially the Gators - to do damage, along with out-of-state powers.
Can Florida and Miami catch up to Florida State in the national rankings or is Taggart going to keep landing top talent in Tallahassee this recruiting cycle and beyond?
  FIRST TAKE: MICHAEL LANGSTON, WARCHANT.COM  
"FSU is certainly off to a strong start. I would say there are several factors why. First, this staff can relate to kids so well, compared to others. You have a head coach who can relate to the struggles they go through in recruiting, and also he's so hands-on. When recruits are around him it's like he's another player on the team.
"Secondly, this staff is extremely aggressive, and they make the relationships more personable and not just about football. The head coach and staff develop such strong trust and make pitches that are just so different than anyone in the country. It also doesn't hurt that several members of the staff are Floridians.
"The last thing FSU needs to do now to take it to another level is win on the field. If it does that, then look out, because no area in the country will be safe. Taggart has already established the attitude, culture and family. But if he wins, then this recruiting will go to an elite level." – Langston

  SECOND TAKE: MIKE FARRELL, RIVALS.COM  
"It's a little early, and IMG has sort of skewed all the Florida numbers. But it's impressive. Last week, I wrote about the most impressive first-year coaches when it comes to recruiting, and Taggart was No. 1. The Seminoles have a top five recruiting class right now, they're competitive in-state for a lot of the top kids and they're doing a good job out-of-state. So, it is early. But you can take that information and sort of say Florida State isn't missing a beat with Taggart because Jimbo Fisher, prior to last year, recruited at a super high level as well.
"They're going to be right in line with Miami as the hottest team in the state - and then we'll see what Dan Mullen can do at Florida."