Take Two: Is Pruitt's recruiting success with Vols a surprise?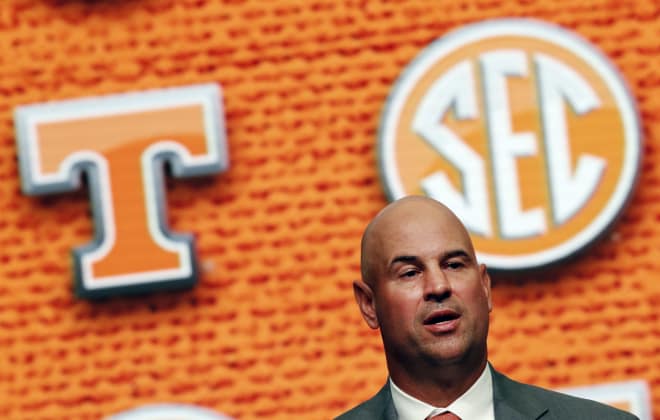 THE STORYLINE 
Tennessee continues to stay hot on the recruiting trail, and July was a particularly excellent month for the Volunteers.
First-year coach Jeremy Pruitt and his staff landed commitments from three four-star commitments in OL Chris Akporoghene and DBs Warren Burrell and Tyus Fields. The Vols went to Florida, Georgia and North Carolina, respectively, for those three impact players and continue to haul in top prospects leading up to the season.
Tennessee is currently fourth in the SEC team recruiting rankings, behind only Alabama, Texas A&M and Georgia, the top three recruiting classes in the entire country. The Vols are No. 12 nationally.
This recruiting success comes with a new coaching staff in place - maybe a lot of hope is running through Knoxville - but also after the Vols didn't win a single SEC game last season.
So, is Pruitt's early success on the recruiting trail a total surprise?
  FIRST TAKE: AUSTIN PRICE, VOLQUEST.COM  
"I'm not surprised, because this staff has a mix of veteran recruiters and young hungry assistants that get relationships. The recent run on defensive backs is something Pruitt and company have been waiting on. They are selling instant playing time at that spot and both Warren Burrell and Tyus Fields saw the depth chart over the last month. The class is more full than I thought it would be but at this point, and most of their top guys left on the board are going to wait to see what happens on the field this fall. That first month is going to be crucial, with their first game in the hometown of Quavaris Crouch and so many players like Khris Bogle, Jalen "Boobie" Curry and Darnell Wright as possibilities to visit for the Florida game."

SECOND TAKE: MIKE FARRELL, RIVALS.COM  
"I'm a little surprised. I didn't expect Pruitt to start off the way Butch Jones started. Butch had a really good in-state class he could pull from. Jones finished fifth his first year and fifth his second year.
"I didn't see that type of recruiting, because I thought Pruitt would be a little more picky, try to find guys who fit his system rather than guys who have high rankings. No. 12 overall is very respectable and Tennessee is still in the battle for a lot of top kids.

"When you're selling a vision of the program and you're a new coach, 0-0 is probably the best record you can have to recruit unless you're coming off the playoff or a national championship. People are buying into his vision."