Take Two: How safe is Ed Orgeron's job at LSU?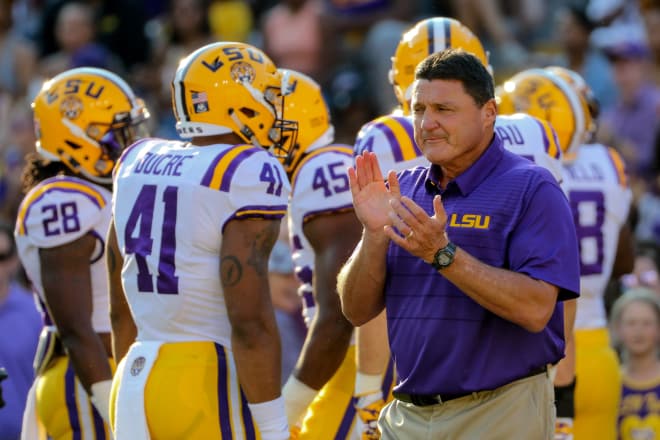 THE STORYLINE
Ed Orgeron is only in his second full season as LSU's coach, but many believe this could be a make-or-break year for him – and that he needs to show significant improvement to have job stability in Baton Rouge.
The schedule is murderer's row. The Tigers open against Miami, visit Auburn on Sept. 15, then face Ole Miss, Florida, Georgia and Mississippi State before a bye week and the Alabama showdown on Nov. 3.
LSU has weapons, especially at wide receiver, but the Tigers need stability at quarterback – Joe Burrow and Myles Brennan are leading candidates – and there are some talented, new faces in the backfield. Defensively, LSU could be outstanding up front and at linebacker. It needs to find one cornerback to star opposite Greedy Williams.
It might be premature to say that Orgeron, who is 15-6 overall and 10-4 in the SEC at LSU, is on the hottest of seats just yet. Coming off a nine-win season is usually good news, but the expectations in Baton Rouge remain extremely high. Losing by 30 to Mississippi State or losing to Troy or only scoring 10 against Alabama just doesn't cut it.
Is Orgeron completely safe or does he need a big season to keep his job at LSU?
FIRST TAKE: MIKE SCARBOROUGH, TIGERBAIT.COM
"The start of the 2018 season is a tough one for LSU and Ed Orgeron. To open with Miami on a Sunday primetime slot on a neutral field and then Week 3 go to Auburn, it's imperative that LSU split those two games at a minimum in order to get the season off on decent footing. It would not be a good thing to start off September at 1-2 with one of the most brutal schedules in the nation.
"I just don't think Orgeron's seat is anywhere close to as hot as everyone thinks, although things can certainly change once the season starts. The important thing is for LSU to avoid any real bad losses. The over-under mark seems to be seven wins. If they do go 7-5 with no lopsided losses or defeats due to coaching error, he will be fine. Athletics director Joe Alleva is contracted to June 2020 and his boss F. King Alexander supports him wholly. I also don't see many fire-breathing members on the Board of Supervisors.

"Recruiting is exactly where Orgeron needs it to be as the overwhelming majority of Louisiana kids with offers are either committed or leaning in the Tigers' direction. Unless there's a catastrophic three- or four-win season, Orgeron is safe."
SECOND TAKE: MIKE FARRELL, RIVALS.COM
"I don't think they would fire him midseason, but if they get off to a 3-5 start or something really bad, then the heat will be on. If they have a 5-7 or 6-6 year, they would fire him at the end of the season.

"LSU should never be 5-7 or 6-6. With the recruiting advantage they have in-state, the tradition they have with that program, the talent they can bring in, they should never have a .500 or losing record. If it gets to that point, then they would have to get rid of him. If he goes 7-5, 8-4, they might give him another year but a losing record, or .500, for LSU, that's unacceptable."