Take Two: Does Alabama QB Jalen Hurts need to transfer?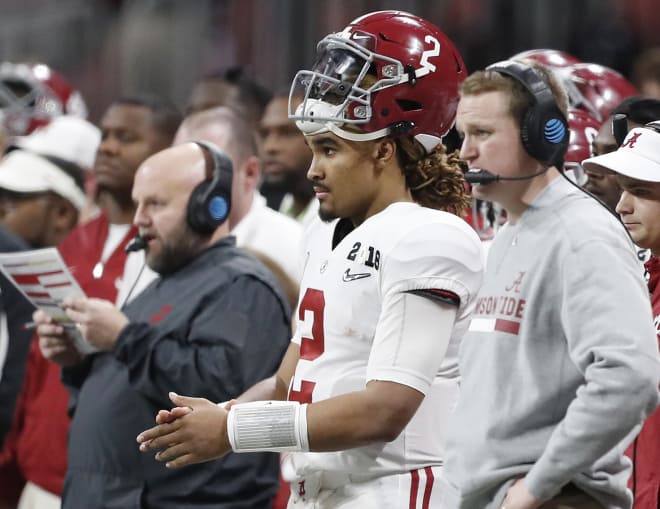 Take Two returns with a daily offering tackling a handful of issues in the college football landscape. Rivals.com National Recruiting Analyst Adam Gorney lays out the situation and then receives takes from Rivals.com National Recruiting Director Mike Farrell and a local expert from the Rivals.com network of team sites.
THE STORYLINE
Tua Tagovailoa entered the national championship after halftime, after Alabama fell behind by 13 points and it looked dire for the Crimson Tide.
But the former four-star lefty quarterback from Honolulu (Hawaii) St. Louis entered the game after watching regular starting QB Jalen Hurts struggle and Tagovailoa led Alabama back against Georgia to a 26-23 victory.
Tagovailoa shined. Former Alabama offensive coordinator and current FAU coach Lane Kiffin said Tagovailoa might've transferred if he didn't get his chance since lots of people knew he should have been the starter for a while.
So what happens now? Is the job Tagovailoa's for sure? Does Hurts have to transfer or is that far too premature?
In the national title game, Tagovailoa threw for 166 yards and three touchdowns including the game-winner in overtime. He was fantastic. So is the lefty QB the future of Alabama's offense or could Hurts still win his job back?
FIRST TAKE: TONY TSOUKALAS, BAMAINSIDER.COM
"I wasn't totally surprised by Tagovailoa's performance, but any time a true freshman can come in and throw three touchdowns in the national championship game against one of the nation's top defenses, it's a little eye-opening. I think Tagovailoa heads into the spring as the leader for the starting quarterback competition, but it's still too early to totally count out Hurts. Hurts is a competitor and will provide a strong competition for the job this spring. While it's possible the loser of the battle transfers, I wouldn't be completely surprised if both quarterbacks were on the roster next season."
SECOND TAKE: MIKE FARRELL, RIVALS.COM
"I was surprised by Tagovailoa and how well he did because he didn't have a lot of experience. We knew he was talented, we had him ranked higher but I don't think anybody really expected him to turn around the game by himself. It's too soon.
"Everybody is giving Tua the job already and they're disregarding Hurts, who didn't really improve as much as expected as a passer. Still, he only lost two games at Alabama but it would have been three if they didn't replace him.
"You have to consider Tua the starter but I don't think it's incumbent upon Hurts to transfer because the kid had one good game."