Take Two: Can Texas earn a playoff berth next season?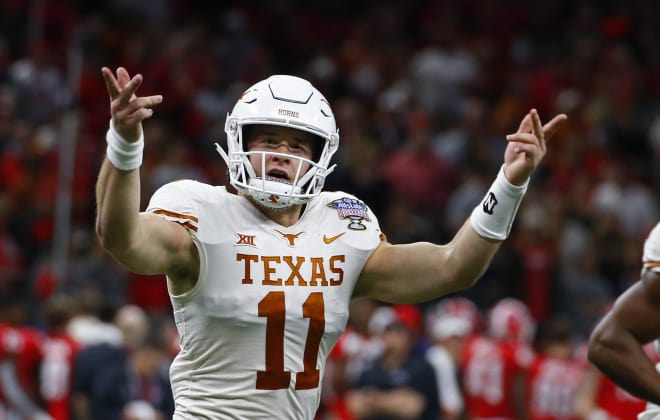 THE STORYLINE   
There have already been way-too-early top 25 lists released for next football season, and Texas is definitely a team seeing its stock rise, as the Longhorns have been seen in the top 10 numerous times after finishing the season with a win over Georgia in the Sugar Bowl.
Is the hype real or are the Longhorns still a ways off from being a legitimate College Football Playoff contender?
Quarterback play should be elite, the Longhorns get wide receiver Collin Johnson back and there are plenty of talented players on defense to fill holes left by departed players.
But a bad loss cannot happen - like losing to Maryland two years in a row. Other than that head-scratcher, Texas lost only to Oklahoma State by three, West Virginia by one and to Oklahoma in the Big 12 Championship Game.
Can Texas overcome the obstacle Oklahoma presents and win the Big 12 en route to a playoff berth? Or is this still the Sooners' conference?
FIRST TAKE: ANWAR RICHARDSON, ORANGEBLOODS.COM    
"The preseason hype surrounding Texas is definitely warranted. I am not sure Texas will make the College Football Playoff during the 2019 season, but this is a team to keep an eye on.
"The number of NFL quarterbacks Texas has faced the past two years could rise to eight after this year's draft. Coach Tom Herman may finally be able to come up for air in 2019.
"Here is the interesting stat. Herman is 4-2 against Heisman winners. While he was coaching Houston, the Cougars defeated Lamar Jackson twice and knocked off Baker Mayfield once. Texas beat Kyler Murray once this past season. The losses were against Mayfield and Murray at Texas. Meanwhile, Herman has knocked off SEC teams in back-to-back bowl games.
"In addition, sophomore Sam Ehlinger will enter the 2019 season as the Big 12's top quarterback. He did not throw an interception in 10 straight games this past season, and I fully expect him to be on Heisman watch lists. He probably will not win the award, but there will be a lot of hype around him. Ehlinger led his team to a 10-win season and an unexpected victory against Georgia in the Sugar Bowl. He finished the season with 41 total touchdowns while breaking records along the way.
"The biggest area of concern is Todd Orlando's defense. Texas will lose defensive linemen Charles Omenihu, Chris Nelson and Breckyn Hager. In addition, 2018 was the final season for linebacker Gary Johnson, linebacker Anthony Wheeler, defensive back Kris Boyd, defensive back Davante Davis and defensive back P.J. Locke, all seniors. However, Orlando has a group of talented underclassmen ready to step in this season. In addition, Texas returns safety Caden Sterns, the Big 12 Newcomer of the Year, and junior safety Brandon Jones, who decided to return for his senior season.
"I would not go overboard with the Texas predictions. Nevertheless, I would not be shocked if Texas lives up to the hype."

SECOND TAKE: MIKE FARRELL, RIVALS.COM    
"I don't think Texas is that far away. It can compete for the Big 12 and the winner of the Big 12 next year will get in the playoff and have the chance to win a national championship.
"Oklahoma is hard to beat, but the Sooners have to answer the question at quarterback now. Texas doesn't have to do that. Ehlinger has really emerged as a leader, and he's a very, very dangerous weapon. Johnson is back, so offensively they have a ton of potential.
"The defense played up and down, but the Longhorns showed a lot more than Oklahoma did consistently throughout the season. They beat Oklahoma once, lost to them another time, and they were both close games, so they're right there. They've turned the corner and if not next year, it could be the year after, but they'll be in the playoff talk over the next two years."