Take Two: Could LSU go back-to-back with No. 1 prospects?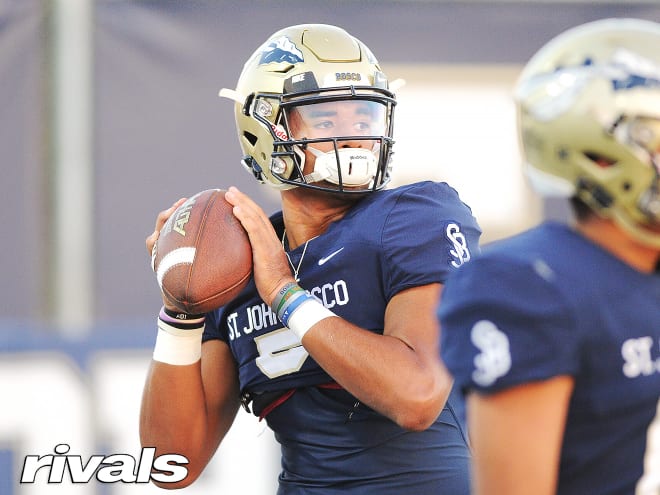 MORE TAKE TWO: How much will Dan Mullen's Mississippi ties help at Florida?
LSU has signed the No. 1 prospect in the 2019 class as five-star cornerback Derek Stingley, Jr., is already on campus in Baton Rouge and reportedly doing well.
The Tigers are have already turned to the 2020 recruiting class and there's at least a decent chance that Ed Orgeron and his staff could pull off a feat never accomplished in the Rivals.com era dating back to 2002 - signing the top-ranked prospect in back-to-back recruiting cycles.
Santa Ana (Calif.) Mater Dei five-star cornerback Elias Ricks, ranked fourth nationally at this point, is already committed to LSU. No. 1 D.J. Uiagaleiei has Clemson and Oregon out in front but LSU is making a push and the Tigers have intrigued the Bellflower (Calif.) St. John Bosco recruit. The SEC power is also a major contender for No. 2 overall prospect Zachary Evans from Houston (Texas) North Shore.
It has never happened before but LSU has already locked up Stingley and is going after many of the top-rated prospects in the 2020 class. Can Orgeron and his staff do something Nick Saban, Urban Meyer and other coaches have not been able to pull off by getting back-to-back- No. 1 recruits?
FIRST TAKE: SAM SPIEGELMAN, TIGERDETAILS.COM
"LSU has positioned itself nicely to not only land the potential No. 1 player in America, but nab an out-of-state target as well. Ricks, a five-star cornerback, is an early pledge. Should he stick with his LSU pledge, there's a decent chance he could wind up as Rivals' top player.
"Despite having two quarterbacks on board, five-star Uiagalelei is still strongly considering the Tigers. Should TJ Finley or Max Johnson reopen their recruitments, Uiagalelei has a chance to fall into LSU's class. Evans is another prospect gunning for the top spot, and LSU is squarely in the mix with the Texas blue-chipper in addition to the in-state schools. He'll make a decision next February and LSU has a strong chance to land his commitment.
"After signing Derek Stingley, Jr., who is already turning heads in Baton Rouge, LSU has a legitimate chance to sign the top prospect in consecutive years. Certain dominoes need to fall accordingly, but unlike a lot of other elite programs, Orgeron's club has put itself in the best position to make it a reality."
SECOND TAKE: MIKE FARRELL, RIVALS.COM
"It's a little early to tell. Uiagalelei is at the top and he'll be near the top until the end barring any regression. Evans, the running back out of Texas, is special and he could be No. 1. I like the top of this class, including Ricks. He's definitely a talented kid, but having back-to-back corners would be rare for us. That's not working against him. If he's the best player that's where we're going to rank him.
"LSU has a chance with Uiagalelei as well. They could get the back-to-back No. 1 guy in either one of those California guys and maybe Evans, too."