Sting Factor: DE Anthony James backs off Texas A&M pledge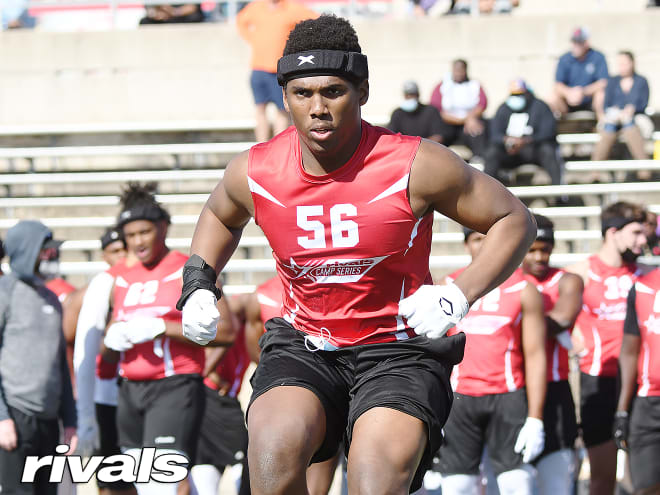 THE STORYLINE  
Anthony James committed early to Texas A&M in February 2021. It might have been a little too soon.
The four-star defensive end from Wylie (Texas) East backed off his pledge to the Aggies over the weekend, capping off a commitment that lasted more than a year. But as James has said, he hasn't been able to take as many visits as he's wanted and this summer could open up more possibilities.
After a conversation with the Aggies coaches, Texas A&M remains an option in his recruitment and the Aggies won't be counted out.
Auburn, Texas Tech, Illinois, Washington and Houston have offered in recent weeks. There has been some chatter that Miami and Florida are definitely two programs James will also consider.
With his recruitment back open, the Flint, Mich., native's future could go in a bunch of different directions.
*****
LOCAL REACTION
"This is a bit of a surprise, but maybe it shouldn't have been: James committed very early on and has been looking around at other programs for a while. He's clearly an excellent talent, but the Aggies are coming off a season in which they cleaned house at defensive end and are very well-positioned with several elite DEs in the 2023 class. So this one doesn't hurt much." - Mark Passwaters, AggieYell.com
Sting Factor: 4
*****
NATIONAL REACTION
"Five-star defensive linemen Walter Nolen, Shemar Stewart and Lebbeus Overton signed in Texas A&M's 2022 class. Four-stars Gabriel Brownlow-Dindy, Anthony Lucas, Enai White, Malick Sylla and Jadon Scarlett are the other defensive linemen in the class. Then four-star Johnny Bowens is already an Aggies commit in 2023. There's no other way to say this: Texas A&M is absolutely, insanely loaded along the defensive line.
"James is very talented and would have been a nice addition and a welcome member to this recruiting class, but there are many other elite players at the position being recruited by the Aggies and if things go as planned coach Jimbo Fisher and his staff should have their pick of the litter when it comes time to adding more pieces to this recruiting class." - Adam Gorney, Rivals National Recruiting Director
Sting Factor: 3