Sting Factor: Anthony Hill's decommitment from Texas A&M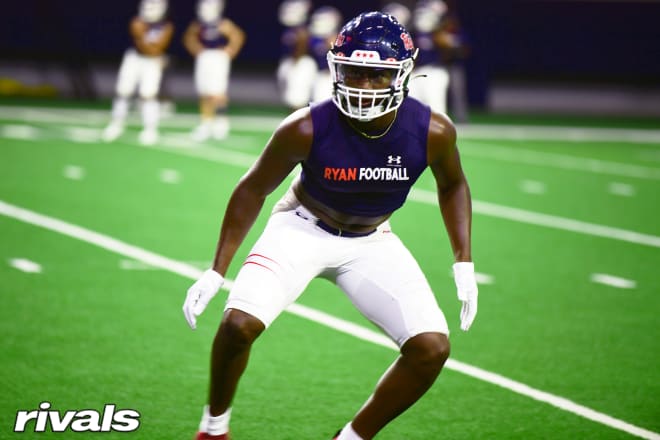 When a major program loses a key recruit, Rivals.com takes a look at how big of a blow it is to the respective school, analyzing it from a local and national level. To quantify the "sting" of each decommitment, we assign a score from one to 10, with one being no big deal and 10 being a catastrophic hit.
THE STORYLINE
Five-star linebacker Anthony Hill narrowed his choices to Texas and Texas A&M this summer, the two programs that had been involved with him for so long. Oklahoma, Alabama and others fell by the wayside.
The Aggies beat the Longhorns for the Denton (Texas) Ryan tackling machine and it was a huge – albeit expected – win for coach Jimbo Fisher and his staff as they continued to accumulate elite talent across the board.
That pledge happened on July 30. Then Texas A&M's season happened – and now Hill is back on the market with Texas looking like the team to beat. The five-star linebacker will visit Texas this weekend for its showdown against undefeated TCU.
Texas A&M's season has been an unmitigated mess. The Aggies are 3-6, have lost five straight and they're coming off a 17-point loss to Florida, which isn't exactly playing for national titles this season either.
Hill had apparently seen enough, especially as the Longhorns never backed down from recruiting him and the Denton Ryan star linebacker is available once again.
*****
LOCAL REACTION
This was THE guy for the 2023 class. The Aggies have a hole at linebacker and he could have been a Day 1 contributor on a team that should rebound next season. But with absolutely terrible performances against Ole Miss and Florida defensively, it's not a shock this gave him pause. Jimbo Fisher has his work cut out for him with this team and in recruiting as a nightmare season gets worse. - Mark Passwaters, AggieYell.com
Sting factor: 10
*****
NATIONAL REACTION
A sting factor score of 10 is reserved for the most catastrophic hits to a recruiting class and while this one is about as bad as it gets, the Aggies still have so much talent on the defensive side of the ball and potentially some very good, young linebackers that I'm going to give this decommitment a nine. But let's make no mistake about it – this is terrible news for the Aggies in a season filled with bad news and now a recruiting class that has only 11 commits.
The word is LSU is coming after at least defensive backs Bravion Rogers and Jayvon Thomas and other programs are trying to flip top commits as well. It's not that the Aggies don't have good players and top-end recruits. It's that the development of those players or the buy-in from five-stars or whatever it is just seems to keep getting worse. Hill looked like a lock to Texas A&M for so long and the Aggies got him. He's a tackling and playmaking machine. And now it looks likely that he heads to Austin instead. - Adam Gorney, National Recruiting Director
Sting Factor: 9