State Supremacy: Georgia vs. Louisiana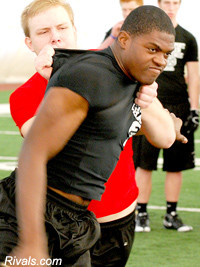 When it comes to college football talent, California, Florida and Texas are the nation's leading manufacturers.
The second tier of talent producers is led authoritatively by Georgia, a state that is regularly inundated with college recruiters out of Florida, South Carolina, Tennessee, Alabama and the rest of the nation. While Georgia is decisively behind the big three in talent production, it is also noticeably ahead of other second-tier states such as Ohio, Louisiana or Virginia in most years. Consequently, it is difficult to find a fitting state vs. state comparison.
Enter the class of 2011 in Louisiana.
Though Louisiana has roughly half the population as the state of Georgia, a special year has emerged in this graduating class of 2011. There is an abnormal amount of talent in the Pelican State this year, particularly at the top and the group that could be compiled would create a fantastic matchup against the always loaded state of Georgia.
Any game starts at the line of scrimmage and in this game, there are some huge bodies that would be butting heads as both teams have some of their best prospects in the trenches.
All three of Louisiana's targets know how to get open and know what to do with the ball after the catch. When any of those three receivers catch the ball, the play is only beginning.
In a game that would be nothing if not exciting, Louisiana would take Georgia the distance, giving the Peach State everything it could handle.
Likely the game would see a lot of turnovers caused by two ball-hawking defenses and strong pass rushes, a lot of big plays from teams with several homerun hitters and some exciting plays from a couple of creative quarterbacks. In the end though, Georgia would likely have just a few more big plays in them than Louisiana and be relieved to head home with ten point victory.

OFFENSE
QB
RB
RB
WR
WR
WR
OT
OT
OG
OG
OC
ATH
DEFENSE
DE
DE
DT
DT
OLB
OLB
ILB
CB
CB
S
S
ATH
[rl]