State Championship games loaded with talent in Georgia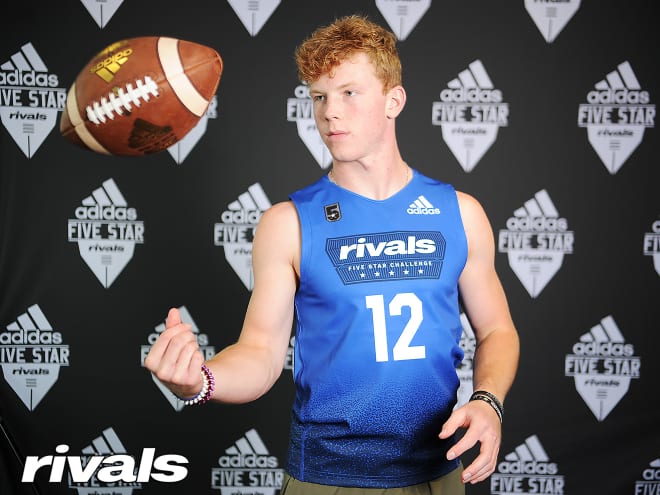 The state of Georgia has made it to the finish line.
The high school season got off to a late start due to COVID-19, but it got going in early September, and now, as we close out the year of 2020, the state finals are set to be played December 28-30.
And there will be no shortage of talent on display.
Prince Avenue Christian vs. Trinity Christian - December 28 - 3:30pm
This game has a very unique, and interesting storyline. Greg Vandagriff is the head coach of Prince Avenue and Kenny Dallas is the head coach of Trinity Christian; their son's Brock Vandagriff and David Dallas are the quarterbacks that have guided each program to the finale.
Vandagriff is a five-star in the 2021 class committed to Georgia and Dallas is a 2022 three-star with offers from Central Michigan, Liberty and UAB among others.
Logan Johnson is committed to Troy, and he is the go-to man for Vandagriff. He is a small, shifty, and very talented wide receiver. Byron Green is a defensive end who's had a monster senior season and he will add more offers before signing in February. Davis Ridings is a leader for the defense and the linebacker is one to watch.
Brooks County vs. Irwin County - December 28 - 7pm
There will be a lot of athlete on the field between these two teams, and there will be names that emerge, but the top name entering this contest is 2022 running back Omari Arnold of Brooks County.
As a junior, he has 2,055 total yards and 31 touchdowns. He also has two interceptions on defense. He is a quick, shifty running back with an early offer from Georgia Tech. He is drawing interest from schools like Boston College, Ole Miss and Troy.
Callaway vs. Fitzgerald - December 29 - 12pm
Jefferson vs. Marist - December 29 - 3:30pm
Malaki Starks is a top 100 athlete in the 2022 class. He lines up at quarterback and safety for Jefferson. He is not going to play quarterback on the next level, but there are some that think he could be a top wide receiver. Most are leaning towards defense, either as a bigger safety or fast linebacker. Alabama, Clemson and Georgia are his top three schools.
Other prospects to know at Jefferson are linebacker Kadin Bailey and athlete Jordan Perry.
Buford vs. Lee County - December 29 - 7pm
When you talk Buford or Lee County, you need a little time to go through their rosters to talk talent. Each team has top-end talent in this class, with more coming behind it.
Starting with the Buford 2021 class, running back Gabe Ervin and defensive back Malik Williams have inked with Nebraska. Defensive back Amari Wansley is headed for FAU, defensive tackle Matthew Alexander is a UCF Knight and offensive lineman Jacob Smith is in with Army.
There is a new name emerging this season too. Boyd Farmer is a long, rangy defensive back in the 2021 class with six interceptions in the last eight games. Interest has picked up, and schools like Akron, Colgate, East Carolina, Kent State and Maryland are in contact.
There are a lot of underclassmen to know, but in 2022, some of the top names are defensive backs Isaiah Bond and Ryland Gandy, athlete Jake Pope, athlete Malik Spencer, linebacker Aubrey Smith, quarterback Ashton Daniels and running back Victor Venn.
In 2023, quarterback Dylan Wittke is a talent to keep an eye on. This could be his coming out party.
Yes, we will keep going, and there are other underclassmen you need to get familiar with we haven't mentioned, but in 2024, defensive back Khalil Bolden and defensive end Kingjoseph Edwards are just two that could become national names.
Starting with the seniors, Lee County has some offensive firepower with running back Caleb McDowell, a South Carolina signee, and athlete Chauncey Magwood who signed with Kentucky. Magwood is playing quarterback now, but will be a wide receiver for the Wildcats.
On defense, inside linebacker Baron Hopson is the leader. Army and Liberty are in a heated battle for Hopson, with Georgia involved with a chance to be a preferred walk-on in Athens.
Looking to the future, linebacker Jaron Willis and offensive linemen Qaeshon Sapp are four-star and athletic tight end Tyrus Washington is a three-star in the 2022 class. All three have over 20 offers. Quavian Carter is another junior to keep an eye on. He is on some big radars too.
Who's next? A freshman to know is defensive tackle Omar White. He is a 6-foot-2, 290 pounder playing major minutes early.
Oconee County vs. Pierce County - December 30 - 12pm
Oconee County is back for the second straight year, and although they lost talented quarterback Max Johnson to LSU, there is some talent still on this team.
The headliner is Jake Johnson, the no. 1 tight end in the 2022 class. He has offers from schools all over the country, including Alabama, Clemson, Florida State, Georgia, LSU and Oklahoma.
West Weeks, a versatile athlete headed to play at Virginia is the leader of this team. He will play offense and defense, and he is as valuable as any one player playing in any of these games.
His younger brother Whit Weeks is a 2023 athlete with early offers from South Carolina and Virginia.
Pierce County has some young talent too.
Their top prospect is athlete Donelius Johnson. He has offers from Northwestern and Rice, and Johnson is likely to play linebacker on the next level.
A sophomore that has created some buzz in south Georgia is DJ Bell. His name is starting to pop up on some radars due to his play at running back this season.
Cartersville vs. Warner Robins - December 30 - 3:30pm
Cartersville has produced quarterbacks in recent years with Trevor Lawrence and Tee Webb leading the way, and now that guys is Florida signee Carlos Del Rio. After being ruled ineligible over the summer to play at Grayson, Del Rio made the move to Cartersville and has been a big factor in its success late in the season.
There is plenty of others to know, but Wake Forest defensive back signee Evan Slocum and Kentucky defensive back signee Devonte Ross are leaders of the defense.
Warner Robins has a stingy defense. They are fast, physical and talented.
Liberty signee Ahmad Walker leads the way at inside linebacker. Demarcious Robinson is another linebacker that is committed to Army and Kedrek Smith is a defensive back committed to Air Force.
Jalen Addie is a big quarterback in the 2021 class with an offer from Akron that can hurt defenses with his arm and legs.
The biggest name at Warner Robins is 2023 defensive end Vic Burley. Offers from Alabama, Auburn, Florida, Georgia and Tennessee among others are in.
Collins Hill vs. Grayson - December 30 - 7pm
Collins Hill has talent, and while the prospects with the top offers are in the 2022 class, you cannot sleep on defensive end James Smith. He is considered a tweener by some, but he makes plays. He has over 150 tackles and 17 sacks heading into this game.
Five-star athlete Travis Hunter and four-star quarterback Sam Horn are the playmakers everyone is talking about. Hunter is committed to Florida State, but Auburn, Georgia, Tennessee and many others are still in pursuit. Horn has a long list of offers with schools like Kentucky and Missouri recruiting hardest at this time. The Seminoles offered Sunday.