Standouts impress at the Rivals Combine Series in Dallas-Fort Worth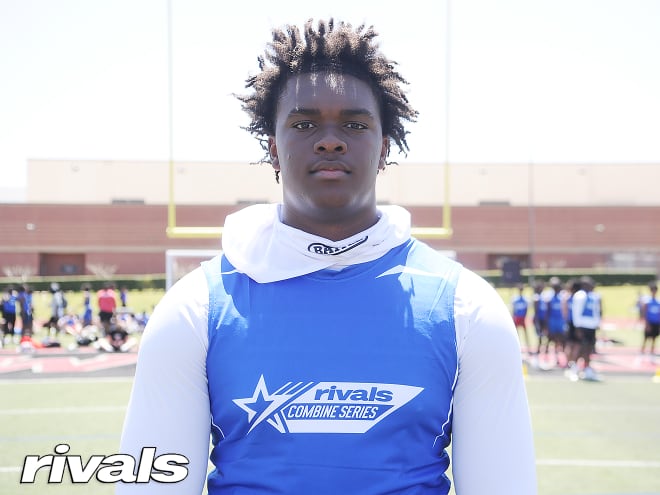 COPPELL, Texas - About 2,000 prospects showed up at the Rivals Combine Series Saturday at Coppell High to compete for a shot to come back Sunday for the Rivals Camp Series. Among the selections were these 13 prospects that stood out during the day.
Now at Prosper, Texas, Davis has lived in Florida, Arizona, California and is now here with his recruitment just getting going. The 2024 offensive tackle still needs to add weight but on a 6-foot-7 frame, Davis will definitely have a chance to make an impression on college coaches in the coming years. Stanford and Florida are the dream schools early on.
*****  
Ivy holds two offers from Texas Tech and Missouri, but his recruiting blowup is coming with more Power Five programs interested including Texas and Oklahoma. Standing at 6-foot-3.5, 279 pounds, Ivy has a great build and flashed some athleticism at today's combine.
*****  
A track runner at heart with personal records of 21.95 in the 200-meter event and a 48.28 in 400-meter, Jackson flashed on Saturday with his speed and build at 5-foot-10, 160 pounds. Jackson has interest from Grambling State and Lamar for football and Texas A&M for track.
*****  
Lamb impressed physically with his prototype interior line build at 6-foot-3.5, 250 pounds with a solid lower half. Lamb doesn't have a ton of college interest as of now, but his stock could rise with a healthy offseason.
*****  
One of the best-looking prospects at the entire combine was Mitchell, a 2025 tight end who has length, speed and is really fluid. The Allen, Texas standout looks like he could also be a standout defensive end because of the way he moves but could be a really special pass catcher as well who stretches the field. North Texas and Incarnate Word have offered so far and then LSU, Oklahoma and others are showing interest. Alabama is the dream offer.
*****  
Odimegwu's wide frame makes him an intriguing linebacker prospect, and his testing numbers backed up the intrigue on Saturday. He will have a solid group of running backs to test his talents against on Sunday, but he should be able to hold his own. Odimegwu doesn't hold any offers at this point, but he has taken a visit to Texas during the season.
*****  
At 5-foot-11, 182 pounds, Okan has begun to generate a lot of in-state interest including SMU, Texas Tech and TCU along with out-of-state Arkansas, Middle Tennessee State and Brown among others.
*****  
The 6-foot-1 receiver from Allen, Texas, has a great frame, moves well and already has offers from UTSA and Incarnate Word but many more could be on the way. Okpulor has interest from Vanderbilt, TCU and plenty of other programs should be interested in the 2024 receiver who's muscled up and looks well. A big day at Sunday's camp could get him even more on the radar.
*****  
The first invite of the day went to Wilson as he stood out through all the testing drills, is muscled up and moves well for someone his size. Morgan State has offered the Hurst (Texas) L.D. Bell standout but he also has a ton of interest from SMU, TCU, Oregon, Oregon State, Jackson State and others. Wilson visited SMU on Friday and will be at TCU soon. With his build, his ability to move and his position versatility as an outside linebacker or someone who could move down and play near the line, more offers could be on the way.
*****
Others that were invited included 2024 safety Zachary Smith from Red Oak, Texas, who does not have any offers yet but has Arizona as his dream school; 2025 defensive end Chad Woodfork from Humble (Texas) Summer Creek who tested off the charts but does not have any offers yet; 2024 defensive end Charleston Collins from Pine Bluff, Ark., who has an Arkansas State offer with interest from Memphis, Ole Miss, Vanderbilt and others; and 2024 offensive lineman Tyler Chatman from Houston (Texas) Lamar.