Spiegelman's Takeaways: Season underway in the Lone Star State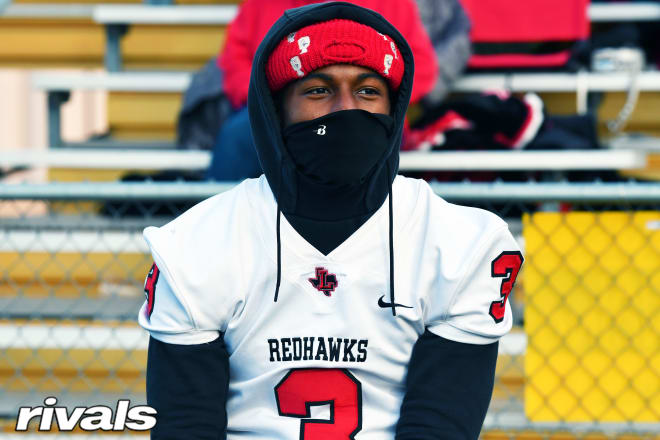 DALLAS -- High school football returned to Texas for the 2021 season with some primetime games featuring national powers and several more that included elite recruits. Rivals had boots on the ground in the Dallas metroplex for games involving five-stars Evan Stewart, Domani Jackson and Raleek Brown as well as nationally-ranked players like Omari Abor, Anthony Hill and Jalen Hale.
Here are six thoughts from the weekend slate.
NEWLY MINTED FIVE-STAR SHINES
Evan Stewart has always been a polarizing prospect to evaluate, but after a dominant showing this offseason with an array of highlights along the way, the Frisco (Texas) Liberty wideout got the nod as a five-star and ascended to No. 2 in the country. In his season opener, Stewart made a compelling case to justify the rankings bump.
It isn't easy for a wide receiver to ever take a game over, but Stewart came up with big play after big play for his offense throughout the contest. His 58-yard catch-and-run touchdown was an exclamation point on a dominant first half for Liberty. After a rigorous comeback effort, Liberty turned to Stewart for two pivotal receptions during a two-minute drill -- both showcasing his hands and ability to operate along the sideline. On the go-ahead score, Stewart threw a block in to help his quarterback convert.
Entering the fall, Florida might have a slight edge over Alabama, LSU and Texas, the team he was at one time committed to. He'll see Florida, Alabama and LSU for games in the fall and is expected to see Texas play as well. Stewart is emphasizing offensive opportunities and campus life as he scrutinizes these finalists.
*****  
OKLAHOMA LEGACY IS WORTH MONITORING
On the other side of the ball, Frisco (Texas) Reedy 2024 offensive tackle Max Anderson was a force up front. The 6-foot-4, 260-pound sophomore started at left tackle and was a proficient pass-protector and run blocker, helping to propel his team's comeback in the second half.
Anderson is one game into his sophomore season, but the Sooners are already aware of the legacy lineman. Anderson's older brother, Nate Anderson, was a Rivals Camp Dallas OL MVP as a senior and signed with the Sooners out of Reedy in 2020. A source told Rivals that Oklahoma offensive line coach Bill Bedenbaugh is expected to touch base after the younger Anderson wraps up his first varsity season.
*****  
MATER DEI DOMINATES DUNCANVILLE
There was no shortage of Division I talent on the field Friday night in Panther Stadium when California and Texas powers Mater Dei and Duncanville collided to open their seasons. Mater Dei had commitments from USC, Texas and Cal starting on defense and Oklahoma and Notre Dame pledged on offense. Meanwhile, the home team had starters from Florida State and Oregon on their offensive line alone along with Arkansas, Minnesota and SMU commitments on defense.
Five-star cornerback Domani Jackson was stellar in the game, collecting a pick-six in the opening quarter and also showing some pop in the run game and helping to erase Duncanville's passing attack. Jackson covered a ton of ground and played fearless, and he certainly belongs in the conversation for the nation's best corner along with Jaheim Singletary and Denver Harris, who sat out of Galena Park (Texas) North Shore's opener.
Oklahoma five-star running back Raleek Brown was also electric for Mater Dei and his big rush early on certainly set the tone in this lopsided affair. Some analysts compared Brown to former first-round pick Clyde Edwards-Helaire, but Brown better compares to Hollywood Brown, who certainly was explosive in Lincoln Riley's offense. Like Hollywood Brown, Raleek is thinner and equally as dynamic in the open field. He also offers plenty of creativity out of the backfield.
*****  
HILL OFF TO A STATEMENT START
Denton (Texas) Ryan has a track record of using its best athletes on both sides of the ball. Alabama's Drew Sanders, Texas' Ja'Tavion Sanders and Oklahoma's Billy Bowman Jr. are just a few recent examples of elite recruits that made game-changing plays on offense and defense for Ryan over the years.
It's time to throw Anthony Hill into the same conversation.
Hill debuted as a Rivals100 linebacker in the initial 2023 rankings and he's shining there and as a running back his junior year. Defensively, he takes direct paths to the ball and has a knack for jarring balls loose. He's a proficient tackler in space and is a proficient pass-rusher from all over the formation.
In his opener on Saturday against East Texas power Longview, Hill received carries out of the backfield and at 6-foot-3 and 220-plus-pounds, powers downhill in the same thunderous fashion as anticipated. Texas, Texas A&M and Oklahoma are all regional contenders with the in-state schools possibly holding a slight edge. Alabama remains a legitimate national contender and he should be in Tuscaloosa this fall. Ohio State, too, is on Hill's radar.
*****  
CLOSE, BUT NO CIGAR
One of the more intriguing recruits in this 2022 crop is Duncanville's Omari Abor, who entered his senior season as a top-50 prospect nationally and the No. 6 strongside defensive end in what's a loaded position group for this particular cycle. All eyes were naturally on Abor against the talented Mater Dei squad Friday night and his individual battle with 2024 offensive tackle DeAndre Carter.
Credit the talented sophomore with early Pac-12 overtures from USC, Arizona State and Cal for slowing down one of the nation's more feared pass-rushers. Abor, who earlier in the day named Alabama, LSU, Ohio State, Texas and Texas A&M as his finalists, was unable to notch a sack despite numerous pressures on the quarterback throughout the game. He managed a few late licks on the Mater Dei signal-caller and came up with a stop behind the line of scrimmage when the game was out of reach.
Abor will continue to be one of the most highly debated recruits in this 2022 class because of his athleticism, his position and how he projects at the next level. Week 1 is often a time to shake off some rust and Duncanville is primed for another deep playoff run. It'll be interesting to see where this conversation is come January's All-American games.
*****
TWO TO WATCH ON THE DENTON RYAN D-LINE
Two more players that stood out on the Denton (Texas) Ryan defense was 2022 defensive tackle Ravonte Blowe and 2023 defensive end MarQuice Hill, who are replacing prominent recruits in five-stars Bear Alexander and Ja'Tavion Sanders from last season's championship roster.
Blowe was wildly productive up front -- off the edge and inside -- forcing pressure and closing quickly. He checked in at 6-foot-4 and 260 pounds and gives some position-versatility up front.
Hill -- the other Hill in Ryan's 2023 class -- was also very effective. He has a strong get-off and was able to generate pressure quickly and play downhill off the edge. Arizona State is among the teams already monitoring the junior, who like Blowe, enters the season without a scholarship offer.