Southeast spotlight: Ten prospects who still could flip
With high school prospects committing early in the process every year, the number of recruits who flip their commitment also seems to be going up on a yearly basis. Nowhere is that trend more evident than in the SEC, where recruiting battles are really heating up as we head into the final two months before the first wave of prospects will sign.
RELATED: Midwest prospects that could flip their commitments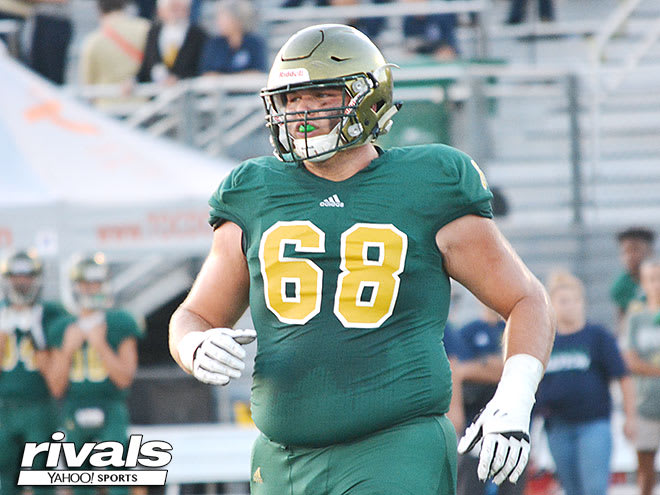 Committed to: Tennessee
The latest: Could Mays, a Vols legacy and the longest-standing commit in the school's class, really flip to another program? It's tough to see it actually happening, even if there is a coaching change on Rocky Top, but both the Tide and the Tigers have reached out to Mays recently in an effort to get him on campus for a visit. If and when those visits happen, expect there to be some panic among the Vols fans, but it would take quite the impression to end up changing Mays' mind.

Committed to: Ohio State
Challenging: Alabama
The latest: Jones tried to keep his interest in Alabama quiet as along as he could, but in today's world of recruiting with all of the different outlets for news to come out, it wasn't possible. After spending time with Nick Saban, Brian Daboll and others in Tuscaloosa late in the summer, things seemed to pick up between Jones and Alabama. The five-star quarterback remains committed to Ohio State, but Alabama does not have a quarterback committed and Jones may be their top target. This is a storyline worth keeping up with.
Committed to: Kansas
Challenging: LSU
The latest: Jason was once a Tigers commit early in his high school career but he backed off that pledge just prior to his junior season and later committed to the Jayhawks, stunning most in the recruiting world. Since the time he committed, most assumed that he would eventually end up looking at more traditional recruiting powers considering his lofty rankings and offer sheet, but right now things are still on track with him and the Jayhawks. LSU has stepped up its efforts to recruit Jason in recent months and will still get a chance at an official visit. Jason will likely take other trips as well.

Committed to: Ohio State
Challenging: Alabama
The latest: There may be a few other schools trying to get in touch with Cox, but the program Urban Meyer and Ohio State have to worry about is Alabama. Cox had not been to any college games this season until he spent Saturday in Tuscaloosa. The Crimson Tide very much have his attention. Their defensive style of play and the chance for him to see the field early really appeals to him. He will be at Ohio State later this month for the Penn State game, but he is likely to take an official visit to Alabama too before graduating in December.
Committed to: TCU
Challenging: LSU
The latest: Rogers is one of the highest-ranked quarterback prospects to come out of the state of Louisiana in years, so it's not a surprise that the Tigers haven't given up on him despite his commitment to the Horned Frogs. Rogers suffered a serious knee injury early in the year but still appears to be LSU's top priority at the position. Some in the Bayou think the Tigers have a realistic shot at flipping him but they will have to continue to show growth on offense and get him in town on an official visit before any of that can happen.

Committed to: Michigan
Challenging: Georgia
The latest: Since he was last in Ann Arbor in the spring, Reese has visited Athens over half a dozen times. He was back at Georgia on Saturday with multiple family members and the Dawgs have really had some momentum here behind the scenes for months. Reese keeps to himself about his recruitment, so he is not saying anything about his commitment status, but Georgia has been trending here for some time. He is expected back at Georgia in November for another unofficial visit, then to take an official visit after that. Michigan has to be worried about this one.

Committed to: Tennessee
Challenging: Ohio State, Notre Dame, Georgia
The latest: Taylor has insisted he's solidly committed to the Vols but that hasn't stopped several schools from trying to work their way back into the picture. Georgia has been quietly recruiting Taylor as a defensive back for months, and new offers recently rolled in from the Buckeyes and the Irish. A one-time Vanderbilt commit, Taylor has been committed to the Vols for quite some time but could the drama in Knoxville lead to him looking around? Expect Taylor to at least take some official visits to other schools as the fall moves along.
Committed to: Tennessee
Challenging: Alabama, Georgia, South Carolina
The Latest: What is going to happen here? Does it rest on if Tennessee keeps Butch Jones? Horn was thought to be a South Carolina lean before he committed to Tennessee in August, and he visited the Gamecocks a few weeks ago. He has a great relationship with Will Muschamp and Tavares Robinson there, so if there is one school to watch closely here, it is South Carolina. Horn has also taken visits to Alabama and Georgia this season and his communication with those schools has picked up. With Tennessee having a tough season, Horn and other Vols commits are being watched very closely.
Committed to: Alabama
Challenging: Auburn, Florida State, Georgia
The Latest: Walker surprised some with the timing of his commitment to Alabama early in June, but not only were some surprised by the timing, but by the school as well. Auburn inked his former teammate, Markaviest Bryant, in 2017, so most felt Walker would follow. He still may. He has visited Auburn this season, he is very close to defensive line coach Rodney Garner and the Tigers may have some momentum here behind the scenes. He still mentions Florida State and Georgia, but right now, Auburn is the biggest threat to Alabama.
Committed to: Florida State
Challenging: Georgia, Indiana, South Carolina
The latest: Mukuamu's stock skyrocketed in the summer, leading to a number of new options for the lengthy defensive back. But no school impressed Mukuamu more than Florida State and the 'Noles earned his commitment over the summer. But the slow start to the year in Tallahassee has lead to Mukuamu exploring his options and he's already taken official visits to see the Hoosiers and the Dawgs. The wildcard in the equation could be South Carolina, though, as Mukuamu great up in the Palmetto State and only moved to Louisiana last year. If the Gamecocks make a major push they might end up as the team to beat.