Southeast frosh shine at Ultimate 100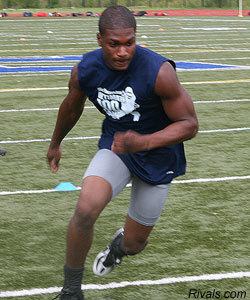 However, despite the speed on hand at the skill positions, maybe the most impressive all-around prospects of the day came out of the quarterback group. Following their freshman season, most quarterbacks have a long way to go in development both physically, mentally and mechanically. Two quarterbacks on Saturday looked anything but underdeveloped 15-year-olds.
At 6 feet 2, 184 pounds, Litton's physique is already ahead of the curve. He also put up very respectable numbers at nearly every testing event. He repped 135 pounds 28 times, ran a 4.47 shuttle, and posted a 30-inch vertical.
If there was a weakness, Litton showed that he has some improvements yet to make in his decision-making and his timing. But even that can be forgiven due to the unfamiliarity that he had with his receivers and their patterns. His arm, upside, mechanics and intangibles should make him an elite prospect in the coming years.
Brown has good size at this stage in his development at just under 6-1. He also has a strong arm and can make some throws that college quarterbacks would envy. Entering his first year as a starter at Habersham Central, Brown has plenty of time to grow into his role as a tremendous quarterback prospect.
A CLOSER LOOK AT THE RBs/WRs
The quarterbacks had a number of very worthy targets on the afternoon both at the wide receiver position and out of the backfield at running back.
By the end of the day, Mahone had earned the nickname "Little Barry" from the camp director Dave Schuman in honor of his Barry Sanders-esque style of running.
His fast times don't just reflect track speed. The 5-9.5 150-pounder was very dangerous coming out of the slot for his 7-on-7 team and became his team's most dangerous weapon as a pass-catcher.
A CLOSER LOOK AT THE DBs/LBs
The most impressive aspect of Hunter's game was his ball skills. He probably led the camp in interceptions on the day and he found the ball in a variety of ways. He high-pointed the ball in traffic for one pick and then scooped one off his shoe-laces just plays later. With Hunter, the rich get richer at a loaded program like Lowndes High School.
A CLOSER LOOK AT THE OL/DL
On his first one-on-one rep of the day, the imposing prospect was put on his back. He may not have lost another rep all day. He showed great power with the bulrush and couldn't be handled by any of the offensive linemen. He has a strong base but moves very well for a youngster of his size and should develop into a very good prospect for the west Tennessee program.
ODDS AND ENDS
• One of the more intriguing prospects at the event was Lonnie Ballentine, a towering cornerback who will may grow out of the position. He was one of six Memphis (Tenn.) Whitehaven players in attendance.
[rl]