South-Central Spotlight: Predictions for NSD 2021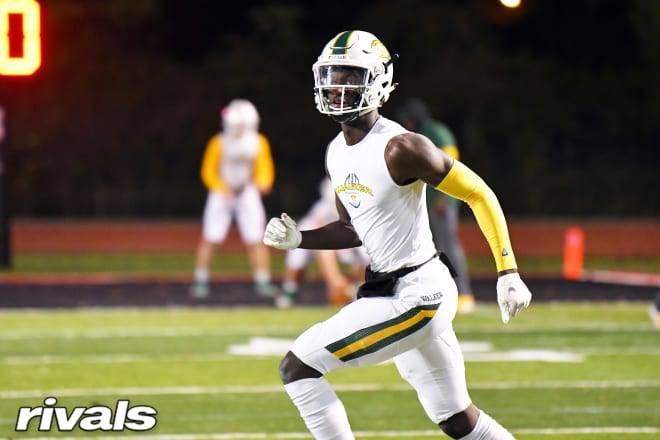 The top uncommitted WR stays home
Rivals250 WR Brian Thomas has never given a commitment despite coming close a few times over the past calendar year. All eyes have been on the Walker (La.) High standout since the summertime, when he was down to LSU and Alabama. Georgia and Texas A&M each took turns grabbing some momentum with Thomas, which led to him not making up his mind before December's signing window.
As National Signing Day approaches, there have been rumors of LSU, Alabama and Texas A&M all having the lead in Thomas' recruitment. My sense is that the Tigers have continued to stand their ground and recruit the in-state four-star and make a strong case to keep him home. He is close friends with 2021 signee Chris Hilton and LSU basketball freshman Jalen Cook, which could give the Tigers an edge over these SEC foes.
*****
LJ Johnson will play in Texas - but where? 
One safe bet to make is that Rivals100 running back LJ Johnson will play his college football somewhere in the state of Texas. As far as where ... it's certainly down to Texas and Texas A&M, and the two in-state schools are having trouble sealing the deal with the nation's No. 2-ranked back.
Johnson has visited both College Station and Austin from his freshman year up until recently as he tries to pick between the Aggies and Horns. On one hand, Texas A&M has dominated Houston-area recruiting, particularly in this 2021 cycle with elite talents like Bryce Foster, Reuben Fatheree and Tunmise Adeleye, to name a few. Johnson has been a priority target for Jimbo Fisher and Co. for a while.
The other option is Texas. Johnson was on the cusp of committing to Texas earlier in the year, and now it's Steve Sarkisian's turn to try and put the Horns over the top. Sarkisian's offense has attracted the eyes of several 2021 and 2022 offensive players thus far in the Lone Star State. A signature from Johnson would represent a colossal victory on the trail for this new Longhorns staff.
*****
Seminoles win out for one of The Boot's best playmakers
Speaking of decisions that have been postponed a time or two, Rivals250 wide receiver Destyn Hill is set to sign on Feb. 3. Florida, Florida State and Alabama are all expected to have caps on the table for the New Orleans speedster coming off another stellar season for Edna Karr High School.
Florida State emerged as the leader for Hill in the spring, and he's been close to pulling the trigger on multiple occasions. However, SEC teams like Alabama and Florida have refused to give up. Hill has a unique connection to Heisman Trophy winner DeVonta Smith -- another Louisiana native -- and was intrigued by the Gators' offensive surge in 2020.
Nonetheless, we expect Mike Norvell to finish strong with Hill due to his involvement in the offense and a longstanding relationship with New Orleans native and recruiting coordinator David Johnson, who was first to offer the four-star while he was at Tennessee.
*****
LSU flips the switch on longtime Notre Dame commitment
Logan Diggs has remained true to his commitment to Notre Dame before and after the Early Signing Window in December. As Feb. 3 inches closer and closer, the Louisiana three-star running back continues to go back and forth about his future, but it's clear that it's down to LSU or the Irish with time running out.
Terry Joseph, who recruited Diggs to Notre Dame, has since taken a position on the Texas coaching staff. That has led Diggs to explore his opportunities in nearby Baton Rouge, where Joseph's cousin, assistant head coach Mickey Joseph, is helping to court him alongside running backs coach Kevin Faulk. To Diggs, it comes down to leaving his home state and giving South Bend a chance or staying put at a school that's popular with his friends and family.
While the Irish have been able to hold off the Tigers for weeks, Diggs' decision carries a ton of weight and the LSU staff has refused to slow down. It'll be a challenge for Notre Dame to fight off LSU until the end.
*****
More high-profile underclassmen will make their minds up soon
Expect a rush of 2022 prospects to make their decisions earlier in the process. Players like Rivals100 offensive tackle Will Campbell, Rivals100 wide receiver Evan Stewart and Rivals250 cornerback Bobby Taylor are all on the verge of revealing their college decisions. That will likely be a theme for this 2022 class and it will possibly trickle down to the 2023 class as well.