Simpson's sixth-grade brother receives scholarship offer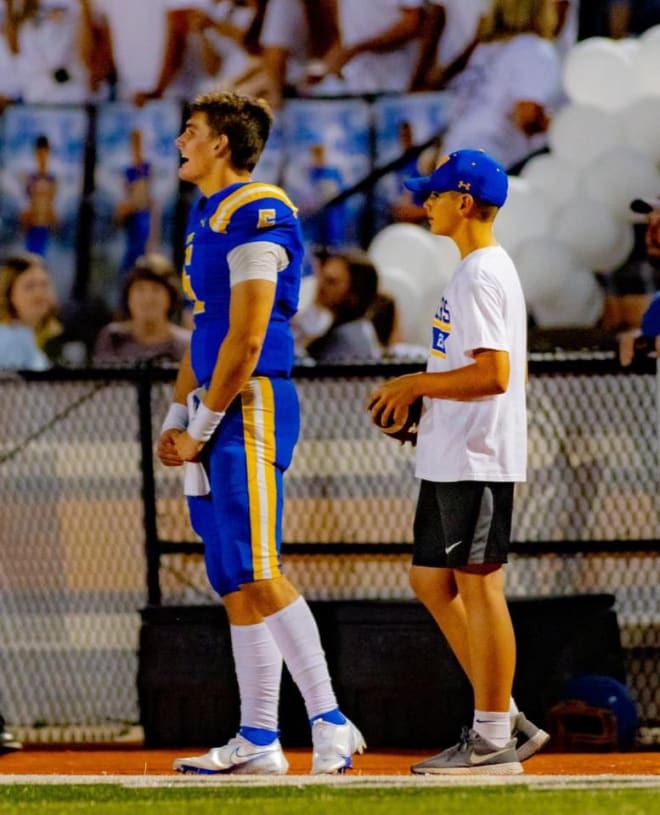 The social media post from Ty Simpson showed his brother throwing a bomb about 45 yards downfield to an open receiver.
It was an impressive throw for 12-year-old Graham Simpson. So his proud older brother sent out a message, tagged the Alabama football Twitter account and now, his sixth-grade brother has his first offer from Oregon.
The video has more than 47,000 views. One of those who saw it was Oregon offensive coordinator Joe Moorhead, who went ahead and offered.
"Ty and I both try to brag on him," said their father, Jason Simpson, the head football coach at UT-Martin. "I couldn't go to Graham's game that night, we had practice, and Ty is always on social media so I put a little tweet out there and Ty was proud of it, too. He has 10,000 followers, 20,000 followers, he put it out there just being cute. I don't think a lot about it with him being 12 and being in sixth grade.
"I guess it caught Joe's and coach (Mario) Cristobal's eye and it was kind of cool. It was neat because Ty had a game Friday night and Graham had an Alabama pullover on. I wasn't going to say anything to anybody and Ty said, 'I should have played better. I guess Graham is the better quarterback in our family because he got an offer this week.' That led to them saying, 'What?'
"I looked down and Graham is talking to The Tennesseean reporter. And then Graham said, 'I hope coach Moorhead isn't mad that I have an Alabama pullover on.' It was cool."
The Simpson family has a running joke. Ty is one of the top quarterbacks in the country, he's committed to Alabama, his future is bright. But Graham is the one with the offer from his dad to play at UT-Martin and for a long time it was held over his older brother's head.
"When Ty started getting recruited in the eighth grade and as that process took off, Graham one day asked if he would be good enough to play for me at UT-Martin," Jason Simpson said. "I said, 'Yeah, Graham, you have an offer to UT-Martin and Ty doesn't,' so for years he threw that in Ty's face.
"It was a feel-good thing so Ty said, 'What do I have to do to get a UT-Martin offer?' This was last year and he said it tongue-in-cheek but I told him he's not coachable: 'Your mom asks you to clean up your room and you don't do it, why would I recruit you here?'
"I said if he throws for 300 and runs for 100 then I'll do it so after the game that's the first thing Ty said to me and I told him, 'OK, you have an offer to UT-Martin' and Graham got mad, he was like, 'That's bull. That's sorry.'
"Ty takes care of him and he appreciates it."
Only Oregon has reached out for Graham Simpson so far. Other coaches have reached out with congratulatory remarks – or jokes about having other kids so there could be more quarterbacks in the family – have reached out to Jason Simpson.
Instead of being a helicopter parent or constantly trying to hype his son's football accomplishments, Jason Simpson points to the future - and the unproven present of a 12-year-old talented kid who just might have the right stuff to be something special.
"Graham was in the room with Ty in the summer before his 10th grade year in coach (Nick) Saban's office," Jason Simpson said. "We talked about it a bunch but I'll never forget it. Coach Saban is the only one who could say it like this. Everybody who gives you an early offer, it's a question if that offer is going to stick until you're ready to decide.
"The way he worded it was basically, 'You're being recognized as being worthy and if you keep improving and you win high school games, you'd be worthy of an offer here at the University of Alabama.' Nobody else said it like that. Graham was in there, he heard it, so he knows it's all up to his high school career as he goes forward."