Shaq's son impresses at Maxpreps Classic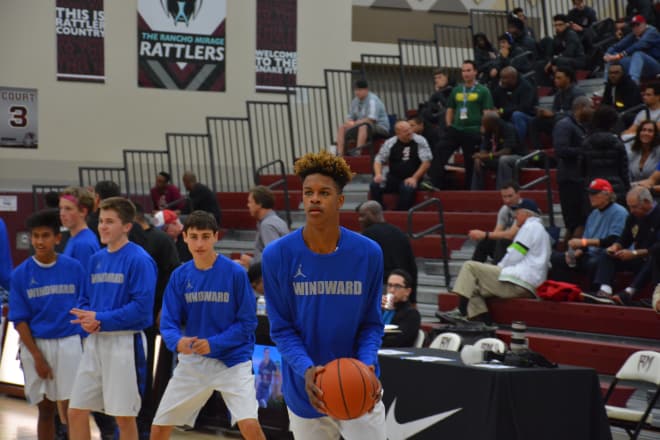 RANCHO MIRAGE, Calif. -- Los Angeles (Calif.) Windward didn't get a win on Day Two of the Maxpreps Holiday Classic, but it showed the promise of young talent behind the play of its sophomore trio of Jules Bernard, Payton Moore and Shareef O'Neal. O'Neal is the son of NBA legend Shaquille O'Neal.
I was impressed by ...
Make no mistake about it, Los Angeles (Calif.) Windward is going through some growing pains and I don't normally like to lead with players from a team that lost. However, despite a loss to Hayward (Calif.) Moreau Catholic (more on it later), there was a lot to like about Windward, especially thinking long term with their 2018 trio of four-star shooting guard Jules Bernard, four-star power forward Shareef O'Neal and three-star combo guard Payton Moore.
A slender 6-foot-4 southpaw who is wired to score, Bernard has a crisp looking jumper, can create off the dribble and plays with loads of aggression. His shot selection is a little questionable at times but I'd much rather have a guy who needs to tone things down than one I have to urge to shoot the ball. Bernard has already been offered by USC, UCLA, Utah, Colorado State, Vanderbilt, Arizona State, SMU and Nevada.
Tough and defensive minded, Moore is a physical 6-foot-3 combo guard. He plays hard-nosed defense, crashes the glass and is a versatile guard who can play several styles. He's got early offers from USC and Boise State, with Gonzaga, UCLA and Arizona poking around.
Finally there is O'Neal. He stands 6-foot-8 and has fluid athleticism, touch and some feel for the game. I would have liked to have seen him more involved because his jumper in the high post looked good, he was bouncy around the rim and he made terrific passes. Not surprisingly, his father's alma mater LSU has offered and so have USC, UCLA, Kansas State and Baylor.
Once these guys and their teammates get into a rhythm and gain experience, they could cause some serious damage.
I was surprised by ...
Currently ranked No. 93 in the 2017 Rivals150, point guard Christian PoPoola is back at Las Vegas (Nev.) Bishop Gorman after a year in Utah. I've had the chance to see Gorman play multiple times in the past few weeks and Monday was by far his best outing. In a tough and physical game with Concord (Calif.) De La Salle, PoPoola's defense slowed down San Francisco-bound guard Jordan Ratinho, who had caused major problems in the first half with his crafty off the dribble play. On top of that, PoPoola played under control, ran the offense and took what was given to him rather than forcing things.
Other thoughts
** A pair of freshmen from the Los Angeles area had nice moments on Tuesday. Six-foot-7 power forward Jake Kyman and 6-foot-1 combo guard Makani Whiteside both look like players to track down the road. For Santa Margarita, Kyman is a fluid, hard playing four man who can get on the glass and shows good touch. Capable of scoring in bunches, Whiteside is a strong guard who also showed some nifty passing for St. John Bosco.
** Bentonville (Ark.) High entered its open division quarterfinal game with the best prospect in the five-star Kentucky-bound shooting guard Malik Monk. Redondo Beach (Calif.) Redondo Union had the game's best player in unsigned senior shooting guard Leland Green. An unsigned three-star prospect, Green set the tone with his aggressive drives to the hoop and tough-as-nails defense. An ultimate competitor with a football mentality, Green went for 32 points and certainly turned heads.
** Down to a final four of Grand Canyon, Nevada, St. Mary's and Oregon State, former California commit Oscar Frayer of Moreau Catholic is definitely a high-major level athlete. The 6-foot-6 wing is a true skywalker with a body to build on. When he plays hard and is active in transition and around the rim like he was on Monday, he's a load.
Teammate Damari Milstead had his second straight strong effort of the event. The junior point guard was active with his mid-range jumper and made good decisions. Also impressing for Moreau Catholic was San Jose State-bound senior Terrell Brown, who is an athletic 6-foot-3 shooting guard who plays in attack mode.
** Gonzaga-bound Zach Collins continues to be a big man that Rivals is higher on than the rest of the scouting industry. At times, he lets his emotions get the best of him, but he is a superb passing big man, scores with either hand and still has plenty of room to add strength to his near seven-foot frame. Mark Few has to be excited to work with him.