Several impress at EU Camp IMG Academy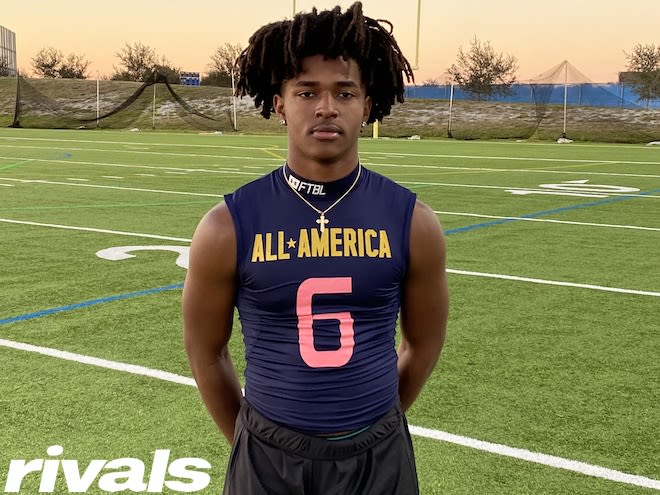 BRADENTON, Fla. – The Elite Underclassman made its final stop of the year at IMG Academy in Florida on Sunday, and prospects from across the country were on hand to showcase their abilities. The list of players who caught my eye were a mix of known names and unknown sleepers.
While five-star Jacoby Mathews rightfully drew a lot of attention from the defensive back group that performed on Sunday, a much less-heralded Cotman quickly commanded respect of his own with his performance. The big safety prospect looked every bit of his listed 6-foot-2, and moved very well at that size. Maryland came through with a very early offer for Cotman last February, but with the dead period erasing all college camps the recruitment momentum slowed and that remains his only offer.
This list is ordered alphabetically, but it is fitting Durant is near the top because he may have been the one prospect who impressed me most. Granted, the event did not feature 1-on-1s and was limited to testing and position drills, but Durant's combination of size, power and explosiveness stood out. He looked much bigger than his listed 6-foot-1 and 225 pounds, and will not be a weakside defensive end in college. He is better suited the three or five-technique defensive line roles.
One of several Rivals100 prospects in the 2022 class in attendance on Sunday, Givens worked out with the defensive linemen even though he is listed as an offensive tackle. He will play on both lines when his Lord Botetrout teams takes the field this spring, and has the frame to project to either side of the football in college. As a defensive lineman, Givens size and strength suggest a three or five-technique role would suit him best. He revealed a top six last month, and said of that group he keeps in the closest contact with Clemson and Ohio State.
Sunday was a home game for Harris, who is originally from Port Saint Lucie, Fla., but played his sophomore season for IMG Academy. Overall the offensive line group had several big-framed prospects, but Harris was on the smaller side for the group. His height will necessitate playing on the inside in college, where his quick feet should make him a dynamic lineman who can pull and get to the second level. Harris recently hit a dozen total offers, with additions from Michigan, Georgia and Florida State in the last two months.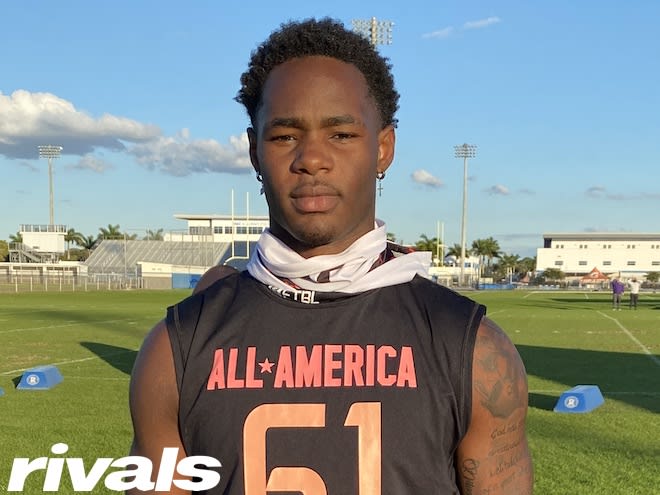 As a five-star prospect, Mathews will be expected to be the best at every event he attends, and he did not disappoint on Sunday. The were a lot of impressive-looking athletes who worked out with the elite group in the afternoon, but Mathews still stood out among that talent. Listed as an athlete, Mathews worked out at defensive back, where he has proven to be a big and athletic safety prospect. Among his top seven are Georgia, LSU, Michigan State and Texas, but a decision is not expected for some time.
Running back was another deep group, but no one really jumped out and solidified themselves as the top dog. Prospects like Baylor commit Kaian Roberts-Day, Boston College 2023 commit Datrell Jones and 2022 three-stars Isaiah Gordon and Jordan McDonald all had their moments, but I singled out Taylor because of how smooth and effortless he executed the drills. The Tennessee native is on the smaller side for running back, and may end up projecting to another position in college. The home-state Memphis Tigers were the first to offer Taylor.
The defensive back group was pretty strong, but overall I thought defensive line had the most depth. Traore was another who stood out, primarily for the upside he showed. The sophomore still has a long way to grow, but his frame shows promise. The natural athleticism Traore showed also was impressive, especially considering it should only increase as he fills out and bulks up. Boston College landed an early commitment from Traore, but they will have a tough two years keeping other teams away.
Washington was another prospect who immediately jumps off the field at you and possesses that look of an FBS prospect. Tall and high-hipped, Washington is also pretty lean and carries little bad weight on his frame. Since we only saw position drills it was tough to get a strong evaluation on each prospect, but Washington does appear to play high at times. His size/athleticism combination, though, attests to his upside and the reason why LSU took his commitment over the summer.
Listed as an athlete due, in part, to his size and athleticism, Watson is a quarterback at the high school level, and there is no reason to suggest he cannot play it at the college level as well. Being 5-foot-11 is not helpful when trying to be recruited as a quarterback, but Watson is just a sophomore and has time to grow. What is helpful is possessing the arm talent Watson displayed on Sunday. He spins a beautiful football and can throw with velocity and accuracy. Early offers have come from Boston College, Michigan, Oregon and Pitt.
Liberty High is ultra-talented in the 2022 class, including three players who are already committed to Washington. Weber, however, is still pretty far under-the-radar. He has started to generate some early interest from the likes of Fresno State, Hawaii and Maryland, but his recruiting momentum was stymied when Nevada pushed its high school season to spring. Colleges should love what they see when Weber does take the field. He has an ideal middle linebacker frame, but is smooth and changes direction effortlessly.