SEC Spotlight: Winners and losers from the 2019 cycle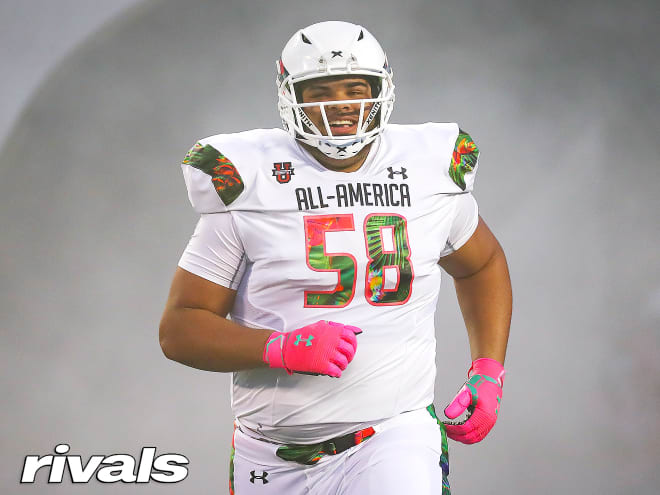 MORE: Big Ten winners and losers from the 2019 cycle
National Signing Day is in the books and while every coach in the SEC came out praising their efforts on the trail in the 2019 recruiting cycle, not every school was a winner. Today we take a look at the winners and losers from the SEC.
WINNERS
TENNESSEE
Things couldn't have gone any better for the Vols in the last few days of the 2019 cycle as they landed five-star offensive tackle Darnell Wright in a nationally televised announcement on National Signing Day and did the same with Rivals100 linebacker Henry To'oto'o. While Wright had been a foregone conclusion for months, To'oto'o surprised everyone when he elected to sign with the Vols over Alabama and Washington. Landing a pair of national-level elite prospects could go a long way toward bolstering the talent on the Tennessee roster going forward.

SEC PRIDE 
Georgia, Alabama and LSU finished with the three top classes in the Rivals.com Team Recruiting Rankings, so obviously it was a very strong group at the top in the SEC. The Bulldogs, Crimson Tide and Tigers signed a combined 10 five-stars and 45 four-stars.
The Bulldogs created the biggest news on National Signing Day when they flipped five-star wide receiver George Pickens from Auburn. Georgia had big needs at receiver and tight end coming into February and they met both of those last Wednesday.
Alabama and LSU closed strong too. It was a battle between those two schools for Rivals100 defensive tackle Ishmael Sopsher and the Tide won that one. LSU added four signatures Wednesday, including home-star four-star athlete Devonta Lee and three-star cornerback Jay Ward, who went back and forth between LSU and Kentucky right up until he announced his decision.
In all, nine of the top 20 classes are in the SEC.

DAN MULLEN
Dan Mullen landed a top-10 class in his first full recruiting cycle at Florida. The Gators added some key pieces in January, then two key in-state prospects on Feb. 6. Heading into National Signing Day, Khris Bogle was committed to Alabama with Miami getting the most buzz for a possible flip, but the Gators swooped in late and signed the Fort Lauderdale (Fla.) four-star defensive end. Later that day, Rivals100 cornerback Kaiir Elam, a Florida legacy, signed with the Gators over Georgia. These were two huge additions to this class.
In January, Florida landed five-star cornerback Chris Steele out of California and four-star wide receiver Arjei Henderson out of Texas.

THE TRANSFER PORTAL
Several teams in the SEC didn't sign full classes, with a few saving spots for incoming transfers. The new transfer portal has helped allow college players to move freely between schools and several players who have had dreams of one day playing in the SEC could see them come to fruition this offseason. Expect a number of teams, including Vanderbilt, Tennessee and Alabama, to add transfers before the kickoff of the 2019 season.
LOSERS
MISSISSIPPI STATE
Mississippi State finished in the top three for many prospects, but you have to finish No. 1 at the end of the marathon if you want to be a winner. Joe Moorhead almost flipped Jonathan Mingo on National Signing Day. At one time, Jerrion Ealy was considering the Bulldogs, but he stuck with Ole Miss. Byron Young, an Alabama signee was on an official visit late, and there was some buzz around the Bulldogs as a player for Young, but he left his visit early due to an illness. Rivals100 defensive end Charles Moore was committed to Mississippi State for over a year, but the Bulldogs lost him to Auburn late in the process. There was a lot of runner-up finishes for Moorhead this cycle and he and his staff will have to put together much stronger classes these next few cycles if they want to compete in the SEC West.

VANDERBILT
It is going to be hard for Derek Mason to compete in the SEC if he continues to recruit the way he has since arriving at Vanderbilt. His highest class ranking since taking over is the program's No. 42 finish in 2018. He has finished with classes ranked in the 50s three times, including this cycle, finishing at No. 50. His average class star rating was 2.81 in 2019 and that is the only program in the SEC not to have a 3.0 or better average.
Vanderbilt signed 21 prospects with only one four-star and 15 three-stars. The other five signees were ranked as two-stars. Vanderbilt has not had a winning season since Mason took over in 2014. In the last three seasons, the Commodores have finished 6-7, 5-7 and 6-7 and the program's recruiting rankings go right along with those records. For Mason to last in Nashville, he must recruit at a higher level.

KENTUCKY
Despite a historic season on the field in 2018, the Wildcats couldn't turn that into a top-10 class in the SEC, missing out on late targets Devonta Lee and Jay Ward and finishing No. 12 in the conference. Wildcats fans are hoping Mark Stoops and company can continue their track record of player development and turn several of the 17 three-star signees into stars, much like they did with future first-round pick Josh Allen.

SLEEPERS
After the first year of the Early Signing Period saw several SEC programs add sleeper prospects on the late signing day last year, it seemed like it was poised to happen again in 2019. But unlike 2018, when Alabama, Tennessee and Mississippi State all extended signing day offers to two-stars, teams chose to stand pat and try their luck with transfers rather than reach late for a diamond in the rough. Initially, it looked as the first signing period would lead to more opportunities for late finds, but as mentioned in the winners category, it's all about the transfer market in 2019.