SEC Championship Game: Where the stars came from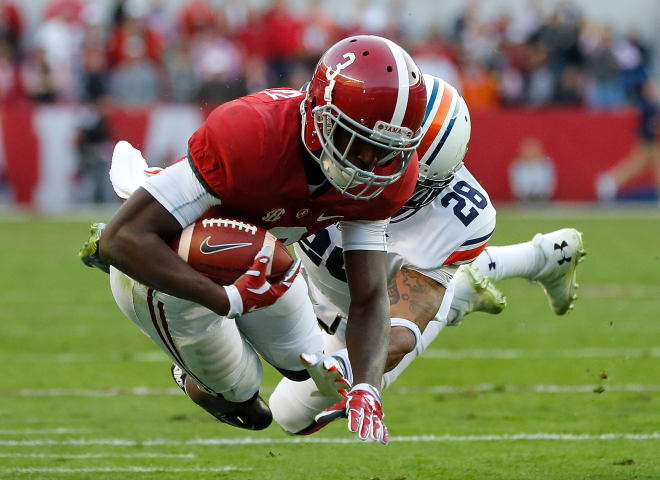 With the conference championship games upon us, we thought we'd take a look at each team's leading passer, rusher and receiver on offense and leading tackler and pass rushers on defense. Starting in the SEC, here's how Alabama and Florida break down.
RELATED: Big Ten championship recruiting breakdown | Week 13 breakout stars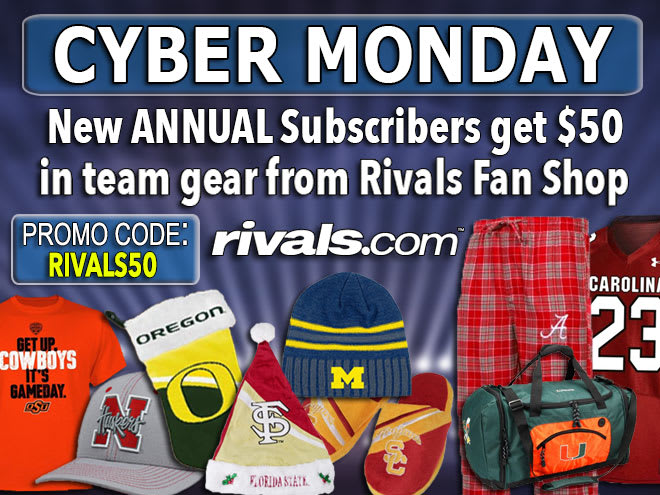 ALABAMA
The skinny: Hurts named a top four of Alabama, Texas A&M, Mississippi State and Florida before committing to the Crimson Tide less than a week later. While the Alabama quarterback job was open for competition with the graduation of Jake Coker, few people expected Hurts to beat out both Blake Barnett and Cooper Bateman for the job. However, that is exactly what happened, and even more surprisingly, Hurts has performed like a veteran to this point. Having already passed for 2,425 yards and 20 touchdowns, plus rushing for 840 yards and 12 touchdowns, he has guided Alabama towards yet another shot at a national title.
Farrell's take: Hurts was always known for a big arm, but his touch wasn't consistent. However, he was the kind of kid who seemed very relaxed on and off the field and never shrunk from the moment. Hurts was smart with the football and his accuracy improved greatly between his junior and senior seasons. I certainly didn't see him heading to Alabama and taking the starting job from day one, however, and he has only gotten better as he gets more comfortable in the pocket.
The skinny: After originally committing to Michigan during Brady Hoke's final year in Ann Arbor, Harris then flirted with in-state program Kentucky for several months before finally committing to the Crimson Tide. After being the primary back-up to Derrick Henry as a true freshman, Harris has been the primary ball carrier this season. Totaling 897 yards and two touchdowns, while averaging 7.2 yards per carry, Harris should play a major role for Alabama in the SEC Championship game and playoffs.
Farrell's take: I liked Harris on film quite a bit, but the level of competition worried me – until I saw him at the Under Armour All America Game. He was thicker and stronger than I expected, his jump cut was awesome and he had vision and power. He not only held his own against the best in the country, but was dominant at times. A thick, powerful back with the speed to bounce it outside, Harris was our No. 1 running back when all was said and done for 2015.
The skinny: Ridley was an early commitment to the Crimson Tide, and while rumors persisted throughout his senior season and leading up to Signing Day that he was taking a look at other programs, he stuck with his word and signed with Alabama. Ridley, who became an immediate star at Alabama as a true freshman, continues to be the top receiving threat for the Crimson Tide this season. With 61 receptions for 691 yards and seven touchdowns, plus an additional rushing touchdown, Ridley may not reach the same statistical numbers that he did in 2015, but he is still seen as one of the top young wide receivers in the national.
Farrell's take: Ridley set freshman records at Alabama as a receiver, the same place where Julio Jones and Amari Cooper dominated, so that's heady stuff. Ridley was always an elite prospect in high school and a no-brainer five-star for us from the start, and other websites followed suit. He was an accomplished route runner, had solid size and amazing hands and just needed to fill out and find his way into the Alabama offense. This season his numbers have been down a bit, mainly due to a freshman quarterback, but it's clear he's the next great 'Bama receiver who will be three-and-out.
The skinny: Foster's recruiting process was one of the more chaotic ones in recent years. Foster originally committed to Alabama, but then flipped to Auburn. However, the coaching change at Auburn caused him to re-open his recruitment and take all five of his official visits. Again it came down to Auburn and Alabama, and finally he committed to the Crimson Tide two days before National Signing Day. While the Alabama defense has dominated this season, Foster has been one of the brightest stars with 83 tackles, 9 ½ tackles for a loss and two sacks.
Farrell's take: Foster was a huge linebacker with a ton of potential who could thump downhill but also move laterally. He also had a major bust factor tag between a knee injury that limited him late in high school and his bizarre recruiting process. Foster waited his turn and is having a breakout season. Despite all the questions, he was so talented that we still had him ranked as the No. 13 player in 2013 and No. 1 inside linebacker. He's showing with his play this season that he can put it all together and has emerged as the top inside linebacker in the country.
The skinny: Williams committed to Alabama after a January official visit, but still decided to take additional visits to both Florida State and Miami, which caused some stress for Crimson Tide fans. However, the extra visits weren't enough to help the Seminoles and Hurricanes as he decided to stick with his commitment. At Alabama, Williams saw limited playing time during his first two seasons but began to flourish during the 2015 campaign with 18 tackles, 11.5 tackles for a loss and 9.5 sacks. After a slow start this season, he now has 25 tackles, two forced fumbles and a team leading 15 tackles for a loss and eight sacks.
Farrell's take: Williams was a lanky, skinny kid who was an excellent pass rusher out of high school. The only thing holding him back from a higher ranking was his frame. While he's not huge by defensive end standards, he has more than overcome that with his quickness off the edge. The interesting part? He was overshadowed at his school by a freshman named Dylan Moses his senior year, but man he has come into his own this season and is one of the most dominating edge rushers you can find.
FLORIDA
The skinny: Appleby committed to Purdue during the summer of 2011 and signed with the Boilermakers in February. He played in 16 games during three seasons in West Lafayette before deciding to make the move to Florida earlier this year as a graduate transfer. After losing the starting job to Luke Del Rio in the middle of the season, an injury has brought Appleby back to lead the offense. He has gone 2-1 since his return as starter and has passed completed 60 percent of his passes for six touchdowns and two interceptions in seven games.
Farrell's take: Del Rio would be here if not for his injury, but Appleby will be the guy against 'Bama. He was a low three-star kid who had great size but an ACL injury that cut short his junior season which hurt his recruitment and ranking. He was solid but not specular at the Elite 11 events we saw him at as he did many things well but nothing great. His struggles at Purdue were not unexpected and he's been average at Florida as well.
The skinny: Scarlett initially committed to Florida Atlantic and then Miami, before taking two late January official visits to Florida and Florida State. Finally, two days before Signing Day, Scarlett committed to the Gators. After receiving only 34 carries as a true freshman, Scarlett has firmly entrenched himself as the lead back with the Gators this fall. Now with 793 yards and six touchdowns, Scarlett has been especially impressive during the last month of the season.
Farrell's take: Scarlett had good size and he was sudden and quick coming out of high school but he wasn't a burner. He wasn't the kind of running back we expected to break off long runs in college but we could certainly see him being a steady chain mover who could pop off a 30-yarder here and there and that's exactly what we've seen. He was a Rivals250 guy that many felt should have been ranked higher and in time he might prove that.
The skinny: Callaway took official visits to Florida, West Virginia and Miami before trimming his list to the Gators and Canes leading up to Signing Day. Despite growing up in Miami, Callaway ended up signing with the Gators. While the Florida passing game has sputtered at times this fall, Callaway continues to be their main game-breaking weapon. Currently with 43 receptions for 603 yards and two touchdowns, you can be sure the Alabama secondary will have a close eye on Callaway on Saturday.
Farrell's take: Callaway was a four-star prospect, but wasn't in our Rivals250 for a few reasons. While he was fast and a good downfield option, his route running needed work and he wasn't consistent. However, he could make some plays that could turn your head and was a threat to score on any play from anyplace. He was also a competitor and a leader of a state title team. We liked him and he has been more of an impact player than even we expected.
The skinny: Harris committed to the Gators in late November following official visits to Gainesville, Florida State, Oklahoma and Texas. He was considered a long-time lean to the Gators as his father, Mike Harris, was a defensive back for the Gators in the 1990s, so his commitment was no surprise. After redshirting his first year he played mostly on special teams and as a reserve safety last year as a redshirt freshman. This season has been a breakout year, leading the team in tackles with 57 including two for a loss and two interceptions.
Farrell's take: Harris was highly ranked and coveted by many schools. An Under Armour All American with excellent ball skills, he was also a physical tackler and a kid who could thump. Harris played only eight games as a senior but still had one pass break-up per game and 52 tackles and he was a player who could do work down near the line of scrimmage and help in run support.
The skinny: Zuniga initially made a commitment to North Carolina State, but then took January official visits to Florida and finally Arkansas. A couple of days after returning home from his visit with the Razorbacks, Zuniga made his flip to the Gators. After redshirting last fall, Zuniga has quietly exceeded expectations in 2016 with 22 tackles, 8.5 tackles for a loss, one forced fumble and a team leading five sacks.
Farrell's take: Zuniga had some nice offers, but he wasn't that heavily recruited until the end of the process. He was athletic, but was light and power and strength were issues as he did most of his work with his quickness on the inside. He was a hoops player until his junior year, which is a reason why he was raw and wasn't that bulked up and he's blossomed into an effective pass rusher. Zuniga's ability to get to the quarterback with Caleb Brantley taking up so many blockers has been a boost for the Gators' defense.