Rob's Rankings: Past five Heisman QBs and the best rivalry trophies
With Alabama's Tua Tagovailoa seemingly cruising to a Heisman Trophy win in 2018, much of the drama is being sucked out of the award. Barring an injury or a collapse, the Crimson Tide star will win college football's most famous award and take his rightful place in history. It's why this week in Rob's Rankings, we rank the last five quarterbacks to win the prestigious trophy.
NOTE: These rankings were determined strictly by each quarterback's Heisman-winning season. Things that took place before or after were not considered.
MORE: Five SEC QBs that need to step up | Big Ten players that need to step up
MARCUS MARIOTA - 2014    
Record: 13-2
Competition percentage: 68.3 Total yards per game: 403.8
Total touchdowns: 58
Interceptions: 4
It's difficult to determine which part of Mariota's Heisman campaign was most impressive, but I'll make a case for the fact that he managed to throw just four interceptions while attempting 445 passes. Mariota amassed more yards per game than anyone on this list. And while some of that is a product of Oregon's high-tempo offense, you can't dock him too many points for choosing a system that fit his skill set.

The Hawaii product also led the Ducks to the national title game during his Heisman season, but was beaten soundly by Ohio State once there. Still, Mariota was the Heisman front-runner from start to finish and absolutely dominated the race. He's a no-brainer for the top spot.
JAMEIS WINSTON - 2013    
Record: 14-0
Competition percentage: 66.9
Total yards per game: 305.4
Total touchdowns: 44
Interceptions: 10
The quarterback of one of the modern era's most dominant teams, Winston is a polarizing figure for a number of reasons. it's easy to disparage his Heisman-winning season by saying his loaded supporting cast helped prop him up, but the numbers are what they are. Winston is the only member of this list to win the trophy and the national title.

The youngest player in college football history to ever win the Heisman, Winston's run was made more impressive by his age and the fact that his FSU team absolutely bludgeoned everyone it faced until the title game. Points for pouring it on, as we here at Rob's Rankings are anything but benevolent.
LAMAR JACKSON - 2016
Record: 9-4
Competition percentage: 56.2
Total yards per game: 389.2
Total touchdowns: 51
Interceptions: 9
Baker Mayfield's Heisman campaign featured more efficient passing numbers, but Jackson gets the edge because his run was more dynamic. The hyper-electric quarterback led the Cardinals in rushing in addition to his work as a passer, and he did so despite having a supporting cast that looked just above average for parts of the season. Still, the fact that Mayfield led his team to the College Football Playoff shouldn't be glossed over, because it obviously counts for something.

There's not much to differentiate the two seasons when viewing the big picture, so the two are separated by the thinnest of margins on this list. That said, personal preference matters, so get your own column and swap them if you so choose. If not, you're just gonna have to understand that the die has been cast and choke this one down.
BAKER MAYFIELD - 2017 
Record: 12-2
Competition percentage: 70.5
Total yards per game: 352.8
Total touchdowns: 49
Interceptions: 6
We play by my rules in these rankings, and my rules award bonus points for flag-planting and crotch-grabbing. It's part of why Mayfield earns the nod over the man listed below him. The bigger reasons, however, are his efficiency and the fact that he helped will Oklahoma to within inches of the national title game.

His 70.5 completion percentage is borderline magical, even if some of it is a product of Oklahoma's offense. Mayfield, who won the Heiman by a massive margin, is the only walk-on ever take home the award, which counts for absolutely nothing here, but deserves to be noted nevertheless.
Johnny Manziel - 2012
Record: 11-2
Competition percentage: 68.0
Total yards per game: 393.5
Total touchdowns: 47
Interceptions: 9
Before Manziel was a cautionary tale-turned-punchline, he was a gifted quarterback who loved to party. He was also the first freshman to win the Heisman Trophy. The Texas A&M star certainly deserved the award, even if his numbers don't all stack up to some other quarterbacks on this list.

So much of Manziel's Heisman lore is staked to his comeback victory over Alabama that his freshman season may be a bit artificially inflated in the minds of some. Still, 393 yards per game and 47 touchdowns are not numbers at which to scoff. Manziel was absolutely electric during his Heisman run, but every list has to have a bottom, and Johnny Football fills that role here.
OVERTIME 
This week's overtime sticks with a trophy theme, as we rank the five coolest rivalry trophies in college football. As always, these rankings are final and indisputable. This column is a proud dictatorship.
1. LITTLE BROWN JUG — MICHIGAN VS. MINNESOTA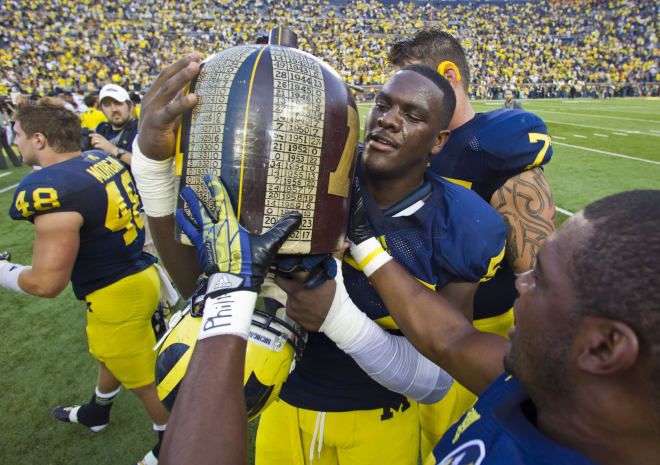 This is the fraternity version of the Stanley Cup. It's not difficult to picture a guy named Thad standing on the roof of the Delta house chugging fireball out of this trophy. Why was it in the chapter room? Who knows? Who cares? No parents!
2. PAUL BUNYAN'S AXE – Minnesota vs. Wisconsin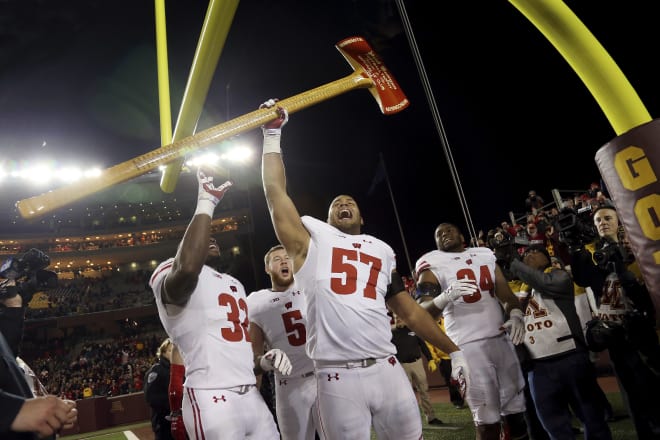 Two teams stocked with bearded Midwestern dudes playing for an axe. Checks out.
3. PAUL BUNYAN TROPHY – Michigan State vs Michigan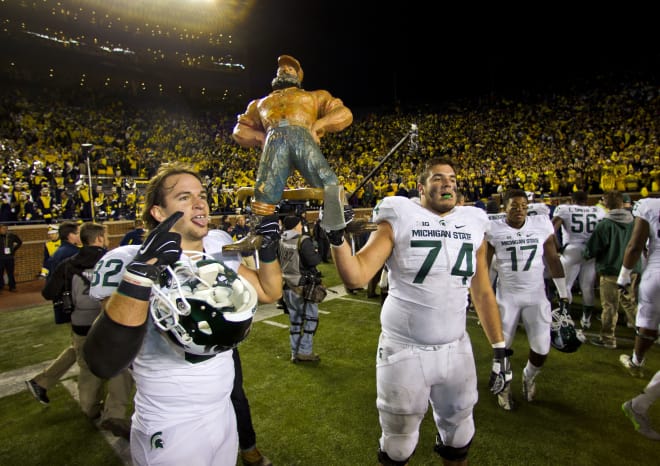 I'll see your oversized axe, and raise you the fictional giant that owns it. Mr. Bunyan has the rivalry trophy market cornered.
4. JEWELED SHILLELAGH — NOTRE DAME VS. USC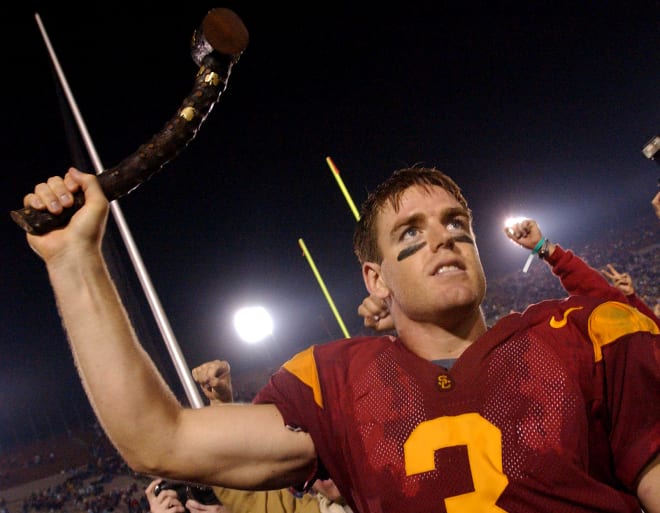 This could double as a foreign object in a wrestling match. I mean, would you bat an eye if it were stashed under a ring? There are kendo sticks and sledgehammers down there for some reason. Is this that much of a stretch?
5. OLD OAKEN BUCKET -- INDIANA VS. PURDUE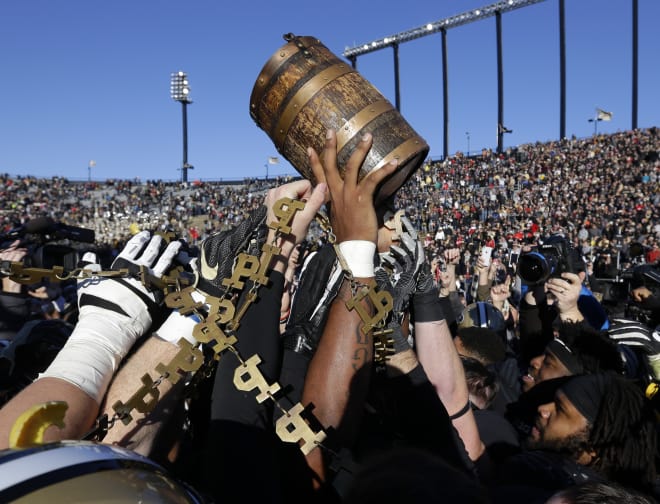 Call it an "oaken bucket" if you want. This is a mini-keg. Indiana and Purdue play for a mini-keg.