Rivals250 WR Yazeed Haynes commits to Penn State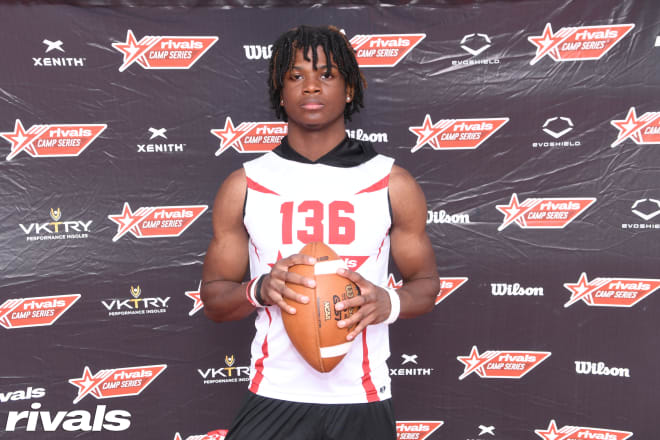 With the commitment of Rivals250 in-state prospect Yazeed Haynes, Penn State is adding another playmaker to their receiving corps. The Lansdale (Pa.) North Penn star worked out at Penn State's camp last weekend and took an official visit there this weekend.
IN HIS OWN WORDS...
"I just felt like Penn State was home when I went up there," Haynes said. "Ever since I younger I wanted to go to Penn State. It was one of my dream schools. When I went up there I saw how family oriented it was and how everybody treated me, I just loved it up there. I liked the culture, the academics, and the football program so it was just the right one for me.
"When we had our position meeting and coach Stubbs showed me my camp film and went over things I did right and wrong I really saw how much he knows what he's doing and will help me get to the next level," he said.
"Two of the guys that are committed I know," said Haynes. "Jameial (Lyons) and Marcus (Stokes) were so welcoming and they've been texting me about the program. That helped with my decision also.
RIVALS' REACTION...
Haynes is an electric receiver that saw his recruitment blow up this spring after an MVP performance at the Philadelphia Rivals Camp. A former Rutgers commit, Haynes has a skill set that allows him to win with brute strength or finesse. At nearly 6-foot-2, Haynes has the size and length to make it a long day for smaller defensive backs that try to cover him. With 4.39 speed in the 40-yard dash, he also has the speed and quickness to outrun nearly any defensive back he comes across. Haynes is a very solid route runner but this is where he'll see the most improvement with additional work at the next level. Many Penn State fans will remember that Saquon Barkley was a former Rutgers commit and they'll be overjoyed if Haynes can come close to the level of success Barkley had for the Nittany Lions.